Shoe Dog, Bad Blood and Lord of the Flies: 2019's best business book recommendations
Tools of the trade: The best business books recommended by leading Irish business people in 2019.
OVER THE YEAR in our Tools of the Trade series Fora has spoken to numerous business leaders in Ireland about investment, their penchant for marathon running and some tough points in their careers. 
But as we settle into the most wonderful time of the retail year, we've rounded up the series' best book recommendations from the past 12 months. 
Unsurprisingly, books on leadership, creativity and building a business feature. Given the state of the UK's House of Commons over the past 12 months, Lord of the Flies also gets a look in.  
Ben Dunne, founder, Ben Dunne Gyms
American Caesars (by Nigel Hamilton). It's about all the US presidents from Roosevelt up to Bush. It gives a brief insight into their early years, their run for the White House, their years in the White House and when they retired. It's very informative. 
Birgitta Hedin-Curtin, co-founder, The Burren Smokehouse
I've been listening to a book recently called Flow, by Mihaly Csikszentmihalyi. He's a psychologist and has written a series of books about flow.
When you know that you're in the flow, that's when your creativity kicks in and also your happiness because you know you're in the midst of things happening. Your creativity and your activity are working together. Solutions come to you. 
Bernard Brogan, founder, Legacy Communications and PepTalk
Legacy, by James Kerr, the same name as (our) company. It's lessons from the All Blacks about high-performance culture and things that can be brought from sport that also can work in business.
When someone starts with us we give them the book because we're always trying to build a culture that's high performing. 
Source: Legacy Communications
Mark Walton, co-founder, VOYA Skincare
I've been watching what's happening with Brexit and the House of Commons, so maybe Lord of the Flies. It looks at human nature and how people react in crowds. 
Tina McKenzie, CEO, Grafton Recruitment
Bad Blood by John Carreyrou, on Theranos founder Elizabeth Holmes, it's fascinating.
Cathal Friel, CEO, Open Orphan
Thank You For Being Late. I think everyone in the world should read the first three-quarters of that book. It's by Tom Friedman. The first three-quarters is all about what's happening in our world, the last 25% he gets too folksy. He doesn't offer real solutions. 
Patrick Meade, co-founder, Boys+Girls
Shoe Dog by Phil Knight. When we see a massive global organisation like Nike – especially within the advertising industry – we often use it as an example in case studies and presentations.
Understanding that that came from a very small place – one guy with an unlimited amount of ambition and energy selling running shoes out of the back of his car, flying by the seat of his pants for a long time – I think it's a real inspiration for anybody who started their own business.
It shows you that anything is possible. You might start by selling shoes out the back of your boot but then you can turn into a billion-dollar global behemoth.  
Barbara McCarthy, director of engineering, HubSpot
Leaders Eat Last by Simon Sinek. I think he's completely on the money in terms of his leadership around management and how to empower teams. It really challenges old-school thinking in terms of how to lead teams and lead by example.
The other book is a biography which I'm just finishing at the moment. It's Becoming by Michelle Obama and I adore it. I'm listening to the audiobook in the car on my commute and it's very inspirational.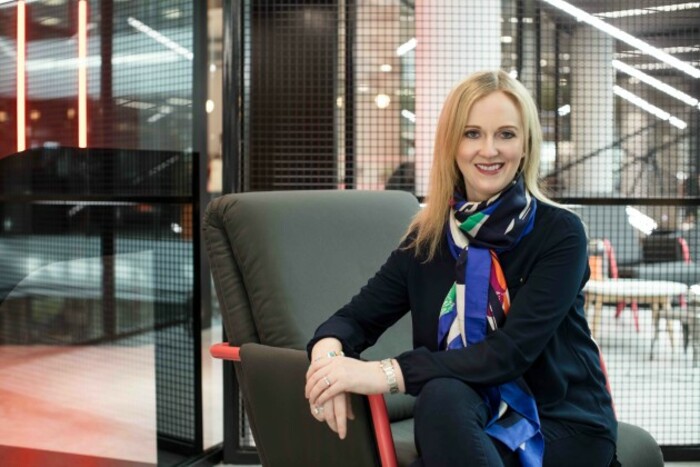 Source: HubSpot
The Hard Thing About Hard Things by Ben Horowitz. That's a really great, straight talking, no-BS account of his personal experience of growing a business as CEO when, in his words, there are no easy answers.
Get our Daily Briefing with the morning's most important headlines for innovative Irish businesses.