'I love variety, I love anything new, but it can be a major pitfall if you don't manage it properly'
The CEO of Fenero talks mental health and investing in female entrepreneurs.
WHEN SINÉAD DOHERTY isn't listening to audio books, doing online courses and being the CEO of fast-growing tax firm Fenero, she's also an amateur photographer, and she loves to write.
The company, founded by Doherty in 2009, currently employs 30 people and it's planning to grow that to 40 by the end of the year. Fenero's turnover last year was €1.9 million and Doherty is projecting €2.5 million this year.
Within the next few years, Fenero is hoping to expand its range of services. Right now, it specialises in providing tax solutions to contractors and freelancers.
In our weekly question and answer series we talked to Doherty about working at the weekend, mental health and why she wants to invest in female entrepreneurs.
Here's what she had to say:
How would you describe your work/management style?
I'm an introvert by nature. I like listening and observing, it's really important to me that I understand what the whole team is thinking about.
My role as CEO is ultimately about problem solving and directing decision making. I think that you learn and diagnose simply by creating the time and space to just listen and observe people. Then, when you are making decisions, you're coming from the most informed place you can and hopefully you're bringing the maximum number of people along with you.
If you were forced to pick a different career, what do you think you would be doing instead?
I love to write and at one point I had an interest in journalism. I also enjoy photography – I'm highly amateur with it – but it's just something I can get lost in when I have the opportunity to escape somewhere with a camera.
I've always thought that the process of growing a business is a highly creative activity, that's a big part of why being an entrepreneur has always appealed to me. Any career where I would have an opportunity to use that creative side would leave me very happy.
How often do you take a day off?
I have two small girls at home, aged seven and four, so it's really important to me to do the best I can in striking the balance between work and family.
I have a rule that I don't work on weekends – certainly not during the day anyway, when the kids are awake. Sometimes the laptop will come out in the evening, depending on what's going on.
I'm getting better at paying attention to what my body and mind are really telling me  and trying to not feel guilty about prioritising myself and my well-being above other responsibilities.
Do you read business biographies/management books? 
I recently read The Hard Thing About Hard Things by Ben Horowitz. That's a really great, straight talking, no-BS account of his personal experience of growing a business as CEO when, in his words, there are no easy answers.
What's the biggest risk you've ever taken?
One of my notable risks was the decision to discontinue a service line in the business back in 2014, which at the time accounted for 50% of the business. The reason we did that was to focus on the other areas of the business which I felt had quite big growth potential.
It was profitable, it was doing well, but it was just a decision to see if we could hopefully gain greater rewards. You can keep running it, you can hire people in to do it, but it would still require time and my input. I'm pleased to say that particular risk paid off.
What has been your biggest mistake to date and what did you learn from it?
Instead of biggest mistake, I'd say that my biggest learnings have probably been to focus a bit more fully on my personal well-being much earlier on. I genuinely believe in all the benefits that businesses get when all the people within them are prioritising their own well-being.
I also would probably have invested in more management and leadership roles within my team much earlier on, rather than trying to carry too great a responsibility over many different areas of the business myself. I think that has impacted at times on my well-being and at different times may have held the business back a little bit.
What's the one work skill you wish you had?
I'm really interested in upskilling in the area of coaching. I often use coaching-style conversations in various work situations and conversations with team members.
The benefits of coaching to help somebody identify career and personal development opportunities, as well as supporting them in reaching their potential in those avenues, is just incredible and something I find really exciting and rewarding.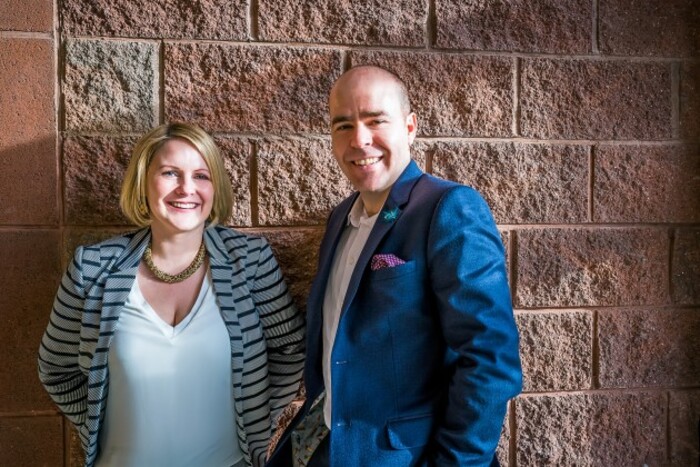 Source: Tarmo Tulit
What's the one piece of advice you would give to someone starting out in your industry?
Stay curious and be a life long learner. I'm constantly reading articles, listening to podcasts, audio books or watching online educational videos. I dip in and out of short online courses. I like to attend events and seminars when I can, across a huge range of subject matters.
I think it's just being curious and being open to what you don't know, and constantly exposing yourself to new ideas and thinking.
What bad work (or business) habit have you had to kick?
Continually trying to do too much at once. I'm someone that gets really excited about new ideas and new opportunities all the time. I want to get stuck straight into things.
I've had to really develop a discipline around not chasing too many new projects at once. I hold myself strictly to the process of longer term planning and putting some ideas on hold to a more appropriate time until they can be executed well.
I still get caught up in doing too many things, I think it's just my natural tendency, but I try to catch myself now before I go too far down that route. I love variety, I love anything new, but it can be a major pitfall too if you don't manage it properly.
If you could invest in any Irish company (other than your own), which one would it be and why?
I'd make investments to level the playing field in general for female entrepreneurialism. I'm very interested in supporting female owned and female led businesses, particularly at the early stage of the business when funding can be much more difficult to obtain.
There's been plenty of coverage in recent years showing that men still receive most venture capital investments. It's improving but there's still a long way to go.
What do you see as being the biggest challenge for your business?
Managing growth effectively without losing our sense of self is the main challenge. We're growing at a relatively fast rate at the moment. We're a team of 30 and we're likely to have grown to about 40 by the end of this year.
It takes quite a lot of focus and energy to keep maintaining the core culture and environment while simultaneously growing your business systems and processes.
Additionally, I'm finding that as the business becomes more complex, there's a range of new expertise required in the business. That requires either fast upskilling and development from existing team members, or the recruitment of new team members with new skill sets. It's all positive and exciting but it's also also a challenge to get it right.
Get our NEW Daily Briefing with the morning's most important headlines for innovative Irish businesses.
read more on