'You can train skill sets, but you can't drive ambition into people if they don't have it'
Tools of the trade: Legacy and PepTalk founder Bernard Brogan talks ambition on and off the pitch.
Every week, Fora gets inside the heads of some of Ireland's top entrepreneurs to gain insights into what got them to the top of their trade. This week we speak to Bernard Brogan, Dublin GAA legend and founder of two businesses, Legacy and PepTalk. 
Bernard Brogan may have just retired from inter-county football but the Dublin GAA legend is just getting warmed up when it comes to his business ventures. 
Brogan co-founded Legacy Communications in 2012 and PepTalk Wellbeing in 2017 – the latter has just announced it is raising series A funding of €3 million to finance a global expansion. Legacy Communications employs about 20 people while PepTalk has some 14 staff. 
As part of our weekly Tools of the Trade series we spoke to Brogan about ambition, on and off the pitch, and wisdom from former Dublin manager Pat Gilroy which he took into the office. 
Here's what he had to say: 
What are the main principles that inform what you do? 
Listening to customers, it is the best way of finding out what you need to solve.
Also, innovation – trying to stay ahead of the curve and always looking at what you're doing, how you can do it better and have a USP (unique selling point). 
Who is the person who has most influenced the way you think?
Pat Gilroy, one of my Dublin managers that worked with us when I was a bit younger. He always put the person first, he believed in unlocking the potential of the individual. As a leader he did a lot of man-managing and conversations with individuals.
When he became manager he took a course at night in psychology. This is a guy who sold two businesses at this stage, so he really thought outside the box and looked at how to get the best out of individuals.
That lead me to look at how my businesses can innovate and get the best out of people. 
How do you judge new staff?
For me, emotional intelligence is the best thing. Getting them out into the big bad world as early as possible to let them see the business in action, how the world works and to see how they act on the fly when challenges hit them. 
I think good, strong emotional intelligence is valuable because you can deal with challenges when they hit you and figure out solutions along the way.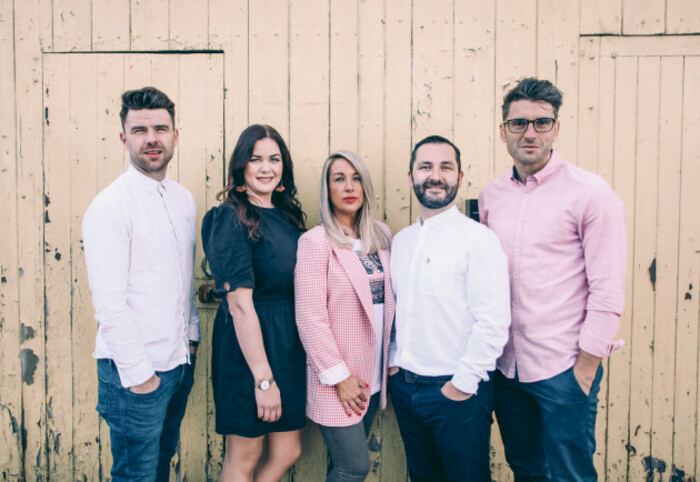 Source: Legacy Communications
What quality has helped you stand out? 
My resilience and unwillingness to give up in terms of challenge. When I believe in something and want to get somewhere I just keep on going. The determination has never waned.  
How do you deal with stress? 
Exercise. I'm lucky enough to play sport all my life and it's always been an outlet for me. I'm retired now but still playing a bit with the club.
Even a half an hour in the gym or a run – anything that can get you moving or get the heart rate going. I always feel a million times better after. 
What's the most important part of your daily routine? 
Getting into the office early. I start my day at 8 o'clock. I think that hour between 8 and 9 o'clock sets up the structure for your day and lets you get through stuff before the emails start coming and the questions start landing on your desk.
Do you think ambition or talent matters more for success?  
Both are important but definitely ambition for me. You can train skill sets, you can train talent but you can't drive ambition and motivation into people if they don't have it. It's the same on the sports pitch. 
What was a big turning point in your life? 
Starting life as an entrepreneur. I'm an accountant by trade and studied with Farrell Grant Sparks and did my time there until I was about 26. Then I took the plunge at around 27 to start Legacy, my first business. It was a great challenge.
With accountancy, there's great career progression but I also had the ambition and the drive to do something myself. That was a big turning point, stepping out into the world and the unknown. 
Aside from your own, what industry do you find most interesting and why? 
I love the FMCG space – fast moving consumer goods and retail. I love food brands and watching them grow from scratch. I love the story of a brand and watching it grow from an idea into a success. 
What book would you recommend the most?
Legacy (by James Kerr), the same name as the company. It's lessons from the All Blacks about high performance culture and things that can be brought from sport that also can work in business.
When someone starts with us we give them the book because we're always trying to build a culture that's high performing. 
How do you manage your time? 
Compartmentalising my day and being present in that moment. I cut my day into chunks, so whether it's Legacy or PepTalk or family time, (it's about) having structure.
From half five to half seven you won't get me because I'm at home and I spend an hour with the kids and put them to bed every evening. That's non-negotiable. 
Get our Daily Briefing with the morning's most important headlines for innovative Irish businesses.