'How do we decompress after a high-pressure meeting? We have an Xbox in the room'
Tools of the trade: Boy+Girls co-founder Patrick Meade also talks about relaxing his no-dogs policy.
EVERY WEEK, FORA gets inside the heads of some of Ireland's top entrepreneurs to gain insights into what got them to the top of their trade. This week we meet Patrick Meade, founder and managing partner of advertising agency Boys+Girls. 
Patrick Meade is, by his own admission, a spender. 
But the founder and managing director of creative ad agency Boys+Girls runs a tight ship at work. 
The Portobello-based company was launched in 2009, employs about 50 people and has an annual turnover of €10 million. Its clients include Three, Fitbit, Ulster Bank and Skoda. 
As part of our weekly Tools of the Trade series we spoke to Meade about getting comfortable with risk – and his changing attitude towards dogs. 
Here's what he had to say:
Why are you running the company?/What drives you to keep going?
There's four founders who own the business and run it. I've always been the one who wants to set the pace of the business. I describe the role of being kind of like the engine room; I like to be leading the strategic and organisational running of the business.
My ambition and my competitive nature is the thing that drives me forward. One of the things that we believe as a group is that our best work is always ahead of us. I think it's important to have somebody who's beating the drum for the business.
Are you a specialist or a generalist?
I have been a number of specialists within advertising. When I started my career, I was in production, then I moved to client service and then I moved to strategy when we set up Boys+Girls.
I think the managing director will need to have a much broader view of the agency. Having been a specialist for so long in my career, I'm able to empathise with what each department needs.
How do you judge risk? What is your appetite for it?
Anybody who's running a business knows that every decision carries an element of risk. I think it's about becoming comfortable with risk.
The more information you have, the more you discuss decisions – and it's great to have business partners to bounce decisions off – I think the more comfortable you could be with the level of risk that you want to take.
You've got to accept that some decisions will go your way and some of the decisions will be wrong.
I think people sometimes think taking risks is kind of a bit of a gamble but actually if you've got all the information you need and made an educated decision, it's less about gambling. It's about being comfortable with the level of risk you're taking.
What differentiates your company from the competition?
We've got a very defined point of view that the work we create is a form of entertainment.
One of the big complaints people have about advertising and the industry in general is that – whether it's on TV, online, listening on the radio or going down the street – advertising can be an interruption.
We believe that the work we do has to be as good as the entertainment that's around it. The higher we set the bar for entertainment, the better we believe our work will be. And we believe that we hit that bar more consistently than any of our competitors.
What work relationship matters the most to you?
My four business partners: Margaret, Pat and Rory. We're all still very heavily involved day to day in the business and we're all equal shareholders. We're all leaders in our own right so it's very important for the four of us to be really aligned.
We take a measure on that quite regularly just to make sure that we're all going in the same direction. We've a lot of people who work for us here in the business. They need to know that we're being consistent in the strategic approach we're taking with the business.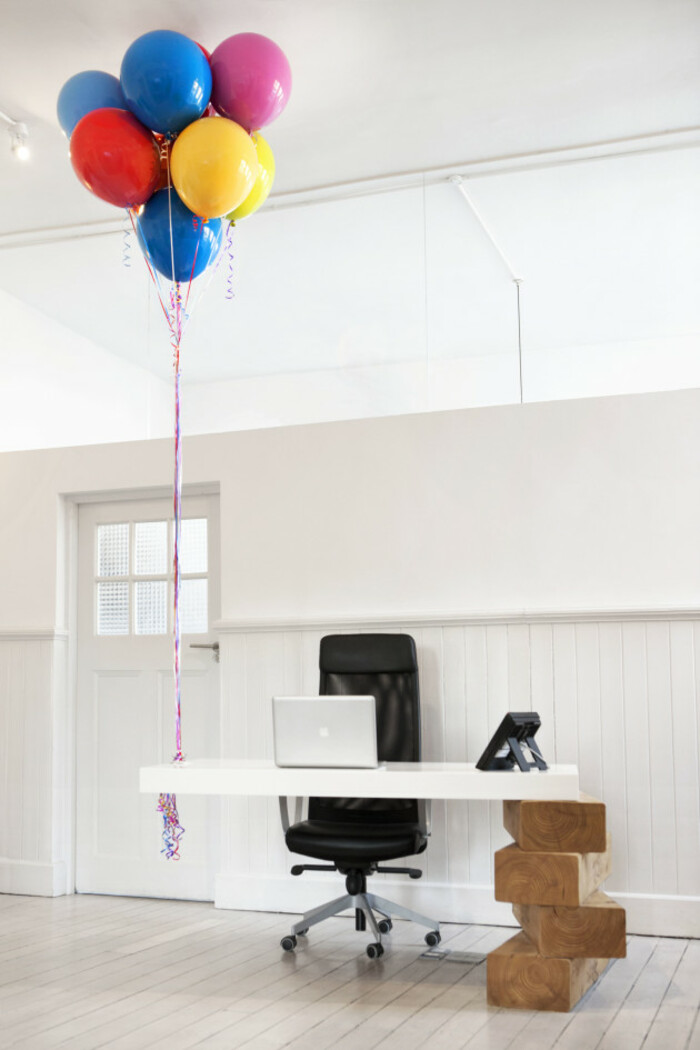 Source: Boys+Girls
How do you deal with stress?
I've got a motto: don't worry about what you can't control. It's thinking about what's within your influence and what isn't. If something is happening and you can impact it, then go ahead and do it.
If something is absolutely out of your control there's not really much point worrying about it. It's not the easiest thing to do.
What helps you switch off?
We have an Xbox in one of the meeting rooms and we'll play Fifa Football quite a lot. Myself and Rory, our executive creative director, will often go in and play a game. To decompress we'll often do it after an important meeting where the pressure is high. 
Sometimes if there's just something we need to work through, we'll play computer games because I think it allows the conversation to flow a little bit. Outside the office it's family – and I play a bit of golf.
What's the most important part of your daily routine?
For my overall routine it's about getting up and getting the kids ready for school.
My son is autistic and it's really important for him that his routine is really stable every day. The morning and getting that routine right with him is really, really important.
When I get to work it's all about getting in, settling down and then going for that first coffee in the morning. It's less about the caffeine and more that routine of getting out of the office, clearing the head, thinking about what's coming and setting a plan for the day.
How do you manage your money?
In work we obviously manage it very tightly. I wasn't ever great at the financial side of the role in my early career but I've had some really good, patient bosses who helped me along.
In Boys+Girls we've got a really strong head of finance, Diarmuid, who helps keep us in check.
From the agency's point of view, it's good to have myself and Diarmuid trying to balance a creative ambition … but also understanding that the financial running of the business is so critical to the success of it.
That's maybe at odds with what I'm like outside of work because I'm very much a spender. "You can't take it to the grave" is a phrase I'll commonly say at home. That kind of fires my ambition a bit because I know that I'm always going to run out of money if I don't earn more.
When was the last time you changed your mind about something?
I've never really been fond of animals – I never really liked dogs and quite a few of the people that work in the agency are dog lovers and want to bring the dogs into the office. It's always been something I've been against.
My daughter recently turned six and she really wanted a dog at home. So I've relaxed my rules around dog ownership and having dogs in the office. While I'm still on the fence, I see how much joy they do bring to the people in the agency and also how much love and joy it brought at home.
[embed id="embed_3"]
Do you think ambition or talent matters more for success?
Ambition and effort is probably the most important thing for success. In the agency, we have a phrase that we use a lot – attitude and energy.
We've got a business that's full of talented people, as do a lot of the agencies around Dublin. I think talent on its own can help open doors or create opportunities but attitude and energy is the thing that helps you capitalise on them.
If you can find a mix of both, it's fantastic. For me, having the right attitude, ambition and effort sets people apart within the agency. 
What book would you recommend the most?
Shoe Dog by Phil Knight. 
When we see a massive global organisation like Nike – especially within the advertising industry – we often use it as an example in case studies and presentations.
Understanding that that came from a very small place – one guy with an unlimited amount of ambition and energy selling running shoes out of the back of his car, flying by the seat of his pants for a long time – I think it's a real inspiration for anybody who started their own business.
It shows you that anything is possible. You might start by selling shoes out the back of your boot but then you can turn into a billion-dollar global behemoth.  
Get our Daily Briefing with the morning's most important headlines for innovative Irish businesses.