'We were completely self-sufficient - my father was a huntsman'
Tools of the trade: Burren Smokehouse co-founder Birgitta Hedin-Curtin talks fish smoking as art.
Every week, Fora gets inside the heads of some of Ireland's top entrepreneurs to gain insights into what got them to the top of their trade. This week we speak to Birgitta Hedin-Curtin, co-founder of the Burren Smokehouse. 
Birgitta Hedin-Curtin has fishing in her blood. 
The native Swede came to Ireland more than 30 years ago and set up the Burren Smokehouse with her husband Peter, known for its smoked salmon, trout and mackerel. It was her huntsman father who taught her to fish, forage and grow the food they needed. 
The business had a turnover of about €2.2 million last year, ships internationally and just opened a new visitor centre. It usually employs about 20 staff, which will increase to 25 over the busy Christmas period. 
In our weekly Tools of the Trade series, we spoke to Hedin-Curtin about flow, personnel and food as medicine. 
Here's what she had to say:
Why are you running the company?/What drives you to keep going?
To sustain myself on the west coast of Ireland, Lisdoonvarna. Also because it's something that I'm passionate about. 
I see food as medicine. We have for 30 years only used Irish organic salmon, mackerel, trout. 
I did a lot of fishing for household purposes back on the east coast of Sweden. That would be part of my background. We were completely self-sufficient, from fishing, foraging, growing things – my father was a huntsman. 
Living in the countryside is also something I really enjoy. We have the Burren around us, being close to nature is really important. That's part of the fibre of why I'm here. 
The inspiration we got from the east coast of Sweden is really food tourism. Buy locally, create something, care for the product – smoking we believe is an art and a craft – and sell it direct to consumers. That's how we started, then added on some wholesale along the way as well. 
Who is the person who has most influenced the way you think?
My husband Peter. 
I also work with a team of advisers, 'the board I can't afford', we call ourselves. We're 10 entrepreneurial women that meet every 12 weeks. That has been really instrumental. 
(It helps with) making some tough decisions, or going in a different direction. We talk about our own businesses and listen to others. We probably know what we're here to do, but (need) to get pushed – confirming that it's the right thing. 
What makes you feel under pressure and how do you deal with it?
Long periods of long hours and high performance. I can go for a long time and then I just have to stop. 
I put exercise and walks in nature in my plan of action. I do that most of the time. 
We all have limits and I know when I've reached my limit. 
What differentiates your company from the competition?
We're innovative. We started in food tourism 30 years ago, it didn't really exist then. We're very much community based as well.
Sustainability and the environment are very important to us and I think that that sets us apart as an organisation. We measure our energy waste, water consumption and try to reach goals of reducing usage of everything. 
What past business decision would you change?
I think some of the people that I've hired. First it was just myself and my husband and then we grew. We also had children in the meantime and we took on a manager and I don't think that was actually necessary.
We had a range of managers, some of whom did contribute but others were not a good choice of personnel. 
I suppose we didn't maybe evaluate our own strengths at the time and how we could grow the company ourselves.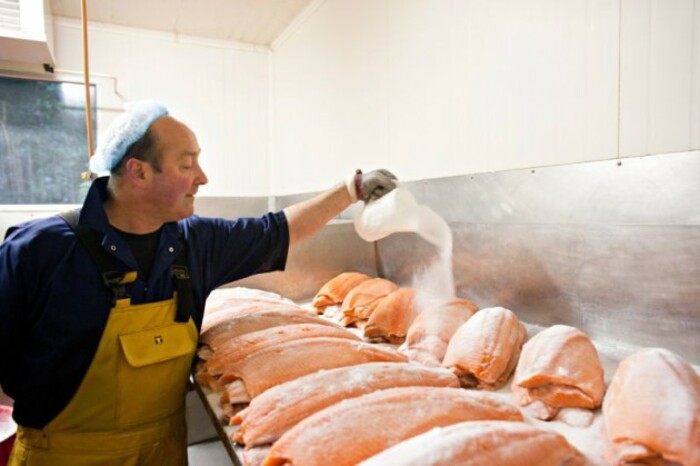 Source: Roger Overall
What tool could you not do without?
My iPhone. Between Google Maps, email and all the social media I couldn't do without it. 
What ambitions do you still have?
We have a few companies that I'd like to string together and work on destination marketing for all our businesses. 
We have several experiences and I want to make them more visible and connect them together. We have a pub, a food event space, a microbrewery and then we have the smokehouse visitor centre and the smokehouse Taste the Atlantic salmon experience. 
That's in the pipeline right now. 
Aside from your own, what industry do you find most interesting and why?
Fashion and music. They have similar creativity and I think both sectors also go well together with food. They fascinate me. 
Do you think ambition or talent matters more for success?
Ambition. You can have talent but not use it. 
What's the most important part of your daily routine?
My morning exercise and journaling, setting up my thoughts for the day and where I'm heading. 
What book would you recommend the most?
I've been listening to a book recently called Flow by Mihaly Csikszentmihalyi. He's a psychologist and has written a series of books about flow.
When you know that you're in the flow, that's when your creativity kicks in and also your happiness because you know you're in the midst of things happening. Your creativity and your activity are working together. Solutions come to you. 
Get our Daily Briefing with the morning's most important headlines for innovative Irish businesses.