'I'm still living in a land where we're starting from scratch - and maybe that's a good thing'
Tina McKenzie, CEO of Grafton Recruitment, talks about over-committing and her dream job that doesn't exist.
IF SUCH A thing existed, Tina McKenzie's dream job would be chief executive of Northern Ireland's economy.
Until that day, she plans to continue using her business acumen in her role as CEO of Grafton Recruitment, one of the largest recruitment agencies on the island of Ireland. 
The company recently announced plans to expand to Galway, Limerick, Sligo and Dundalk, where it expects to create some 30 new jobs across the new offices. 
In our weekly question-and-answer series, we talked to McKenzie about long weekends, over-committing and her advice to her teenage self.  
Here's what she had to say:
If you were forced to pick a different career, what do you think you would be doing instead?
If there was such a thing, I'd like to be chief executive of the Northern Ireland economy.
I think we need transformation in our economy – an economy that's next generation, and about high skills, high value and really ensuring that the people of this economy benefit. 
What's your favourite spot for a working lunch or coffee to meet clients?
Probably in Belfast a little cafe I like to go to is Cuan cafe. It's a real quirky little cafe at the bottom of the Ormeau Road. 
How often do you take a day off?
I try to take a long weekend once a month, but I really am never off truly to be honest. I'm never without my phone and I'm never offline.
What advice would you give to your teenage self?
Not to worry so much. Chill out, relax, travel more. Don't be so serious and don't worry so much. 
Do you read business biographies/management books? If so, what's the best book you've read this year?
The most recent one I've read is on Theranos founder Elizabeth Holmes – a book that's called Bad Blood by John Carreyrou. It's fascinating, about a lady who built a billion-dollar company and it was all fake – she's now being charged in the US.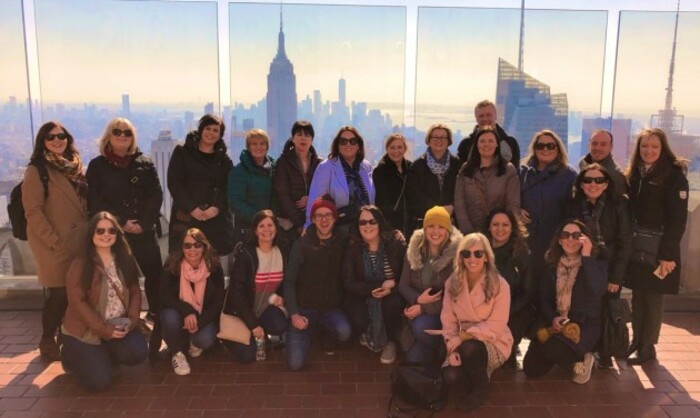 Source: Grafton Recruitment
Do you like to see your employees working extra hours? Why/why not?
Generally no, I don't think it's good. If I see somebody working late I want to know why.
I think if somebody's working on something for a customer and it's very important and it needs to be done, then fine. Generally I think they need a work-life balance.
I'm more comfortable with my senior director team being available and working out of hours because I think that's some of the responsibility we carry, but certainly not for the general troops. I expect them to have a good work-life balance
What's your favourite job interview question to ask and why?
How would your last boss describe you? You always get some very interesting answers to that.
What's the biggest problem you've had to deal with in your business so far and how did you overcome it?
My biggest problem was six years ago when I started this company here – having new customers.
How did I overcome it? Non-stop contacting of clients, cold-calling, networking, warm-calling, introductions from friends, every which way I could to try and get customers to get them to buy our services – that really was the toughest, starting from nothing.
How do you choose who to promote in your business?
The people that absolutely dedicate themselves to the business and treat it like their own – those people who work the hardest and are the most dedicated. 
What bad work (or business) habit have you had to kick?
I haven't kicked it yet – it's saying yes to too much. I over-commit. I struggle to say no – I still have the mental attitude that I have no customers, so I struggle to say no to a new opportunity to meet new customers.
I'm still living in a land where we're starting from scratch – and maybe that's a good thing because we push hard every day. 
If you could invest in any Irish company (other than your own), which one would it be and why?

I've invested in two. I've invested in Fusion, which is a life sciences company and I've invested in First Derivatives, which is a company based in Newry.
Get our Daily Briefing with the morning's most important headlines for innovative Irish businesses.