Commission-hungry delivery services will be the top 'disruptor' for Irish restaurants and cafés
A Bord Bia foodservice sector report says operators need to adapt and embrace the likes of Deliveroo.
THE RISE OF third-party delivery services will be the "biggest disruptor" to the Irish foodservice market, according to a new report from Bord Bia.
But Maureen Gahan, the organisation's sector specialist, said this will bring more opportunities than challenges for existing food businesses – despite high commissions charged by delivery providers eating into outlets' bottom lines.
"We're predicting that third-party delivery services will continue to grow, especially when we look at what's happening in other markets, like the UK and the States," Gahan told Fora.
"Restaurants should be looking at it as an opportunity. Ultimately it's about growing the food market, so in theory it should be a win-win for all."
Third-party delivery is a growing business in Ireland, with international giants JustEat and Deliveroo expanding their operations here, while UberEats is set to launch its platform in Dublin shortly.
According to Bord Bia, the rise of the services has helped businesses that haven't traditionally engaged in food delivery to extend their reach or get new customers.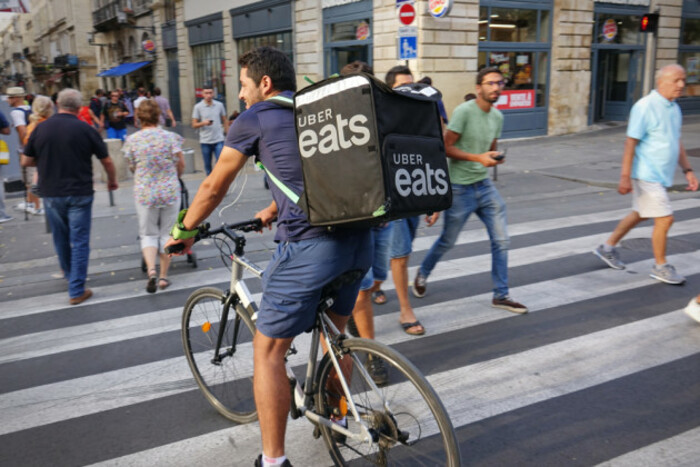 Source: Shutterstock/MikeDotta
However, the food board also noted that the costs associated with these services have discouraged many operators from signing up. Deliveroo, for example, charges commission of up to 30% on orders through its platform.
"What we're seeing is that some in the industry are slow to adopt because it's a different cost structure. Delivery services are looking for their margin too, so it becomes harder to make money from it," Gahan said.
"But restaurants just need to look at their costing and recognise that even if they are making less profit on an order, it's still incremental business.
"It's not cannibalising sales either. Some restaurants feel if they use JustEat or Deliveroo then customers won't come to their restaurant, but we're hearing the opposite. Customers might order on a Monday and Tuesday when they don't want to go out but will still visit a restaurant on a Friday or Saturday night."
Overall, Bord Bia said that technology is a growing aspect of the foodservice sector – from delivery options to cashless payments and 'click and collect' orders.
The organisation added that operators that are "unwilling to adapt to the times" are likely to face challenges in the future.
Foodservice growth
According to the Bord Bia report, the Irish foodservice market will be worth €8.2 billion this year, a 6.1% increase on the 2017 figure, driven by increased spending at quick-service and fast-casual restaurants, hotels and cafés.
The figure includes the spending on all foods prepared and consumed out of the home, including in pubs and at catered workplaces. It also includes spending in both the Republic and Northern Ireland.
The market is forecast to increase by a further 4.4% between now and the end of 2020, representing less-robust growth than in previous years.
"The forecast growth is slower, partly because the growth rates of 5% to 6% that we've seen in recent years are not sustainable on an ongoing basis. So there was always going to be somewhat of a slowdown," Gahan said.
"But the growth is still fairly substantial. By the end of 2020 the market will be worth over €9 billion."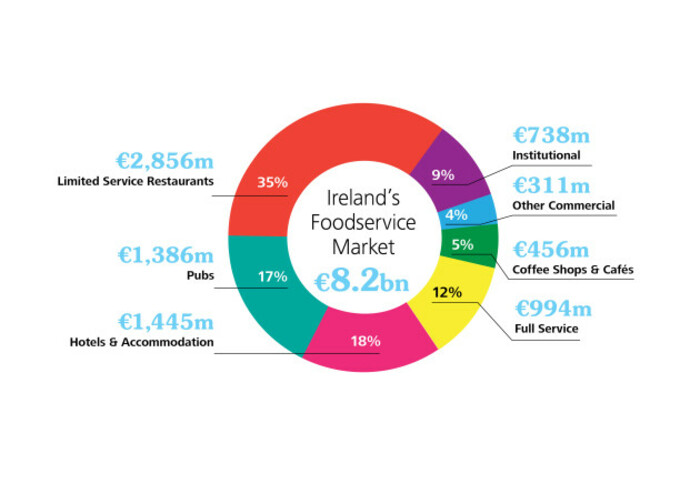 Source: Bord Bia
Bord Bia highlighted two main challenges that could hamper growth: Brexit and changes to the hospitality industry's VAT rate, which will increase from 9% to 13.5% from January of next year.
But Gahan said that saturation is also becoming an issue, especially in city centres – an idea that has been echoed recently by businesses such as Eddie Rockets and Four Star Pizza.
"As our economy continues to grow we're a more attractive location for international brands – we've seen the likes of Wetherspoons, Five Guys, Caffe Nero, Krispy Kreme. The market is becoming busier and we're suggesting that some cities are hitting saturation point," she said.
"Overall consumers are spending more money on food out of home and the market is growing at a fast rate. But as it becomes busier, operators will need to have a point of difference compared to their competitors."
Get our NEW daily digest of the morning's most important headlines for innovative Irish businesses.