JustEat is quietly switching up its playbook... it's now hiring delivery drivers
The Irish boss of the takeaway ordering giant talks about a logistics pilot the operation is running.
AFTER BUILDING A £5.5 billion takeaway empire with its tried and tested model, JustEat is quietly running new logistics pilots that could give competitors like Deliveroo a run for their money.
The Irish wing of the business has been one of several operations involved in a new experiment and employed third-party contractors to complete the last-mile of takeaway deliveries.
Up until recently, JustEat's model has been built on taking a 13% commission on food orders processed on their site, with the restaurants providing the delivery service or customers picking up their orders.
This is the opposite of the Deliveroo and UberEats model, which provides the delivery services to restaurants for orders done through their platforms.
But JustEat Ireland boss Amanda Roche-Kelly has insisted the experiment is not a move to compete with Deliveroo or the incoming UberEats model.
"Our main competitor is the phone. The main reason we got into (delivery) wasn't because of other players in the marketplace, it was the demand from our restaurant partners that we operated with on a collection basis. They asked us to help them deliver," she said.
"Some of the restaurants just didn't know how to get into that delivery side of the business, and we are the experts. We're expanding that slowly, but it's definitely something we will invest in further as the demand grows."
She added that it was also a move JustEat needed to make to boost the number of cuisine types on the site.
"Some of those would be paleo, gluten-free and trendy cuisines like Hawaiian, these restaurants don't traditionally deliver.
"These guys are sit-in restaurants and what people want, but they don't want to deliver. So we've gone in and said, 'We'll deliver for you'."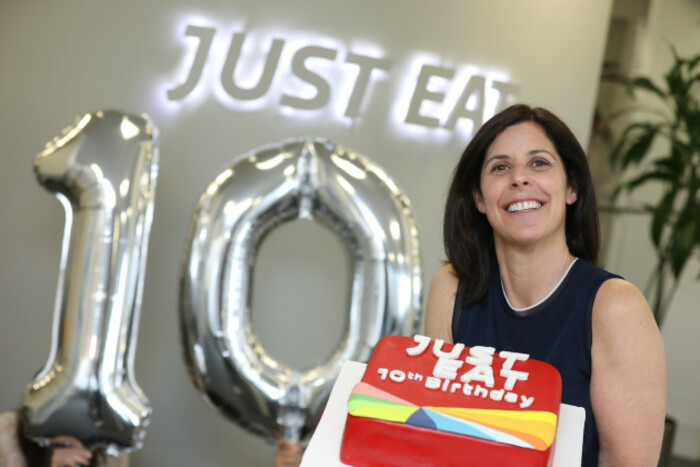 Source: JustEat
JustEat Ireland has already linked up with Irish logistics startup WeBringg, which now manages some of its deliveries alongside another unnamed operator, according to Roche-Kelly.
Restaurants that use the new delivery service are part of a different commission structure, and are charged by JustEat for the provision of the last-mile delivery service.
Roche-Kelly wouldn't put a figure on the investment into the pilot to date, but the annual report for the firm released earlier this year gave more insight into the UK experiment.
Last year, the UK business invested £12.2 million into the delivery pilots and trials with what JustEat calls 'quick service restaurants' (QSRs) like KFC and Five Guys.
The yearly report added that it has used knowledge from SkipTheDishes, a Canadian firm it acquired in 2016 that already had a delivery wing to its business, to inform the logistics pilots in the Irish, UK and other markets.
"We believe it is possible to establish delivery models that can be both viable and profitable in the longer term," the annual report noted.
"Engineering such a service we estimate would open up an additional £18 billion market of QSR chains to the group. Clearly it is a market we would be foolish to ignore in our strategic planning."
The new delivery scheme has helped the Irish operation sign up some big new restaurant chains to the platform, including Five Guys and KFC.
And there are some names missing from that list, such as McDonald's and Burger King, that Roche-Kelly said could be tempted to join as well.
"There is definitely demand for them, so it's a matter of watching the space. But we do things quite slowly, quite measured in JustEat because you have one chance to do it," she said.
"We were first into the market and really built it, so we're not about to go and bombard everybody with loads of change. And we need to be conscious of our bread and butter. The self-serve independent restaurant is what we're all about."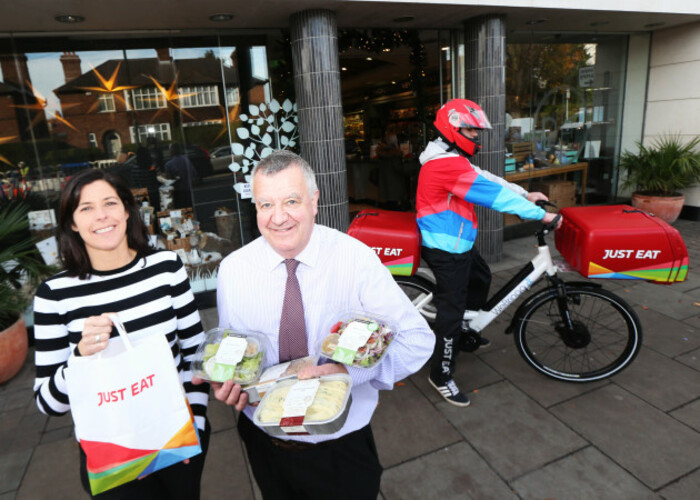 Source: RollingNews.ie
Insights
The logistics pilots are an interesting new approach for JustEat, which this week marked the 10th anniversary of its Irish business. But Roche-Kelly said the work with the independent takeaways is what she's more focused on.
In recent years, JustEat has started to share data trends with independent restaurants on its platform.
[embed id="embed_2"]
"We're sharing all these with our restaurant partners and showing the values of being one of our partners. It's not just orders," said Roche-Kelly.
"Orders is the name of the game and you join up to get orders, but the business insights are huge. We can support their business development goals. We know what our customers like, when they like to order and how often they order."
She added that JustEat has started to help restaurants shape their menus and even set opening hours.
"Some people would think hours of opening, that's an obvious one, we all know when to open and close.
"But actually in specific areas, using postcodes and Eircodes, we can drill everything down. We can tell a restaurant that the 15 minutes you're staying open is costing you X-euro because you've got a driver there and nobody is ordering."
These independents would probably welcome saving a portion of their bottom line, but what they'd be more interested in is the commission charged by JustEat.
The most recent accounts for the firm, which cover 2016, showed profits doubled to €4 million after the commission paid by restaurants went up.
The fee has been steadily increased since 2008, when it stood at 8% for every order it processed. But it's levelled out now, according to Roche-Kelly.
"It's at 13% now and we are very comfortable with where we are," she said.
"We are delivering an average of 45% year-on-year revenue growth since the last commission increased and very happy with that."
Sign up to our newsletter to receive a regular digest of Fora's top articles delivered to your inbox.