Dark kitchens and Danny DeVito algorithms: How Deliveroo plans to corner food deliveries
The UK company is looking to roll out its 'Editions' sites across key markets – including Ireland.
IN A QUIET laneway in the northwest London area of Swiss Cottage, an unassuming door opens onto a hive of activity that bustles with chefs and delivery riders.
It's a Deliveroo 'Editions' site – the food-delivery firm's 'dark kitchen' initiative, which provides restaurants with shared units that are designed for a delivery-only service and are not open to the public.
Deliveroo leases the space, kits it out for the operators' needs and facilitates orders through its app and delivery rider network. 
Restaurants bring their own staff and ingredients, and Deliveroo provides the rest – in exchange for a higher commission on orders.
The idea is that Deliveroo can bring new food brands to an area, often exclusively to its platform, while restaurants can test new ideas or markets without having to worry about overheads.
Although each Editions location has a different layout, Swiss Cottage features 10 individual kitchens with 10 types of cuisine.
There are steak tacos and tuna poké, alongside more traditional offerings like pizza, Lebanese, Chinese and fried chicken.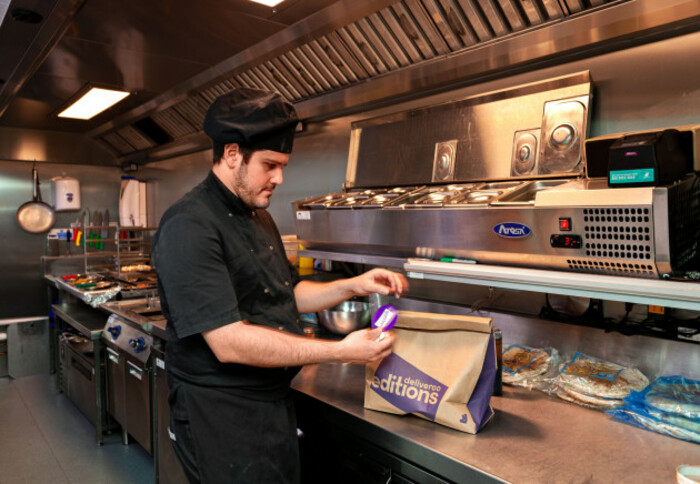 Source: Deliveroo
Editions began as an experiment for Deliveroo, which launched its first dark kitchen in a storage container in a London car park.
However, it has become "more of a central thesis" for the company since then, according to Caleb Merkl, the company's VP of special projects.
"It's chefs and its food, without having to deal with customers. It's taking a lot of the burden off what a restaurant needs to do," he says.
"It's a different value proposition. It allows people to share the costs of a traditional restaurant with lower upfront risks."
Deliveroo has rolled 27 Editions sites out in seven different markets. The company has also tried out different formats for the concept – with some in residential areas, others in city centres.
In Amsterdam, the company has turned it into a customer-facing food market, while in Singapore there's a click-and-collect Editions.
Source: Deliveroo
Tech company
Elsewhere in London, the food-delivery firm's new HQ – which it moved into last year – has all the familiar trappings of a tech startup. There's the open-plan office resplendent with beanbags and swing chairs, as well as meeting rooms with names like 'hot dog' and 'fries'.
The company was founded in 2013 as a one-man experiment by Will Shu – an investment banker who was looking for more food delivery options in London.
Since then, however, it has grown into a global organisation valued at more than $2 billion, with over 2,000 employees on its payroll in 13 markets.
According to annual results released earlier this week, Deliveroo's sales spiked to £227 million last year, although its losses widened from £129.1 million to £184.7 million, which it attributed to investment and expansion.
It comes amid reports that the company is being pursued by Uber – an option Deliveroo says it's not considering right now – as well as persistent questions over whether the firm is headed for an IPO.
Akshay Navle, the company's VP of product, describes Deliveroo today as a "three-sided marketplace which brokers between restaurants, riders and customers".
This includes 50,000 delivery riders and 50,000 restaurants across the UK, Australia, Belgium, France, Germany and the United Arab Emirates, among other markets.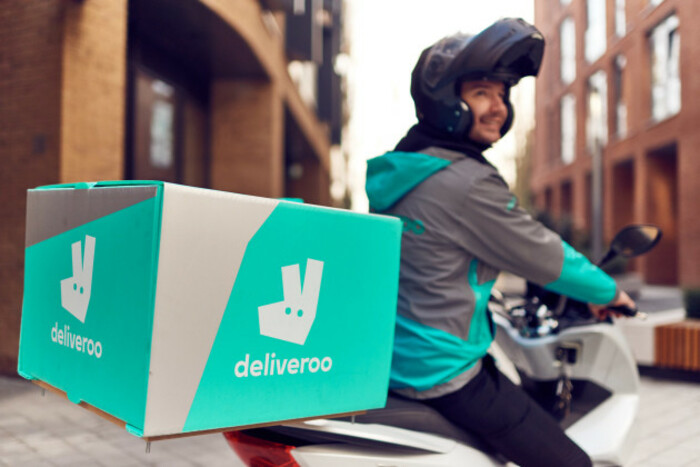 Source: Deliveroo
The optimum way to facilitate orders between all three parties is calculated in real time by Deliveroo's main algorithm. It was originally called Louie, after Danny DeVito's dispatcher character in the US television show Taxi.
However, when the algorithm was updated and became more complex, its title was switched to Frank after the actor's character in It's Always Sunny in Philadelphia.
Navle even got the chance to tell DeVito this when he bumped into the actor at the British Embassy. "He asked if he would get royalties from it," Navle says.
The algorithm takes around 85 different factors into account when processing every order – such as location of the customer, location of riders, the estimated time it takes to cook each element of the order.
But Navle says the formula is constantly being worked on to streamline the system further.
"Frank changes his mind every 30 seconds, but we're planning to get that down to every one second."
Irish business
Lunch comes via Deliveroo, of course. On today's menu is Pinza – a Dubai-based pizza chain that is dipping its toes into the UK market through an Editions kitchen in Whitehall.
This is one of the features of the dark kitchen format – allowing restaurants to try new markets, new ideas, or new brands without having to commit to a retail space on the high street.
For example, Ireland-based Thai chain Camile has launched a 'virtual restaurant' called Slammin' Ramen in London.
Liam Cox, the general manager of Deliveroo's operations in Ireland, says he's been in talks with a few Irish restaurants about trialling a space in a UK Editions site, although he remains coy about naming them.
But it's also likely that Irish food businesses will be able to try out the concept a bit closer to home. For the last two years, Deliveroo has been talking about expanding Editions to Ireland.
Cox admits that it's been a "bandwidth issue" so far and he has been more focused on expanding Deliveroo's foothold in Irish cities before introducing something new to the market.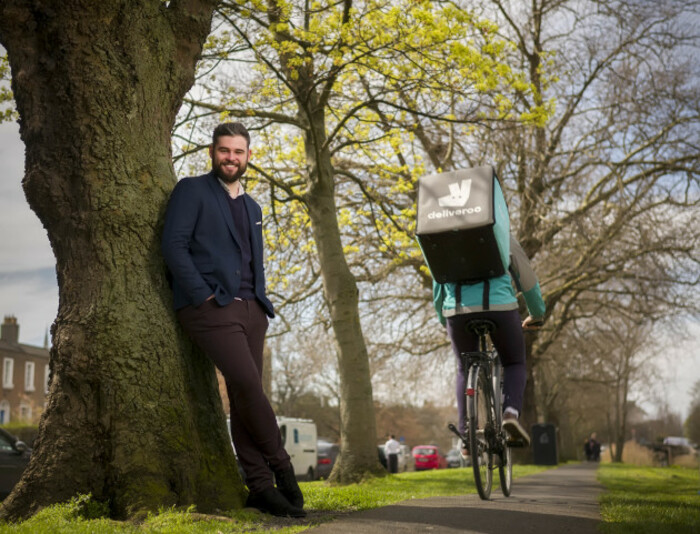 Source: John Ohle Photo
But Dan Warne, managing director for UK and Ireland, says the company is now at a point where it can focus on bringing the Editions model to the other side of the Irish sea.
"By the start of next year we'll be looking seriously in Dublin," he adds.
[embed id="embed_2"]
Deliveroo first made the move to Ireland in 2015, starting in Dublin before expanding to Cork, Galway, Belfast, Limerick and, most recently, Derry.
Sales at the Irish arm nearly doubled last year, increasing from €2.8 million to €5.1 million, while the company also turned a profit for the first time since setting up shop in Ireland.
While Deliveroo is reluctant to provide information on its number of customers or the amount of orders it fulfills, Dublin is one of the company's top-five cities worldwide, according to Warne.
"Ireland is also one of our fastest-growing markets," he adds.
Talking to anyone in Deliveroo about Ireland, they are all quick to point out that Boojum burritos are the second-most ordered item across the company's global operations.
Expansion plans
Deliveroo's Irish platform now features 650 restaurants, including chains such as Milano and Eddie Rocket's, as well as smaller players and independent restaurants.
The company charges restaurants a commission on orders – which is typically worth between 20% and 30% of the total – as well as a €2.99 delivery fee.
In Ireland, it is supported by a network of around 900 delivery riders, who are all self-employed contractors.
The main bump in the road during Deliveroo's expansion worldwide has been around staffing issues, with the company attracting significant controversy around riders' pay and their access to employment benefits.
In response, the company recently introduced free insurance for all riders and a 'dynamic fees' structure, which means that delivery staff receive a flat hourly fee as well as payment for the distance they travel.
Deliveroo says that riders in Ireland now make an average of €10.20 per hour, with staff doing an average of 15 hours per week.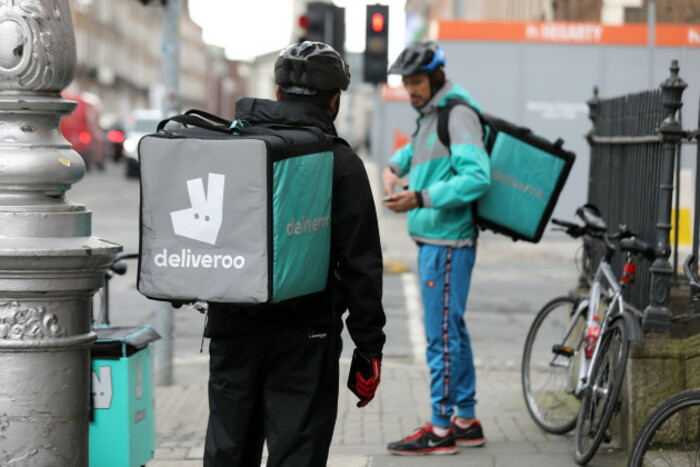 Source: Eamonn Farrell/RollingNews.ie
Earlier this year Deliveroo announced plans to increase the number of eateries on its platform by about 50% and expand to more areas across Ireland.
It plans to do this through a new scheme called Deliveroo 'Marketplace', which allows restaurants to join its delivery platform while continuing to use their own drivers.
"Marketplace has become more significant than we thought it would, we wouldn't be able to expand as widely in Ireland without it," Cox says.
"To launch in a new area without Marketplace is very risky – this allows us to test new areas."
Cox adds the company will now be "more bullish" in how it expands, in terms of restaurants and locations. He says the company has been looking at both cities and towns across Ireland, although he's keeping his next move under his hat for now.
"We're looking at quality over quantity. We don't want a random list of restaurants, but we want to cater for everyone – the big brands as well as the small takeaways that only the locals know about."
Sign up to our newsletter to receive a regular digest of Fora's top articles delivered to your inbox.