Four Star Pizza is eyeing a move into Britain as it hits saturation point in Ireland
The pizza chain's director says it is already 'at capacity' in many areas of the local market.
IRISH TAKEAWAY CHAIN Four Star Pizza will continue to expand its presence across the country – but it is also planning a move into Britain.
The pizza brand currently has 51 stores on the island of Ireland, with a growing presence in Northern Ireland, but is now focused on moving further into the UK market.
Brian Clarke, director of Four Star Pizza, said the company is looking to open its first outlet in Britain next year.
"We're at a point in Four Star Pizza's life within Ireland where we're reaching capacity. There are some towns in Ireland that wouldn't take a Four Star – they just wouldn't have the population to support it," he told Fora.
"We need to think about what's next. We're already in Northern Ireland, so the next logical step for us is expanding in the UK – it's just a bigger market."
Clarke said that the company hasn't chosen its first location yet, but it is currently looking at potential options.
"The interesting thing about the UK is that the population centres are so much bigger than Ireland – there's Birmingham, Manchester, Newcastle, even before you look at London," he added.
"So we're doing a lot of research into that at the moment and we expect to see stores open from next year."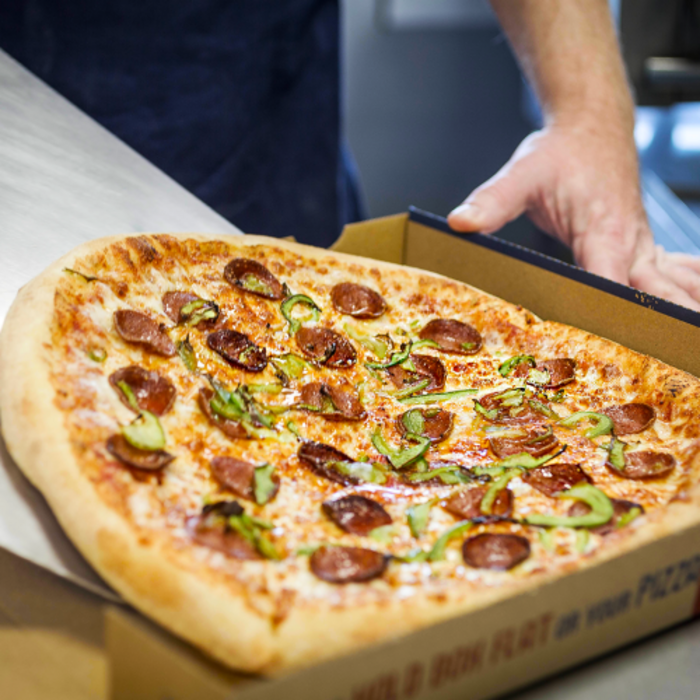 Source: Four Star Pizza
Although an international expansion is on the cards, Four Star still has plans to grow its store network in Ireland.
Clarke said the company plans to open another five stores here before the end of this year with the aim of having a total of 65 outlets on the island of Ireland by the end of 2019.
Last year, the company announced that it was investing €3 million to hit 62 stores by the end of 2018, but Clarke said that finding the right locations and franchisees has taken time.
He added that the company has run into difficulty expanding in certain areas due to its franchise arrangements.
"When you have a franchise with Four Star Pizza you have a delivery territory as part of the contract. We give our stores the protection that we're not going to open another one 50m down the road from them.
"But that means in larger centres we're at capacity. We couldn't open any more stores in Dublin now, even if we wanted to."
As a result, he has been focused on expanding the brand outside its core markets of Dublin, Cork and Belfast.
"We've a number of shops coming up in the midlands, Mullingar, Carlow, Greystones, areas outside of the bigger centres. I think that's really been the focus over the last year and going into next year.
"What we have also done is opened up a number of co-locations in smaller towns. For example in Lusk, we've just opened a Four Star within a Costcutter store.
"We've done that a number of times with Spar, Costcutter, service stations. It makes sense in areas where the population size wouldn't justify a full Four Star Pizza, but we can certainly have an outlet within an existing business in the locality."
Takeaways
Four Star Pizza has been operating in Ireland for more than three decades after opening its first outlet in Crumlin in 1986.
The brand was acquired out of examinership by investor Michael Holland's Gonville group in 2011, which was when Clarke came on board.
He said that Four Star has nearly doubled its network since then. All of the outlets are operated on a franchise basis and the company works with around 30 different franchisees.
Clarke wouldn't disclose the overall turnover across the franchise but said that the figure has steadily increased in recent years.
"We've averaged about 14% increase in sales year on year for the last five years. That's from a combination of new stores coming into the network but also sales increases in existing stores," he added.
The most recent public accounts for Gonville Ltd showed the group had turnover of more than €1.7 million in 2016 with profits of €127,000.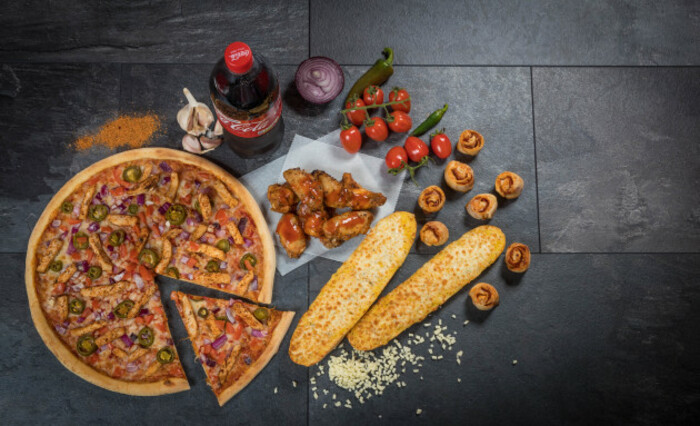 Source: David Cantwell
Clarke said that the takeaway food market in Ireland has undergone a lot of changes in recent years – even since he's taken on the top job in Four Star.
"Some things have stayed the same – our strongest sellers on our menu have probably been the strongest sellers for many years.
"But we've also had to change with the times. We have introduced other types of pizza – gluten-free bases, thinner bases, toppings have moved towards vegetarian options."
Changes in technology have also led to an increase in competition, with JustEat and Deliveroo expanding their presence in Ireland in recent years.
Although Four Star deals with JustEat, which takes a commission on food orders processed through its site, Clarke said that he is trying to encourage customers to order from its outlets directly.
"It's important for us not to become too dependent on JustEat, so we've recently launched a loyalty programme that's available for customers when they order direct with us online," he added.
"Although JustEat is part of our business, it's important that we're in control and we're the place the customer goes to.
"We have to make sure that we're not just expanding but we're looking after what we already have as well."
Get our NEW daily digest of the morning's most important headlines for innovative Irish businesses.