Uber Eats is about to launch its assault on the Dublin food-delivery market
The company has been trialling deliveries on the capital's streets in recent weeks.
ON-DEMAND LOGISTICS GIANT Uber is poised to launch its food delivery business in Dublin, where it will go head to head with international rivals Deliveroo and Just Eat.
Fora understands that the service is due to go live within a few weeks after recent trials in the city involving delivery riders.
The service, much like rival Deliveroo, allows restaurants to offer online ordering and delivery to customers through a network of freelance cyclists and drivers.
The tech companies also provide access to their data analytics, while Uber Eats makes its money from taking a cut of each order processed as well as charging customers delivery fees.
Uber has been signing up riders in the city, while one restaurant confirmed that it had already been approached by the US company to sign up to its platform.
The company previously told Fora it planned to roll out Uber Eats in Ireland during 2018, however a spokeswoman declined to comment on a Dublin launch date when contacted this week.
Uber Eats will be entering a competitive market for on-demand food delivery.
Deliveroo, its main rival internationally, has had a presence in Ireland for a number of years and generated a profit of €136,000 last year, a marked turnaround from its €2.4 million loss the year prior.
The other major player, Just Eat, has plans to roll out its own network of delivery riders that will put it in more direct competition with Deliveroo and Uber Eats. The overall company reported third quarter revenues of £195.3 million this week, an increase of 41%.
Expansion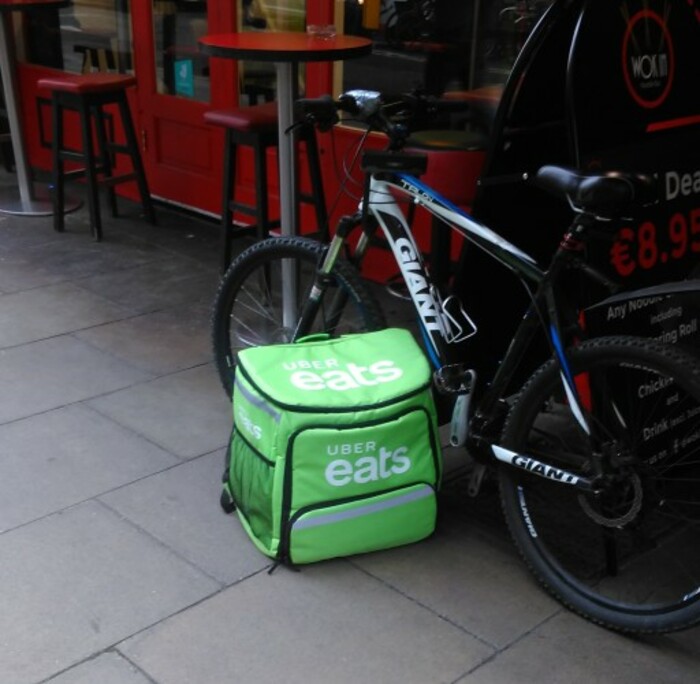 Source: Fora
Uber, which began just as a ride-hailing app, first launched Uber Eats in the US in 2016 and is now running in dozens of cities globally.
In October, the company announced a new plan to aggressively expand the food delivery business in the US into suburban areas. It claimed it will cover 70% of the US by the end of the year.
The food delivery arm is one cog in Uber's diversifying of its business. It recently got into trailer leasing and is testing on-demand short-term staffing services as it prepares for a much-hyped IPO next year.
Uber's main ride-sharing business, where private drivers offer transport to users, doesn't operate in Ireland due to existing taxi regulations. Users of the app in Ireland can only order traditional taxis, rather than private cars.
The company had lobbied for changes to rules here that would allow its core product to launch, including pitching a pilot in Limerick, however the plans were rejected.
Its local operation booked revenue of just €450,000 in 2017, down from €507,000 the previous year, although it still recorded a slender profit.
Uber opened its 'centre of excellence' in Limerick, which provides support for the Europe, the Middle East and Africa markets, in 2016.
That arm of the business reported turnover of €13.3 million in 2017 and had an average of 288 staff on its books during the year.
Get our NEW daily digest of the morning's most important headlines for innovative Irish businesses.