Cork loses out as passengers continue to flock to Dublin Airport
The capital's hub is taking a massive chunk of Ireland's total air traffic.
DUBLIN AIRPORT IS taking an ever-increasing share of Ireland's total air traffic, according to new data.
Aviation statistics published today by the Central Statistics Office (CSO) show that the capital handled almost 85% of all passengers travelling through Irish airports in 2016.
That's up about five percentage points on its traffic share four years ago.
Just under 33 million passengers travelled through Irish airports last year, an increase of 10.3% on the previous 12-month period measured by the CSO.
More than 27.7 million passengers passed through Dublin, up 11.3% on the year before.
Regional hubs
Cork Airport has seen the biggest dip in its traffic share since 2012, dropping three percentage points to just under 7% of all flights in 2016.
The other main airports – Shannon, Knock and Kerry – saw marginal drops in their share of total air traffic.
Unsurprisingly, Waterford was the only airport that saw a decrease in passenger numbers, dropping a massive 60%. The south-east hub lost its sole scheduled service in June of last year when Belgian airline VLM pulled its service to London Luton.
Click here to view a larger image.
Runway
The most popular countries of origin and destinations for Irish travelers were the United Kingdom and Spain. Outside of Europe, most traffic went to and from the US.
DAA – the semi-state that operates Dublin Airport – recently announced that 2.2 million people used the hub last month, up 2% on the figures for March 2016.
The company was recently granted a five-year extension to build its long-overdue north runway, slated for 2020.
Preliminary works on the €320 million project began last year. It is expected that construction of the 3.1km runway will kick off later this year. A third terminal is also potentially in the pipeline.
Ryanair chief Michael O'Leary has on a number of occasions criticised the projected cost of developing Dublin's second runway.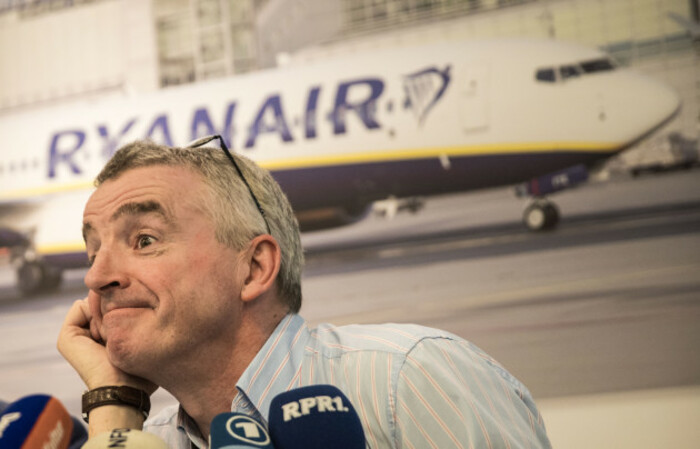 Source: Frank Rumpenhorst/DPA/PA Images
Aer Lingus boss Stephen Kavanagh previously warned that Dublin is turning away business because its existing infrastructure can't handle extra traffic.
Speaking at the National Civil Aviation Development Forum in February, Kavanagh said the state's largest airport will turn away traffic in 2017 because of poor infrastructure, which is already "constraining growth in 2018″.
He warned before that if Dublin doesn't "extract maximum value" from existing infrastructure and invest in facilities to handle connecting traffic, it could see carriers migrate to Reykjavik or elsewhere.
Sign up to our newsletter to receive a regular digest of Fora's top articles delivered to your inbox.
read more on