Michael O'Leary blames Dublin Airport for his airline's dwindling Irish passenger numbers
The Ryanair boss said rising airport charges are driving its business away from the capital.
RYANAIR BOSS MICHAEL O'Leary has announced the airline will see "significantly less growth" in Ireland this year – and has placed the blame firmly at the feet of state-owned DAA.
Last year, the airline carried 12.4 million passengers through Dublin Airport, however, O'Leary said Ryanair will see that figure drop by around 400,000 this year.
Speaking at a media briefing today, the budget airline's chief executive said the decision to reduce its activity at Dublin Airport was due to Ryanair's airport charges increasing this year.
These fees are paid by all airlines that use Dublin Airport for flights, with the charges going towards both airport running costs and improving facilities at the hub.
In recent years, Ryanair has availed of Dublin Airport's Growth Incentive Scheme, which offers airlines a rebate on fees in return for delivering increased passenger numbers. The scheme continues to operate at the airport.
O'Leary said his airline had delivered "70% of Dublin's growth over the last two or three years", but because the incentives lasted only 12 months its fees were now set to rise.
Ryanair's new business would go to other European airports that had committed to cutting airport charges, rather than Dublin, he said.
"If (DAA) are not going to lower their costs, our growth will be allocated to those airports across Europe, particularly in Spain, Italy and Germany, where costs are being reduced. We reward the airports that are lowering costs."
O'Leary added that the company wanted to increase its passenger numbers by two million at Dublin Airport and a return to its previous charges, but the offer was knocked back at talks over Christmas.
A spokesman for DAA, which runs both Dublin and Cork airports, told Fora there had been no increase in airport charges for 2017.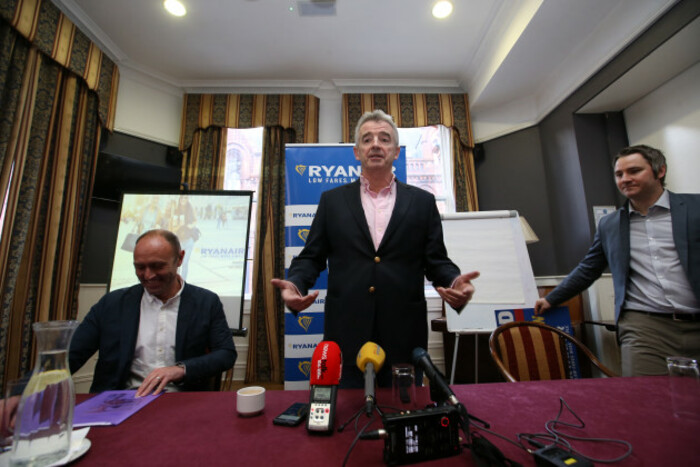 Source: Sam Boal/RollingNews.ie
Runway
O'Leary's grievances with DAA's plans for a new runway also resurfaced at today's media briefing. He has previous criticised the projected cost of developing a second runway at Dublin Airport.
"In Dublin, they are still following the North Korean model of higher fees, we don't care, we're full and we're going to waste €320 million building a runway that should be built for €200 million," he said.
"The cost of the runway went up even before they went to tender. It is about the only example I can think of where anybody about to do a capital infrastructure project would increase the cost of it before they went to tender.
"Why didn't they go to tender at €240 million and see what tenders come in … it's not the way it should be done."
O'Leary also said that the airline will have slower growth in the UK over the next few years due to the uncertainty caused by the result of the Brexit referendum last year.
Other points raised during the media briefing:
Ryanair has predicted that total passenger numbers will grow to 119 million this year
An additional 305 aircraft have been ordered by the airline to deal with growth over the next few years
The average price of a Ryanair ticket last year was €46 and will fall below €40 this year
The airline has increased its passenger numbers forecast and expects to hit 200 million customer each year by 2020.
read more on