Michael O'Leary: The government should scrap one of Ireland's 'greatest policy catastrophes'
The Ryanair boss said the air travel tax should be formally abolished.
RYANAIR CHIEF MICHAEL O'Leary says the issue he's "most attached to" is the formal abolition of the air travel tax.
Speaking at the National Civil Aviation Development Forum yesterday, O'Leary said he was concerned the government had "simply reduced it to zero" – rather than doing away with the levy altogether.
The Irish Times recently reported that finance minister Michael Noonan had rejected a proposal to officially get rid of the levy, which was reduced from €3 per passenger to zero in April 2014.
"Taxing air travel saw traffic at the three airports go from 31 million (passengers) down to 23 million in two years," O'Leary said.
"It was one of the great policy catastrophes, admittedly from a long line of policy catastrophes, from a Fianna Fáil-led government. We can't afford to see that (tax) return."
The tax was brought in with the 2009 Budget, announced in October 2008, initially levying a €10 charge on all passengers flying further than 300km from Dublin. It was changed to €3 in 2011.
It coincided with a dramatic slowdown in air traffic through Ireland as the financial crisis tore through the economies of both the Republic and its trading partners.
O'Leary also called for further "deregulation and liberalisation within the aviation market for Europe" as well as a "reduction in ownership restrictions on airlines".
"These are not big policy issues," he said. "We have many players in this industry who fight like cats and dogs on a daily basis, but we've come together to agree on these (issues)."
O'Leary said it was now up to the government to implement recommendations from major players in the aviation sector.
"Governments are great for holding conferences," he said.
"We're going to sit here and talk until lunchtime. That's not an excuse or replacement for action. We now need to see some action coming back from (Transport Minister Shane Ross), from the Department of Transport and from the Department of Finance."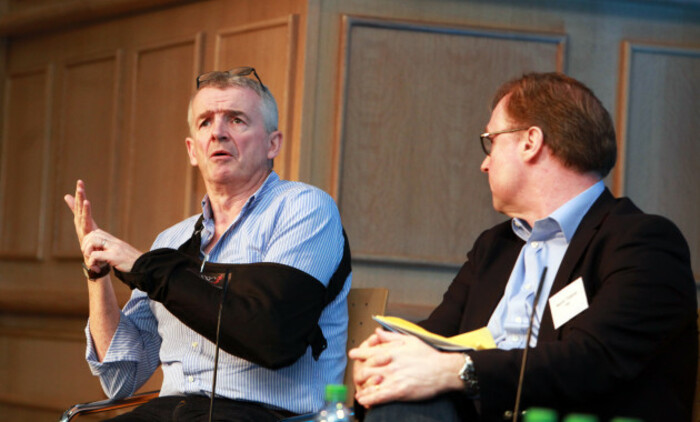 Source: Leah Farrell/Rollingnews.ie
Poor infrastructure
Speaking on the same panel as O'Leary, Aer Lingus boss Stephen Kavanagh warned that Dublin Airport is turning away business because its existing infrastructure can't handle extra traffic.
Kavanagh said the state's largest airport will turn away traffic in 2017 because of poor infrastructure, which is already "constraining growth in 2018″.
Directly addressing DAA chief Kevin Toland, Kavanagh asked that the existing runway at the airport be "fully exploited" as construction starts on a new runway and that "taxiways and exit points are upgraded in the interim to enable ourselves and other carriers to grow".
"As a Dublin-based carrier, Aer Lingus is more impacted than others because we have our aircraft physically based in Dublin," he said. "We need the infrastructure to use and it's not there."
Kavanagh has previously warned that if Dublin doesn't "extract maximum value" from existing infrastructure and invest in facilities to handle connecting traffic, it could see carriers migrate to Reykjavik or elsewhere.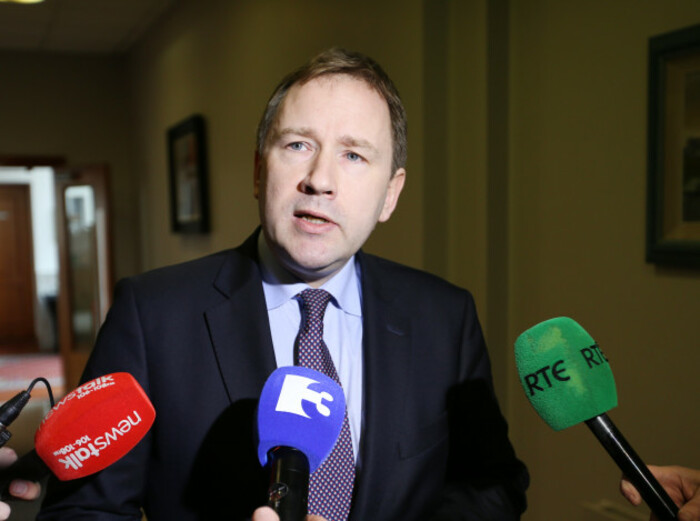 Source: Rollingnews.ie
In response, Toland said that "Dublin is clearly a lot busier than it has been" and that the airport was working to "get more out of our existing infrastructure to be in a position to squeeze more movements out of the runway".
"We're still punching well above our weight," he said, referring to punctuality and turnaround times at the airport.
Toland said that developing infrastructure "doesn't just end at an airport taxiway, it's about the roads, it's about the way of actually accessing the airport".
"That's a fundamental danger this country faces," he said. "If we don't have decent infrastructure across the entire country, we are going to become uncompetitive and marginalised."
Responding to a question about the possibility of a second airport for the greater Dublin area – which Toland dubbed "mad" – Kavanagh said there was currently no need for one.
But he added that if Dublin can't be accessed "because the roads are clogged" or if the area surrounding the current airport "becomes so congested as to be a restraint, then for every reason that one shouldn't have one, another airport may be a requirement".
Brexit
Brexit also featured heavily throughout the discussion.
Matthew Thomas, chief executive of Shannon Group – the company behind Shannon Airport – said fallout from the UK's decision to leave the European Union was "a new dimension to enterprise risk management" at the company.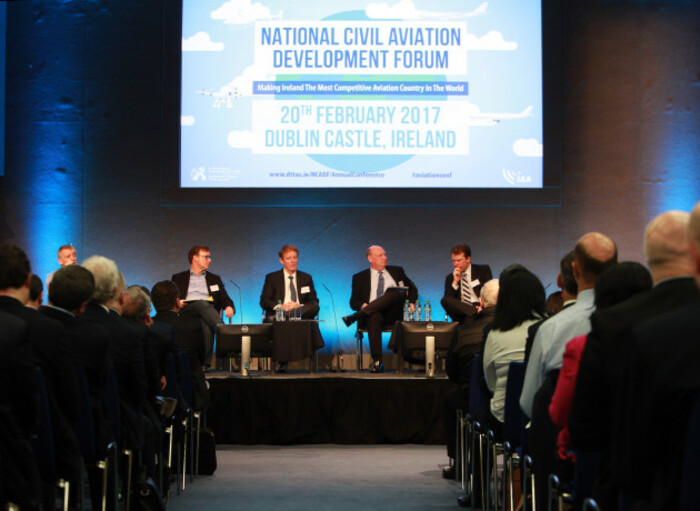 Source: Leah Farrell/Rollingnews.ie
"We're in an industry that's tremendously resilient," he said of the aviation sector. "It has dealt with everything from Gulf wars to 9/11 and just shown astonishing growth."
He said top of the list for the Shannon region is how Brexit could "change the appetite for FDI (foreign direct investment) into the west of Ireland".
Michael O'Leary – who exited the panel early to "beat up a couple of English ministers" at a Brexit meeting – repeated his comments from last week that "the British are going to find themselves staring over a cliff once they file Article 50″.
"The British were sold a pup," he said. "They were told if they leave Europe, nothing will change. They're about to realise that you can leave Europe and everything is going to bloody change and it's going to change for the worse."
He said there has been a "kind of phoney war for the last six months" where the British electorate voted to leave the union but "have not yet confronted any of the consequences of leaving".
"When they find that they may not be able to fly to Spain or Italy on their holidays or that they might have to get visa to get to Spain or Italy on their holidays, I think there's going to be a sea change in the attitude of the average British citizen towards the misinformation on which they voted in the original Brexit referendum."
read more on