Low tax rates and flexible labour laws – why Dublin is an 'easy target' for property investment
A new Savills report also ranked the Irish capital as one of the most inclusive cities in Europe.
LOW TAX RATES and flexible labour laws make Dublin one of the best European cities for real estate investment, according to a new report from property giant Savills.
The Irish capital has placed sixth out of 40 on Savills Investment Management's 'dynamic cities index' list.
In the report, Savills noted that Dublin's growing tech scene has attracted a number of large multinationals to the city, with big financial corporates like JP Morgan also deciding to expand their presence in the docklands.
The property firm, which ranked European cities based on a number of economic measures, suggested that Dublin's strong score across numerous categories would continue to attract more companies and workers to the city.
The report gave Dublin a high commercial real estate score due to its stock of sustainable buildings, pipeline of property currently under construction and real estate market liquidity.
It added that a positive economic growth outlook, low tax rates and flexible labour laws are factors that make Dublin an "easy target" market for real estate investors.
In recent years, commercial rents in Dublin have soared to near-Celtic Tiger levels due to a shortage of office and warehouse space, while an acute lack of residential properties has also caused the housing crisis to persist.
A fast-track housing development scheme has been introduced by the State to help increase the supply of residential properties, while the planning restrictions on taller buildings in Dublin have been relaxed.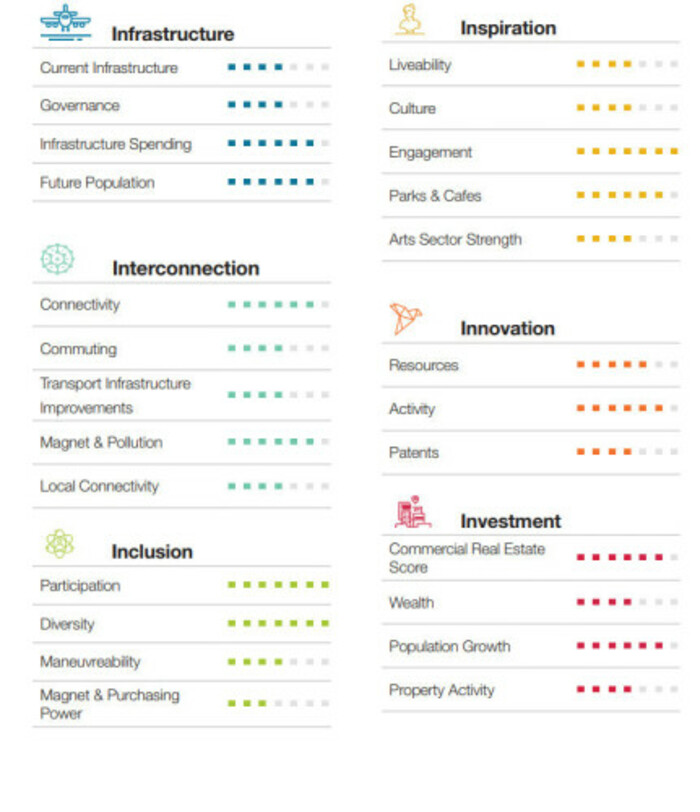 Source: Savills
Click here for a larger version
The Savills report also looked at other economic measures that could encourage companies and workers to move to Ireland.
The Irish capital was ranked the second most inclusive city in Europe – just behind Cambridge – due to its "high density of grassroots organisations" and diverse population.
Other insights from the report noted that Dublin also benefits from a number of "high quality" outdoor spaces, including Phoenix Park and St Stephen's Green, and has an "extensive" coffee culture with almost 1,000 cafés dotted across the city.
However, Dublin's overall index score was dragged down by its poor showing in the interconnection category, which ran the rule over the city's transport infrastructure, congestion issues and "pollution that may impede walkability".
[embed id="embed_2"]
The Savills leaderboard was headed by London, which registered a near perfect score across the all the categories cities are judged on.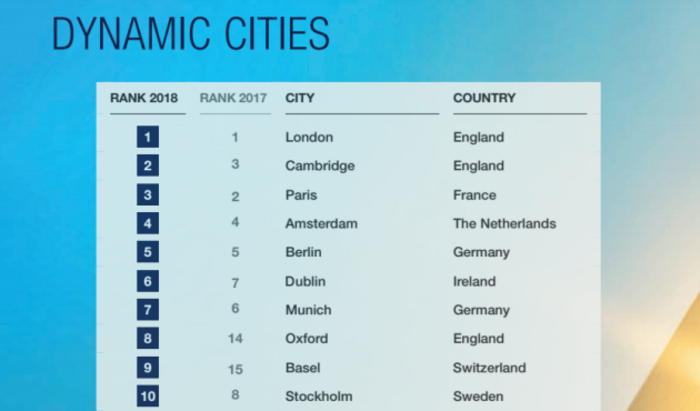 Source: Savills
Expensive
Earlier this week, a separate report showed that Dublin is now the most expensive city in Eurozone for expatriate workers.
The annual global survey from human resources consultancy Mercer showed that Dublin has overtaken Paris, which was the most expensive eurozone city in last year's survey, and also ranks higher than Milan, Vienna, Rome and Amsterdam.
According to the survey, issues such as the housing crisis, inflation and fluctuating prices for goods and services have impacted the cost of doing business in cities around the world.
Sign up to our newsletter to receive a regular digest of Fora's top articles delivered to your inbox.