Celtic Tiger-era office rents will soon become the new normal for Dublin
Prices have steadily risen as supply gets tight.
CELTIC TIGER-LEVEL office rents are expected to become the new normal in the capital this year.
That's according to the soothsayers at Goodbody stockbrokers who, in a research note published this morning, gave their predictions for the Dublin office market for 2018.
The analysts said that changing lease trends are boosting the appeal of Irish real estate to overseas investors. This is because with income streams from Dublin offices often come with longer terms than in peer markets.
It was predicted that office rents will stabilise at €65 per sq ft during the year.
"This is a 4% upgrade from our previous 2018 forecast where we had suggested €62.50," the analysts said.
"The rationale for the upgrade is based on two viewpoints; buoyant occupier markets and tighter than predicted supply in 2018."
Prices of €65 per sq ft would bring office rents in the capital back to their boom-era peak in 2007, when rates for prime office space in the capital reached between €60 and €65.
Rents had dropped to around €30 per sq ft after the collapse of the property market.
Record year
Goodbody said that the level of office space let in Dublin during 2017 "exceeded all expectations".
[embed id="embed_2"]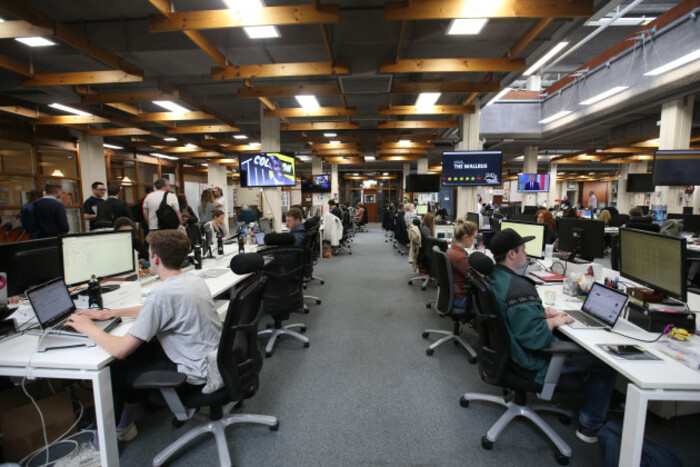 Source: Sam Boal/RollingNews.ie
"Already for 2018, it is estimated that up to 40% of new space is pre-let at this early stage," the analysts said.
They noted that 3.6 million sq ft of office space was let in the capital last year. This is well above the expected new supply that is expected to come on-stream this year, 2.6 million sq ft, suggesting that supply will be tight in some areas.
"The positive impact of strong but stable rents, along with continued overseas investor demand is supporting stable capital values for 2018, where the risk bias is for minor growth," Goodbody said.
"The Dublin office market had a record year in 2017, and projections for 2018 suggest another healthy year of demand and a welcome stabilisation in valuations and rents."
Goodbody's predictions are in line with several others in the industry, such as commercial property group HWBC, which also predicted that office rents would likely finally stop rising once reaching €65 per sq ft.
Sign up to our newsletter to receive a regular digest of Fora's top articles delivered to your inbox.