How Ireland's largest business group thinks the housing crisis can be solved
Ibec claims the country hasn't had a 'normal' property market for two decades.
ONE OF THE country's most influential business groups has outlined a number of policy measures that would help Ireland address its chronic shortage of housing.
Ibec, which represents many of Ireland's largest employers, said in its report that it has been two decades since the country's housing market could be considered something that resembled "normal" by international standards.
Earlier this year, the housing crisis was labelled the country's "most pressing issue" and it was estimated that supply was well short of the 30,000 to 50,000 homes required to address demand.
The supply deficit has driven up the cost of housing at a speedy pace, with one top economist saying the issue has "shades of the Celtic Tiger.
The shortage of housing has also been singled out as harming Ireland's competitiveness for attracting business investment.
These were among Ibec's headline findings in its 'better housing' report:
Average future demand will be for 36,000 new households per year, but pent-up demand means the short-term requirement could be as high as 50,000 homes;
The size of households will continue to decrease over coming decades and the type of housing supplied should match this trend;
An additional 80,000 workers are required in the Irish construction sector with the sector beset by major skills shortages;
Ireland has some of the world's lowest-density cities, which has contributed to urban sprawl.
Based on its analysis of the Irish housing market, Ibec has suggested several policy changes that would help address the shortage of accommodation: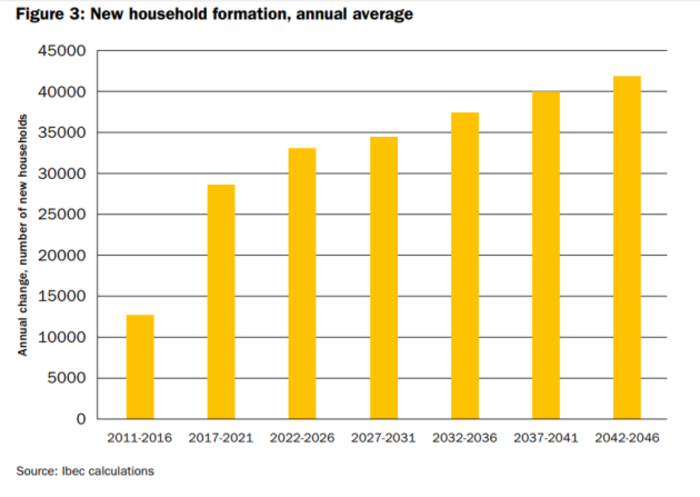 Source: Ibec
A new site value tax
While several measures have already been introduced to get developers building on disused land, Ibec said measures like the vacant site levy are "struggling" to have any effect as local authorities have been slow to identify land for the related register.
The report also highlighted that some developers are faced with heavy penalties even though construction is being delayed by factors outside their control like planning disputes.
Ibec suggested that the existing vacant site levy and commercial rates system should be replaced by a new "predictable system" such as a 'site value tax'.
"This is consistent with the calls from the National Competitiveness Council for a 'tax on the unimproved value of commercial property and land which is zoned and serviced for development'," the report said.
This would provide property owners with a "predictable system" and would allow councils to vary its rate if the site was classed land to-be-developed or contained finished buildings, it added.
Reduce state spend on housing assistance
Ibec stated that the government's focus on housing supports is "inefficient" and the Housing Assistance Payment has caused an increased reliance on the private housing market to provide social housing.
The report outlined that the assistance scheme has removed rental properties out of a private market already under pressure. It added that focusing these assistance resources on direct building would deliver "much better value-for-money".
A plan along these lines has begun through the 'action plan for housing and homelessness', which will deliver 50,000 units of social housing. But Ibec said the State's approach to direct builds is not ambitious enough.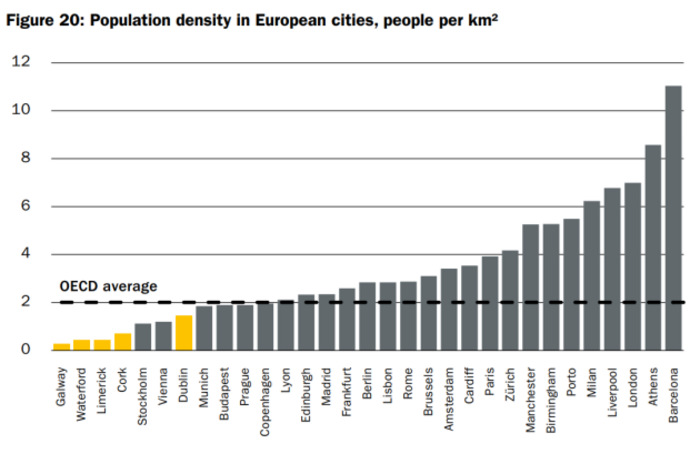 Source: Ibec
Ease height and density restrictions
The current planning system "looks down not up", according to Ibec, and has caused urban sprawl and property prices to soar.
The report suggested that a 'tall buildings strategy' should be developed for each of Ireland's five metropolitan cities to investigate how their characters can be preserved while also opening the door for taller buildings.
Ibec said that this strategy could identify pockets of prime land where mixed-use tall buildings could be developed to address low density. Population density in the Irish capital is one-fifth of that in London, while Barcelona's density is seven times greater than Dublin.
It added that taller residential builds could be used to provide appropriate housing for Irish-based professionals, with the average number of persons per household standing at 2.75.
Recent Fora analysis has shown that the Ireland 2040 development policy could lead to taller buildings in Dublin in the near future.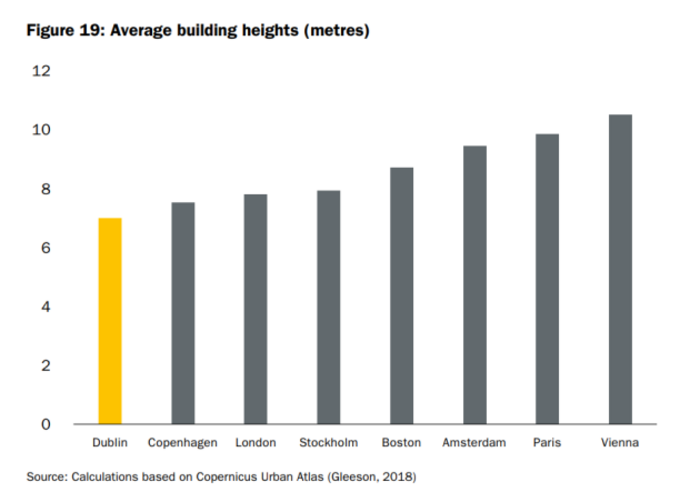 Source: Ibec
Focus on developing build-to-rent sector
The concept of developing property that will be leased for a prolonged period is relatively new to Ireland, and Ibec said that incentives for firms in this space could help boost supply on the rental market.
The build-to-rent sector is currently subject to a different tax system. Value-added tax (VAT) is reclaimable for commercial property, therefore VAT adds a cost of 13.5% to the new residential builds and stifles new supply.
"This puts development and the ownership of rental apartments at a disadvantage when compared to the ownership of retail or offices," the report said.
Ibec has recommended that there should be a reduction in VAT for large-scale build-to-rent projects in order to boost stock in the rental market. It also suggested that local authorities should be allowed to introduce a specific zoning for build-to-rent developments.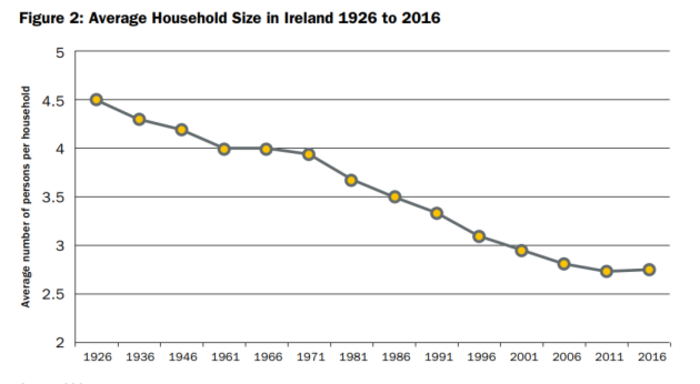 Source: Ibec
Skills council
The shortage of construction workers in Ireland has been well-flagged by industry bodies, with workers turning down moves to Ireland due to the cost of living.
Ibec has estimated the country needs a minimum of 80,000 workers over the coming years and the Expert Group on Future Skills Needs should compile a review of the entire skills shortages in the sector to inform policy.
As a starting point, the report suggested that more resources should be pumped into the promotion of apprenticeships as a viable career path and the work permit system should be opened up bring in more skilled migrant construction workers from outside the EU.
Sign up to our newsletter to receive a regular digest of Fora's top articles delivered to your inbox.