After a bumper year for co-working spaces, demand is expected to slow in 2019
Savills predicts there will be 'winners and losers' as competition continues to rise in Dublin.
IT WAS A "record year" for the take-up of serviced office spaces in Ireland but a slowdown is forecast for 2019, according to real estate firm Savills.
Georgina Dillon, head of Savills' Workthere unit, which helps businesses find flexible and co-working office space, said that although the popularity of the sector is intensifying, a slowdown in demand is expected in the new year.
She said that although the serviced office sector is still "booming", take-up won't be as big in 2019.
Savills also forecast that given the number of new entrants to the flexible office market in recent years, there could be a "rise in consolidation" over the next 12 months.
That said, the agency believes there is still scope for smaller providers to grow, provided they can differentiate from the bigger players.
"There will be winners and losers but I think there's definitely still space for different offerings," Dillon told Fora.
"There are some office providers that don't have all the frills and perks of somewhere like WeWork but have more competitive rates and a lot of companies like that. If each one offers something different then there's space for more providers."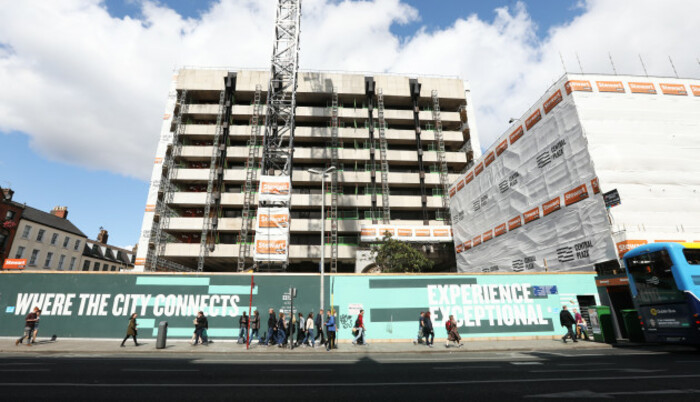 Source: Leah Farrell/RollingNews.ie
Flexible workspace providers have been tipped by property specialists CBRE to be the big winners from Dublin's office shortage.
It is a sector that has exploded in Ireland in recent years, with indigenous players like Iconic Offices, Dogpatch Labs and Glandore competing with international giants.
US firm WeWork, which has around 500 co-working offices worldwide, has opened two locations in Dublin with three more in the pipeline for next year.
This includes leasing the former Central Bank building on Dame Street, which is currently being redeveloped and will have space for 1,300 workers.
Other new entrants to the market from overseas include London-based Huckletree and Italian company Talent Garden, which recently opened in DCU.
Future trends
Although the majority of co-working and flexible office spaces are based in Dublin, Savills said there's "scope for growth" outside the capital.
Dillon noted that there is increasing demand in Cork, where Glandore and Regus have opened new offices this year alongside independent operators such as Republic of Work.
She added that the "misconception" that flexible working spaces are only for startups is beginning to change, with companies of all shapes and sizes "jumping on the bandwagon".
This includes tech giants Microsoft and Twilio, which have moved into WeWork's shared office space in Iveagh Court.
"More businesses want something different to the traditional office lease so that their teams can grow or contract. These spaces offer flexibility but also give staff a community, a place to share ideas, meet people in similar sectors." 
Looking ahead to 2019, Dillon said that it will be an "exciting year" in terms of new offerings in the serviced office sector.
As well as the three new WeWork spaces in Dublin, she is also expecting more office providers from the UK to enter the Irish market.
Get our NEW Daily Briefing with the morning's most important headlines for innovative Irish businesses.