Co-working spaces could be the big winners from Dublin's office shortage
CBRE said the likes of WeWork and Iconic Offices may be a stop-gap solution for new entrants to the city.
THE IRISH CAPITAL'S cluster of flexible workspace providers have been tipped to be the big winners from Dublin's office shortage.
That's according to commercial property specialists CBRE Ireland's latest report, which showed that activity in Dublin's office rental sector "continued at pace" with 83,493 sq m taken up in the past two months.
However, the significant uptake of new and existing offices has caused the scarcity of workspace in the Irish capital to persist.
There are currently 37 office schemes at various stages of development in Dublin city centre and more than half of the space to be completed this year has already been leased.
The largest transactions for new office space have been carried out by existing occupiers that are expanding their foothold in Dublin. This means there has been a scarcity of accommodation for new occupiers looking to make an Irish move.
CBRE noted in its research that this is good news for the many co-working spaces popping up across Dublin, saying that the scarcity of empty offices will be "a welcome boost" for flexible office providers which have capacity to accommodate new entrants.
"As has been the trend over the last couple of quarters, the growth of flexible office providers has continued in the opening months of 2018," the report stated.
"Indeed, according to CBRE Research, as much as 17% of office take-up in Dublin in the first quarter of the year was accounted for by co-working/flexible operators."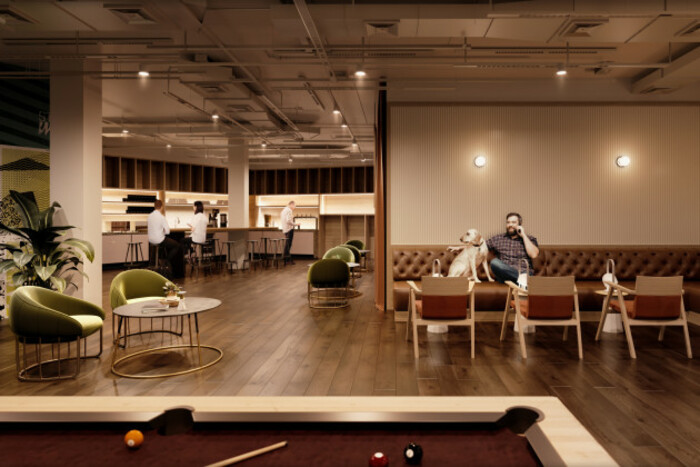 The flexible workspace trend has exploded in Ireland in recent years, with indigenous providers such as Iconic Offices and Glandore competing with international players.
US-headquartered WeWork, which has more than 300 office locations worldwide, has announced plans for co-working spaces in three locations across Dublin with more potentially in the pipeline.
Overview
Elsewhere in CBRE's overview of the commercial property market for March and April, the group noted that transaction levels in the sector reached nearly €930 million during the first quarter of the year.
The report also highlighted that there is a scarcity of warehouse and logistics properties in Dublin along key road corridors, although leasing activity per sq m was up 41% in the first three months of the year.
CBRE predicted that investment in the hotels sector is due to pick-up following the announcement of more direct flights to Ireland from the likes of Hong Kong and China.
The property firm noted that approximately 1,300 additional hotel rooms are due to be delivered in Dublin during 2018.
Sign up to our newsletter to receive a regular digest of Fora's top articles delivered to your inbox.