After a few 'mistakes', food-ordering app Bamboo is now preparing to launch outside of Ireland
The startup took a step back to re-strategise its international expansion efforts.
WHEN PLANNING INTERNATIONAL launches, food-ordering startup Bamboo made some "mistakes" but is now gearing up for a renewed effort to expand into the UK, according to chief executive Luke Mackey.
Bamboo's app, which allows users to order food from a restaurant for pick-up to avoid queues, raised €500,000 last year and had big plans to launch in London and Singapore.
However that hasn't panned out yet and the startup has become much more strategic in choosing locations after the experience of launching in Dublin and Cork, such as how much money it was spending on customer acquisition and sales.
"These are all the things we learned, the playbooks we see after nearly two years now of this business," Mackey told Fora.
"We definitely made mistakes, there are definitely things that we did wrong and we're just trying to refine them a bit better. We don't want to go into a new market and make those mistakes because it's far more costly," he said.
"We're particular about how we use data and how we use analytics to make the right decisions."
An international launch is "absolutely still on the cards" he said with a UK city to be added to the books in the latter half of this year, but Mackey is tight-lipped on where it will be.
Bamboo is currently raising a series A round of €1.5 million – mostly in talks with UK investors – that will allow it to launch "with a bit more gusto than we would have with that previous round".
Lunch hour
Workers on their lunch hour are Bamboo's key market. It needs to choose locations with the right density of workers during the day looking for grub and the restaurants that serve them.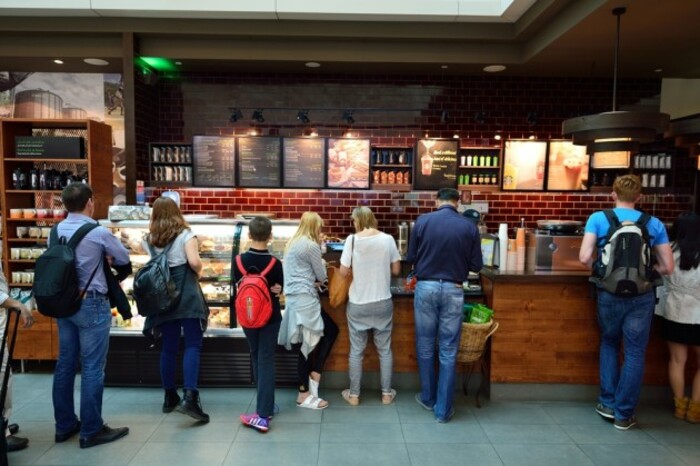 Source: Shutterstock/Sorbis
The startup has 200 restaurant partners signed up and this week added Irish salad bar chain Freshly Chopped.
It has launched business features to allow companies to offer lunch credits of sorts through the app to their employees and it is piloting a 'social ordering' function.
"It gives you the ability to order with your teammates and do peer-to-peer delivery because lunch is something you do socially as well," Mackey explained.
"At one o'clock, everyone looks up in the office and goes 'what's happening? Are we going for lunch?' We're essentially trying to bring that experience into the app."
"I can make a team on Bamboo and invite my friends, I can invite them to my order and say that I'm going down to Chopped, do you want me to bring you back your order? It's basically peer-to-peer delivery with your office teammates."
The Irish market for food ordering has heated up greatly in the last year with Uber Eats arriving to take on Deliveroo.
Mackey doesn't view these big delivery players as competition for Bamboo as it is targeting a lot of restaurants that can't afford delivery.
"They're built for lunch and it would make no sense to give away that type of margin, that 30% to 35% margin that these delivery providers offer."
He said that Bamboo charges a commission rate to restaurants that's under 10%.
"We don't lock down restaurants into contracts or exclusivity agreements, we don't take massive commissions. We don't have those massive overheads, we don't have drivers to pay."
Get our NEW Daily Briefing with the morning's most important headlines for innovative Irish businesses.