Freshly Chopped might have to rethink its menu thanks to Brexit
The salad bar chain is working on its next supermarket products – and a potential foray into China.
AFTER MONTHS OF waiting to unveil his company's first foray into Britain, Freshly Chopped's Brian Lee is about to see that patience come to fruition. 
In less than two weeks, the salad bar chain will open the doors to its Manchester store – the 60th outlet for the brand, but a watershed in its ambitions to become a force outside its native Ireland.
"We put a lot of eggs into that basket now to make that work," Lee told Fora. 
"That will be our first one (in Britain) and it's a company-owned store – it's set up to open up our supply chains and get our team on the ground for future training before we launch our franchise platform into the UK."
To date, the vast majority of the company's expansion has come in Ireland: with the exception of two stores in Cyprus, all its existing outlets are spread across the island. Around four-fifths of the stores are franchise-owned.
That focus is about to change as its growth in the Republic and Northern Ireland naturally begins to slow, and its ambitions turn to the UK mainland and further afield.
"We opened 21 stores last year … the growth won't be anywhere near matching that in Ireland; we're going to focus more this year on our standards and how we can improve on all aspects of our business," Lee said.
"If we were able to match the success that we've done here, there's room for probably 200 stores (in Britain). Manchester is a launch pad for us to dip our toe in the market and see where we go from here."
Since Freshly Chopped was launched by Lee and co-founder Andy Chen in 2012, it has expanded to become the country's second-largest indigenous fast-food chain by outlet numbers – behind only Pat McDonagh's Supermac's.
Much of that rapid-fire growth has come from partnering with major retailers and hospitality outfits, like the Mount Charles Group in Northern Ireland, the BWG Group, which oversees the Spar, Mace and Londis convenience store chains, and Maxol.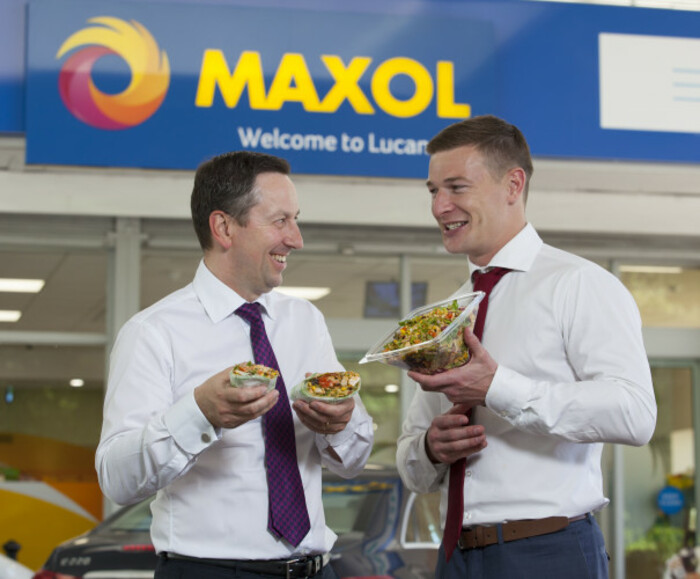 Brexit shortages
However with a presence across Ireland and now Britain, Freshly Chopped has been forced to deal with the possibility of a hard Brexit that could disrupt supplies of fresh produce into the UK from Europe – and Ireland from the UK.
"You have to be cautious – but you also have to take risks, to a certain degree. If we hang around waiting on Brexit and what the ultimate outcome is going to be, we won't do any business," Lee said.
In the case of its new British operation, the company had been "ringfenced" as much as possible, using local produce wherever it was available.
However the more limited list of ingredients that were grown in Ireland meant if the predicted Brexit-related price-rises materialised then the company could be forced into doing without some fresh foodstuffs.
"If it becomes unfeasible to put a product on the menu, then we'll have to take it off and put on something else that equally complements the meal," Lee said.
"We can only work with what we have, the customer isn't going to pay silly money for some products – and we can't expect them to do that either." 
Supermarkets and maybe China
In November, Freshly Chopped launched its first supermarket range with the 'at home' range of pre-bagged salad leaves going on sale in Dunnes Stores supermarkets.
Lee said full-year sales of the bags were expected to hit two million, with another supermarket chain due to start selling the products shortly.
The company also planned to offer its three most popular dressings through retail outlets, while it was also looking at a range of snack products.
"The store will always be the core of the business – these are add-ons, things to drive a little bit more revenue," Lee said.
"It's more about putting the brand out there, so that first thing in the morning the customer opens the fridge and they see our brand."
While Lee declined to give revenue figures for the company, accounts for the firm's main Irish operation show it has been consistently in the black, with accumulated profits sitting on €860,000 at the end of 2017. 
It employs nearly 300 people directly, while there are around another 700 staff working in its franchises.
Lee said the Cypriot operation had been "a nice test" for its international franchise, and the company was looking further afield for partners to take up master franchise agreements and help the brand expand.
"Hotter climates and countries are going to be ideal, and also any country that would be a similar culture. Australia would be one and we're talking to a couple of parties down there, although nothing has been set in stone," he said.
"We're looking further afield even at China – my business partner is Chinese, so we're exploring all avenues. We don't want to be just tied to Ireland." 
Get our NEW Daily Briefing with the morning's most important headlines for innovative Irish businesses.