As Uber Eats arrives in Ireland, Deliveroo threatens defecting restaurants with higher rates
Competition in on-demand delivery has intensified with the new player in town.
AS IRELAND'S FOOD delivery market heats up, Deliveroo has warned restaurants that it will increase their commission rates unless they stop using newly-launched rival Uber Eats.
The service officially rolled out in Ireland on 8 November and competes with Deliveroo and Just Eat for stakes in the competitive on-demand food delivery business.
One restaurant that decided to give Uber Eats a try was threatened by Deliveroo with an increase in commission rates if it didn't cut off its service with the newcomer.
In an email sent on 9 November by a Deliveroo account manager, it warned The Good Food Store in Dublin city centre that it was planning to up the commission rate from 30% to 35%.
"We are contacting you because it has come to our attention that you have recently joined UberEats (sic) – this makes it difficult for us to continue working with, and investing in you, on the competitive rate of 30%. As such, 30 days from now, your renewed commission rate will be 35%," the email said.
"We are more than happy to continue working with you exclusively on your preferential rate. If you wish to do so, please inform us when you have left the UberEats platform and we will update your account accordingly," it continued.
The restaurant's owner, Vanessa Clarke, told Fora that the outfit tries a number of order booking and delivery platforms to find the best rates.
She said she voiced her dissatisfaction with Deliveroo upon hearing of the rate change but has had no further correspondence with the company since then.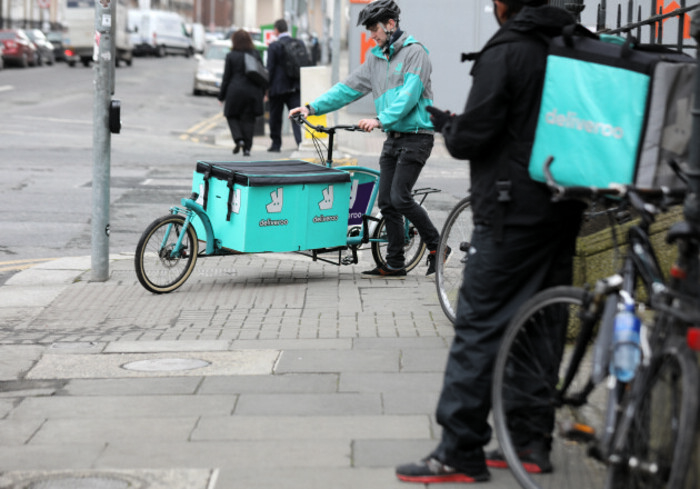 Source: RollingNews
A spokesperson for Deliveroo said it operates different commission rates for restaurants that use it exclusively versus those that use multiple operators.
"More and more restaurants choose to partner exclusively with Deliveroo because of the proven track record of our delivery network, the reliability of the riders we work with and our passion for amazing meals," the spokesperson said.
"Those that do, pay lower commission on orders and receive a number of other benefits. In the small number of cases where partners have left exclusivity, commission rates have been adjusted."
According to its latest accounts, Deliveroo in Ireland booked sales of €5.1 million in 2017, up from €2.8 million the year prior.
Uber Eats has not disclosed its commission rate but Fora understands that it charges an average of around 30%.
Competition
Food delivery operators often run exclusivity deals to keep clients away from competitors by offering lower rates.
However, concerns have been raised in other international markets that the practice may be anti-competitive.
The Competition and Consumer Protection Commission said it has not received any specific complaints on this issue.
The Restaurants Association of Ireland said that its members haven't yet voiced concerns over increased commission rates when they use more than one delivery platform.
However, chief executive Adrian Cummins said food firms have had general complaints about rates being too high.
He said the association is seeking meetings with operators to negotiate lower rates for its members.
Get our NEW Daily Briefing with the morning's most important headlines for innovative Irish businesses.