Uber plans to launch its food delivery service in Ireland later this year
The tech company will face stiff competition from established players like Deliveroo.
UBER PLANS TO launch its food delivery service in Ireland later this year, despite the fact its core business is effectively banned here.
The San Francisco-headquartered ride-sharing company announced this morning that it hopes to bring the Uber Eats service to more than 100 new locations, including Ireland.
Launched in June 2016, Uber Eats allows customers to order takeaway food online from participating restaurants and chains such as fast food colossus McDonald's. It claims to fulfil deliveries in 30 minutes or less.
In a statement, a spokesman for Uber Eats said the company plans to roll out in Ireland this year but a confirmed launch date hasn't been fixed yet.
"We're really excited that soon we'll be able to offer our Uber Eats app to consumers and restaurants in Ireland," he said, noting that people in Dublin have "already been downloading the app in anticipation".
He added that the service will allow restaurateurs to "sell meals beyond their real estate" and grow their business using data analytics – albeit in exchange for a fee.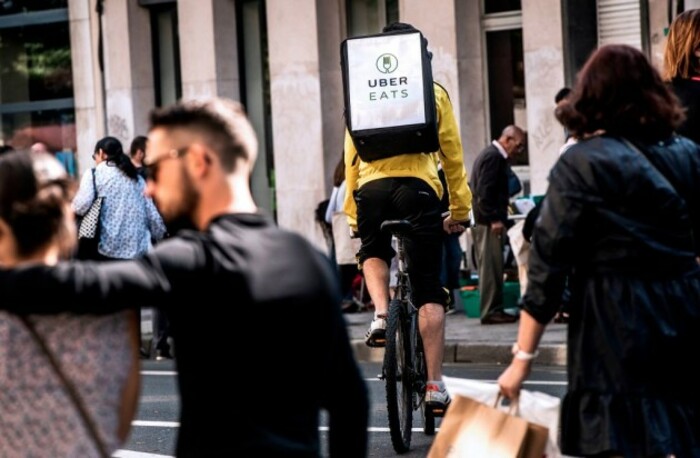 Source: Philippe Huguen/AFP/Getty Images
Unlike the main Uber business where private car owners can offer transportation, Uber Eats hires moped and bicycle delivery couriers to complete orders.
Uber's core ride-sharing model is currently unavailable in Ireland because of opposition from the National Transport Authority. Customers here can only use the app to order taxis and limousines, not rides from private drivers.
Its food delivery service will face tough competition in Ireland, where established players Deliveroo and JustEat have operated for a number of years.
London-based Deliveroo has invested heavily in its Irish operations in recent years, with plans to set up kitchens in Dublin so it can deliver food to other parts of the city.
[embed id="embed_2"]
In an interview with the Financial Times today, Uber's head of logistics Jason Droege said the company plans to launch Uber Eats in 100 new cities in Europe, the Middle East and Africa.
Droege told the newspaper that the service has been "more successful than we thought" and is profitable in a quarter of the locations where it currently operates.
Sign up to our newsletter to receive a regular digest of Fora's top articles delivered to your inbox.