A Romanian salad-bar chain is taking on Chopped with an Irish expansion
Salad Box plans to open 20 locations in Ireland over the next three years.
A ROMANIAN SALAD-BAR franchise chain has launched its first restaurant in Ireland as part of plans to expand across the country.
Salad Box opened its first Irish outlet in the Douglas Village Shopping Centre in Cork, selling salads, soups and juices. The store will be run as a franchise.
The company plans to launch two more stores in Dublin next month with the aim of opening a total of 20 locations in Ireland over the next three years.
Mike Kelly, the owner of the Salad Box master franchise in Ireland, said that he sees "great potential for steady growth" in the Irish market.
He added that Cork was chosen as the company's first location in the country as Douglas Village Shopping Centre has seen consistent growth and expansion over the past number of years.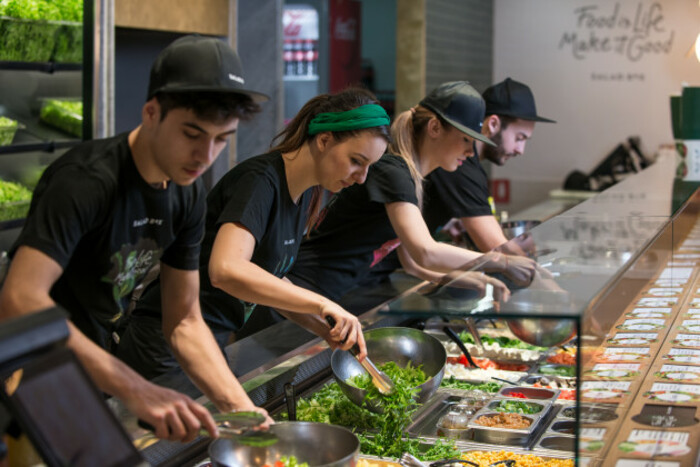 Source: Catalin Hladi
Created five years ago, Salad Box now has around 45 outlets in Romania and is the third-largest fast-food chain in the country after McDonald's and KFC.
It has also expanded the concept to 12 countries through its franchise operations, with outlets in New York, London, Barcelona and Paris.
Salad shops
Salad Box's biggest competitor in Ireland will be the Dublin-based Freshly Chopped, which operates a mixture of company-owned and franchise salad bars across the country.
Founded in 2012, the firm now has nearly 50 salad bars across the island of Ireland, as well as a growing presence in Cyprus. It has also signed a multimillion-euro franchise deal with BWG Group to open salad bars in several Spar, Mace and Londis stores.
The most recently filed accounts for Freshly Chopped show that sales hit €1.8 million in 2016, while profits at the healthy fast-food chain doubled compared to the previous year.
Sign up to our newsletter to receive a regular digest of Fora's top articles delivered to your inbox.