'There's a risk of being caught up in a trend': The fight for Ireland's salad-bar market
Competition is growing as people swap chicken fillet rolls for chickpeas.
WHEN DAVE O'DONOGHUE brought Canadian healthy fast-food chain Freshii to Ireland three years ago, competition was fairly thin on the ground.
Having worked in the food industry for around 25 years, O'Donoghue says he had seen food trends come and go – but there had been a marked shift towards 'cleaner' eating.
"We wanted to bring something to Ireland that wasn't there. Something that was ahead of the game," he tells Fora.
Now, Freshii has a dozen stores across the country, including Dublin's CHQ building, Dame Street and Smithfield.
O'Donoghue says that "a few more" are in the pipeline, however the expansion isn't going as quickly as he originally expected.
"It has gotten quite challenging in the last year or so to locate suitable sites – that's probably one of the biggest barriers that we're seeing," he says.
"But we're playing a long game so we're comfortable with it. The most important thing is that sales in our stores are still growing strongly, so we know that consumers are getting to know our brand."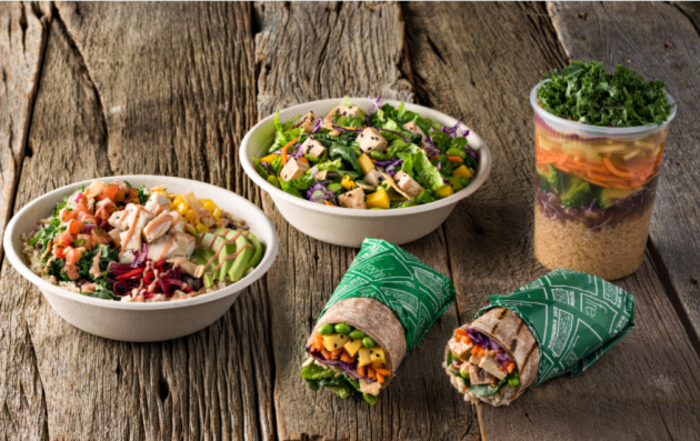 Source: Freshii
In the last few years the number of salad-bar chains in Ireland has exploded. One of the biggest players in this market is Dublin-based Freshly Chopped, which was founded in 2012 and now has around 50 outlets across the country.
It has a mixture of company-owned and franchise stores, and last year signed a multimillion-euro franchise deal with the retail group behind the Spar, Mace and Londis brands in Ireland.
Although Freshii operates a fully-franchised model, O'Donohue says that he's "very selective" about where he locates stores.
"I think we've nearly had 1,000 franchise applications in the past three years, but our target is 30 sites. If it goes to 40, grand, but we don't see it going to 100. If you roll out too many then you lose what's special about the business."
Competition
While O'Donoghue says he doesn't expect many more players to enter the market, there are those who believe there's still demand for rival offers.
Last week, Romanian salad-bar chain Salad Box opened its first outlet here and Mike Kelly, who owns the master franchise for Ireland, says he plans to open a total of 20 stores over the next three years.
His first Dublin location, which is set to open in a few weeks, will be right beside Freshii in Dublin's Point Square. But Kelly says he isn't trying to directly compete with anyone right now.
"I think it's about offering more options and doing things our own way. We want to get our product known in the Irish market and make sure we're selling good, healthy food," he says.
Like Freshii and Chopped, Salad Box sells salads, soups and juices, and is primarily targeting a "working-lunch audience" in Dublin.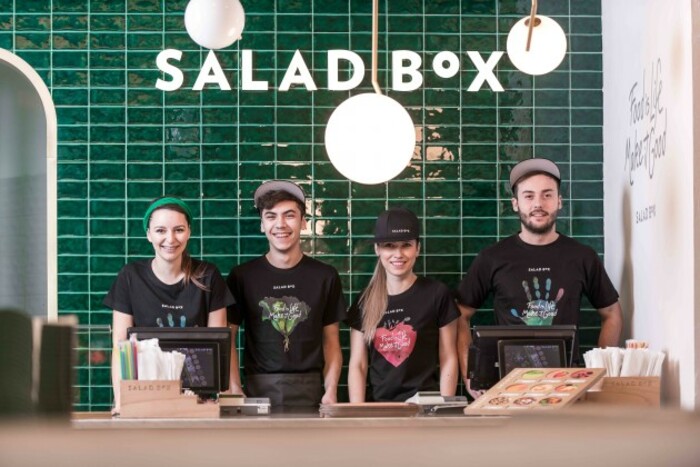 Source: Catalin Hladi
Although there are several more-established players in the market already, Kelly says that he doesn't believe the salad-bar market has reached saturation point yet.
"I draw on the coffee analogy. In the late 90s Insomnia started as the Irish coffee retailer, and then Starbucks and Costa came into the market. But those three brands have kind of worked together to develop a coffee market in Ireland.
"So I think there's plenty of space for three or four salad retailers too. The growth will come from educating people about what they're eating and moving them away from the chicken fillet roll and things like that at lunchtime."
At the same time, however, he says there may be a limit to how many Salad Box outlets would work here and there's "a risk of being caught up in a trend".
"I'd rather have 20 very strong locations with sit-down space and not really just be seen as a queue-and-collect deli counter. That's not our model."
Cookie-cutter concepts
Despite the growth of some of the big players, it's not only franchises that are trying to capitalise on an opportunity.
Jack Kirwan started Sprout & Co Kitchen with his brother Theo in 2015, and they now operate seven stores across Dublin's city centre.
Unlike Freshii, Salad Box and Chopped, Kirwan says that he has no intention of rolling out identical Sprout stores across the country.
"We design them all differently, so it's not some sort of cookie-cutter brand and concept – we're trying to make each one feel like it's independent," he tells Fora.
"Most people think you homogenise the bigger you get, but we're trying to actually get more local and more fresh with each one."
The menu in Sprout changes every three months, adapting to what's available in each season. Kirwan says that the majority of his growers and suppliers are local, situated within 30km of an outlet.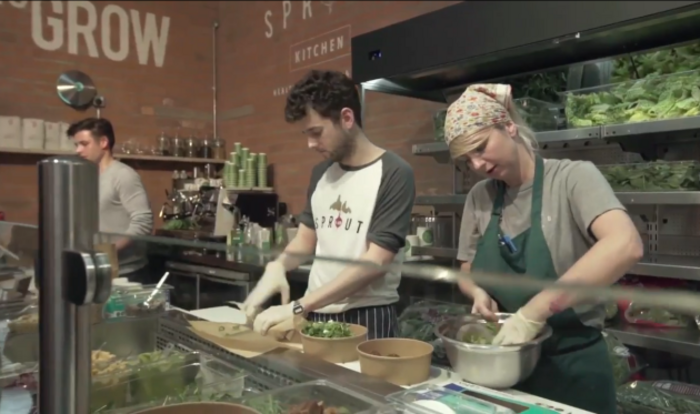 Source: Youtube/Sprout & Co
He's also working on a plan to try to get salad leaves from field to restaurant within 24 hours, which would give him a "point of difference compared to some of the other guys".
Kirwan still has his eye on expansion, but he adds he has no plans to franchise Sprout in the future.
"It makes a lot of sense if you're trying to scale a business, but I suppose we're trying to keep closer control on what we're doing, the atmosphere, the team, and be able to stand over every plate of food we serve.
"In Dublin there's probably space for a few more restaurants but not too many. And if we were to open in another city we'd have to start again from scratch."
Salad-bar bubble
With food trends coming and going over the years – from milkshakes and muffins to, more recently, burgers and burritos – there is the possibility that a 'salad-bar bubble' is developing, leading to the inevitable demise of one or more players.
"Fads come in, they have a big wow factor for a couple of years, and then people get sick of them," O'Donoghue says.
He thinks that Freshii "will outlast the others" because it sells not only salads but also burritos.
"In the last couple of weeks, sales of salad have gone through the roof with the sun, but that'll die down very quickly once the weather chills and people still want nutritious food but not a salad, at least not five days a week."
However Kirwan believes he's building his business around a longer-term trend in which people "are interested in eating fresh produce and knowing where their food is coming from"
"I certainly don't think that what we do is necessarily a fad, because there's a lot of substance to it. My gut instinct is that more and more people are going to keep eating this way."
Sign up to our newsletter to receive a regular digest of Fora's top articles delivered to your inbox.