Ryanair is suing Irish officials over where the airline's staff are taxed
The High Court challenge relates to tax laws for Europe-based workers.
RYANAIR HAS LAUNCHED legal action against Revenue and the Minister for Finance over tax laws the company says require it to place European staff on Irish contracts.
Earlier this year, CEO Michael O'Leary told Ryanair's annual general meeting the airline was lobbying the State to change laws that oblige the company to employ Europe-based pilots and cabin crew on Irish agreements.
He said this was because the employees work on Ireland-registered aircraft operated by a Dublin-headquartered firm.
The budget carrier has a long-standing practice of putting some direct and agency staff on Irish contracts even if they live and work elsewhere.
This has been a source of frustration for pilot and cabin crew trade unions, which the airline has been in negotiations with for almost a year.
Ryanair has previously argued that certain workers' contracts should be viewed as legitimately Irish because the employees benefit from local social security and their salaries are paid into bank accounts opened in Ireland.
A spokesman for the Department of Finance and Public Expenditure and Reform confirmed to Fora that Ryanair has lodged a High Court challenge to the relevant tax laws.
He said the measure, introduced in 2011, provides for the taxation of income earned by flight crew members who work on Irish-registered and -managed aircraft that operate in international traffic.
"As this matter is the subject of ongoing legal proceedings, we will not be commenting further," the department's spokesman said in a statement.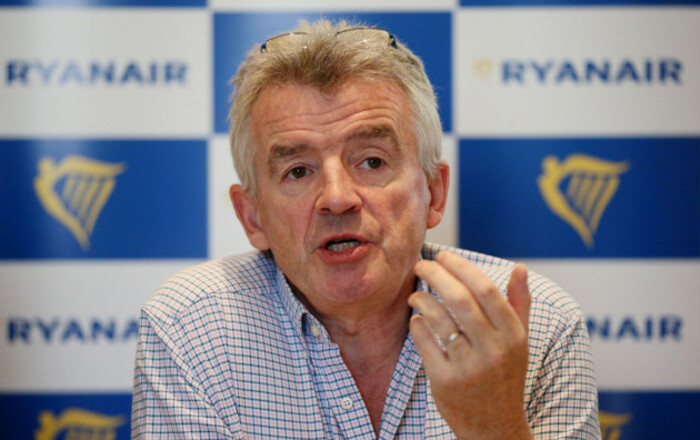 Source: Jonathan Brady/PA Wire/PA Images
A spokesman for the Revenue Commissioner declined to comment, citing taxpayer confidentiality. Ryanair did not respond to a request for comment at the time of publication.
Industrial action
The airline announced last year that it would recognise unions for the first time in its history under threat of pilot strikes in several key markets. The move is expected to cost Ryanair hundreds of millions of euro in added wages.
The airline has already experienced several days of strike action as it battled at the negotiation table with various worker representative groups.
In July, strikes by cockpit and cabin crew disrupted 600 flights in Belgium, Ireland, Italy, Portugal and Spain, affecting 100,000 travellers.
About 100 of the airline's 350 Ireland-based pilots staged five one-day strikes this year before the company reached an agreement with union Fórsa-Ialpa.
[embed id="embed_2"]
The union has also struck a deal to become the sole negotiating body of directly-employed cabin crew at the low-cost airline in Ireland.
On 28 September, cabin crew walked out in Germany, Belgium, Italy, the Netherlands, Portugal and Spain and in some countries pilots' unions also took action.
It reached a deal with trade union Fórsa in August. The organisation represents Dublin-based pilots who are directly employed by Ryanair.
Earlier this week, Spain's labour ministry found Ryanair guilty of violating cabin crew members' right to strike, obstructing labour inspections and breaching work safety regulations.
The Spanish government has threatened to fine the company for 16 infractions, which Ryanair can appeal. During the first half of the year, the airline's profits dropped by 7% to €1.2 billion compared to 2017.
Get our NEW Daily Briefing with the morning's most important headlines for innovative Irish businesses.