'Don't believe everything you read' – Ryanair is bullish in the face of strikes and profit slips
Ryanair executives have moved to downplay the scale of industrial action faced by the airline.
DURING A PERIOD when Ryanair was "rife with strikes", profits at the no-frills airline dipped by €90 million.
Financials released that cover the first half of the year show that the firm's profits dropped by 7% to €1.2 billion compared to 2017.
The airline carried 76.6 million passengers during the six months to 30 September, an increase of 4.5 million compared to the previous period in 2017. Revenue was up 8% to €4.79 billion.
Ryanair's average fare declined by 3% due to excess capacity in Europe and an earlier than usual Easter period. The decline in profits was also put down to strikes by air traffic control (ATC) workers.
Ryanair boss Michael O'Leary claimed it has been "the worst year on record for ATC services" and blamed the airline's dip in on-time performance from 86% to 75% on ATC strikes.
In recent months, the airline has also been hit by strike action by its own workers. Last month, Ryanair faced the biggest industrial action in the company's history as members from five European countries threatened to go on strike.
Following the presentation of the financial results, Ryanair chief financial officer Neil Sorahan defended the company's position after one shareholder referenced media reports that the company was "rife with strikes".
"You can't believe everything you read in the papers," said Sorahan. "We've had a limited number of strike days over the summer period and we've handled the operation phenomenally well on the days of strikes with limited disruption." 
He added that the airline has operated over 90% of its flights on schedule in the impacted markets and faced "minimum disruption".
O'Leary also weighed in to downplay the scale of the industrial action faced by the airline. 
"It's important to put that in some context. We've had eight days over this year, which is less than Lufthansa has had in the last two years and than Air France has in the current year. In any of those days, we continue to operate more than 95% of the total schedule across Europe."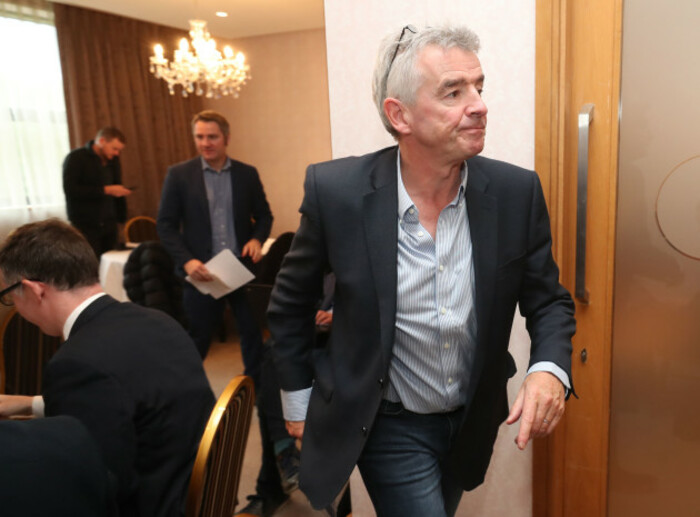 Source: Niall Carson/PA
Unions
Earlier this month, O'Leary said that repeated strike action in some of the company's key markets has spooked passengers from booking tickets with the airline. As a result, Ryanair lowered its full-year profit guidance by 12% to a new range of €1.1 billion – €1.2 billion.
Ryanair agreed to recognise unions at the end of last year and has been stuck in numerous battles with groups representing workers in recent months.
Earlier this year, an Irish union representing pilots that was in talks with Ryanair pushed for proposed bogus self-employment laws to specifically target the low-cost carrier's hiring practices.
On continental Europe, the airline said it has "regrettably" been impeded in Spain, Portugal, Germany, Holland and Belgium in union negotiations. 
O'Leary said Ryanair has made "very significant progress" in negotiations with unions and has agreements signed with pilots and cabin crew in Ireland, UK and Italy.
He added that pilots in Portugal signed a deal last week, while the agreement with Spanish pilots would be signed within "the next week or two".
There is still no agreement in place with workers in large markets such as Germany and Belgium, but O'Leary said that deals could be concluded "this side of Christmas".
He added that the airline could not rule out further strike action in the coming months.
"There is a risk (of more strikes). We don't expect strikes in the coming weeks, but they can't be ruled out. It's not within our control."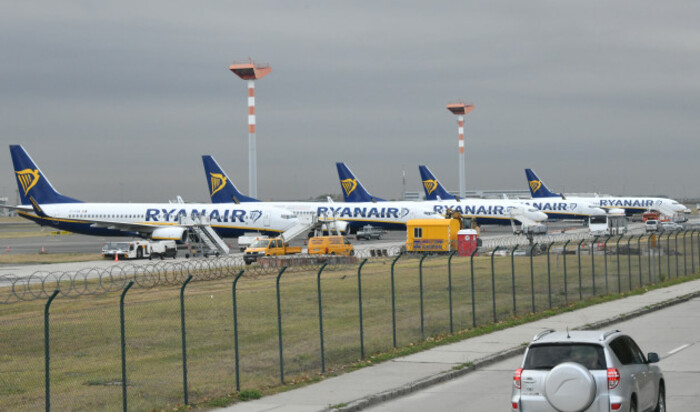 Source: DPA/PA Images
Elsewhere in the financial report, it was noted that Ryanair increased its stake in Laudamotion to 75% in August.
The new Austrian airline, founded by ex-Formula 1 racer Niki Lauda, faced a difficult first summer and it has been predicted the firm will lose approx €150 million during its first year. However, the firm is expected to move towards break even in its second year.
The report also showed that investment by Ryanair in its tech division largely drove the increase in total revenue due to improved conversion of priority boarding sales.
Sign up to our newsletter to receive a regular digest of Fora's top articles delivered to your inbox.