Ryanair cabin crew are going ahead with 'the biggest strike in the company's history'
Staff across mainland Europe will stage a stoppage on 28 September.
RYANAIR CABIN CREW members from five European countries will go on strike on 28 September, threatening hundreds of flights, a Belgian union said.
Staff from Belgium, the Netherlands, Italy, Spain and Portugal will stage a stoppage on the Irish no-frills airline, the CNE union said, after several European labour unions met in Brussels.
"Unfortunately, discussions continue without results," CNE delegate Yves Lambot said at the meeting, describing negotiations with Ryanair management.
Ryanair workers – pilots, ground staff and cabin crew – are demanding improved working conditions and want their contracts to be based on the law in their country of residence rather than Ireland.
"They have promised to change our contracts into national contracts by 2022. This is too late for us. We want 2019," Lambot said.
Shortly before the announcement in Brussels, Ryanair insisted that the strike would fail in its attempt to cause "travel chaos".
"The overwhelming majority of Ryanair's flights and services that day will operate as normal," the company's chief marketing officer, Kenny Jacobs, said in a statement.
The planned strike on 28 September will be the biggest strike in the company's history, according to the unions.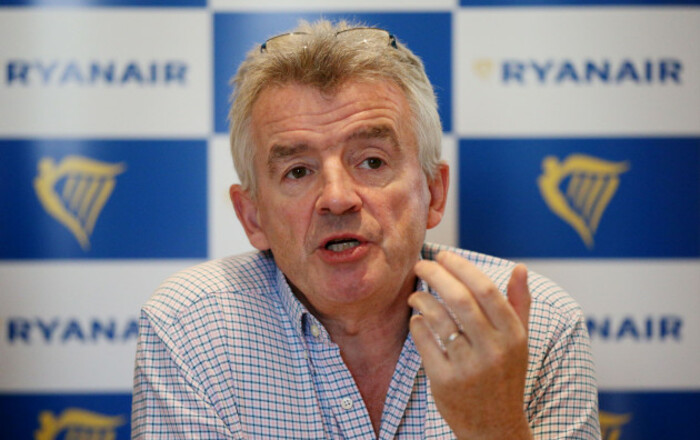 Source: Jonathan Brady/PA Archive/PA Images
'We are not EasyJet'
The industrial action comes after a strike in five countries in August, which forced the cancellation of 400 flights in the middle of the holiday period, affecting 55,000 passengers.
On Wednesday, the company suffered a 24-hour cabin crew and pilot strike in Germany prompting the cancellation of 150 out of 400 flights.
A typically combative Ryanair CEO Michael O'Leary described it as a "failure".
"We are not EasyJet, we will not roll over every time we are threatened with a strike," O'Leary told reporters in London, mocking a rival low-cost carrier.
After lengthy negotiations and mediation, the Irish Air Line Pilots' Association earlier this month voted unanimously in favour of accepting a collective agreement reached with Ryanair.
Additional reporting by Conor McMahon
Sign up to our newsletter to receive a regular digest of Fora's top articles delivered to your inbox.