'Anything could happen now': Why the National Broadband Plan faces yet more delays
A series of private dinners and one ministerial resignation could stall the process again.
THE NATIONAL BROADBAND Plan has been beset by delays since the project was first proposed six years ago.
However, the saga took another turn this week when it was revealed that Communications Minister Denis Naughten had held a number of previously undisclosed meetings with David McCourt, who heads the only firm still in the running for the lucrative broadband contract.
This led to Naughten announcing his resignation in the Dáil on Thursday, saying that the outcome was "more about opinion polls than telephone polls" and "more about optics than fibre optics".
While the development was a surprise to many, it has also put the future of the broadband plan – designed to bring fast internet to more than 500,000 premises in rural Ireland – into question.
The tendering process has already been under way for more than three years.
Eamonn Wallace, chairman of broadband lobby group Ireland Offline, said that he is concerned this week's events have complicated the matter further – and will keep regional areas from getting the services first promised in 2012.
"Our overriding concern is to get broadband across the country in places outside of the cities," Wallace told Fora.
"This is critical infrastructure – it has to be resolved. But I can't envisage it happening any time soon."
He suggested that competitors who have previously dropped out of the running for the broadband contract may want to get involved again if they view the previous process as tainted.
There is also the prospect of legal action, which could delay the process further and throw everything "into chaos".
"I can't see how there won't be terminal delays. There's so many actors involved and a €1 billion contract up for grabs – anything could happen now."
'Shambolic' plan
No price had been attached to the broadband project, however it has been estimated that the entire network could cost €1 billion to build – requiring a significant State subvention to make the initiative viable.
As it stands, the sole remaining bidder for the NBP contract is a consortium – National Broadband Ireland – led by McCourt's US investment firm Granahan McCourt.
Eir dropped out of the race in January of this year, citing "significant commercial issues" and "growing uncertainty" around regulation of the project. Meanwhile, Vodafone and ESB joint venture Siro withdrew from the process in 2017.
National Broadband Ireland includes Limerick broadband provider Enet – formerly owned by Granahan McCourt but since sold to the State-backed Irish Infrastructure Fund – as well as Denis O'Brien's Actavo, Nokia and other firms likely to be involved in the project's delivery.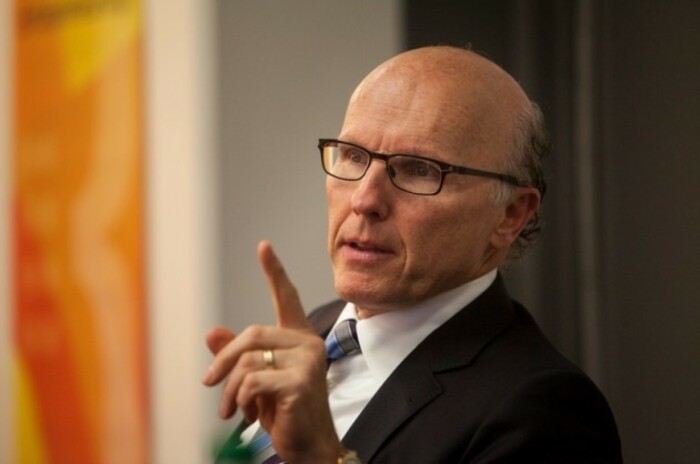 Source: Wikimedia
The consortium submitted its final tender papers to the Department of Communications last month and it looked like the end of the process was nearly in sight.
It had previously predicted that a contract would be awarded by autumn of this year, with the full rollout to be completed by 2023.
But in light of Naughten's meetings with McCourt, which includes at least four private dinners, several politicians have raised concerns about the legitimacy of the NBP selection process.
Fianna Fáil leader Micheál Martin said that the tender process had been "contaminated", while Sinn Féin's communications spokesperson Brian Stanley said that the plan is in a "shambolic" state.
The Taoiseach said on Thursday that there would be a review to assess whether the process has been compromised by Naughten's actions, and added that he is "determined" to see the National Broadband Plan completed.
Sign up to our newsletter to receive a regular digest of Fora's top articles delivered to your inbox.