The National Broadband Plan's sole bidder has sold off its remaining stake in Enet
The Limerick company is at the centre of the plan to bring broadband to rural Ireland.
US INVESTMENT FIRM Granahan McCourt has entered an agreement to sell the remainder of its shares in broadband firm Enet to a State-backed fund.
The Irish Infrastructure Fund (IIF) already owns a 78% stake in the broadband company and has agreed to acquire the remaining 22% share held by the US firm headed up by David McCourt.
IIF is a fund managed by AMP Capital and Irish Life and is backed by the government's Ireland Strategic Investment Fund, which has committed €250 million to the infrastructure fund.
Limerick-based Enet is part of a consortium called National Broadband Ireland – led by Granahan McCourt – which is the sole remaining bidder in the National Broadband Plan (NBP).
National Broadband Ireland, whose partners include Nokia and Denis O'Brien's Actavo, submitted its final tender papers to the Department of Communications last month for the broadband project.
Enet already runs the state-owned Metropolitan Area Networks, a telecoms network that operates in cities and towns and has been managed by Enet since 2004.
"The kind of connectivity that Enet provides is necessary for continued economic growth," IIF's principal and AMP Capital's Philip Doyle said in a statement.
"We are committed to making long-term investment in Ireland's future and to gearing its economy for growth while delivering attractive returns for our investors, which include numerous Irish institutional investors."
No figures were disclosed for the deal, which is pending regulatory approval.
Broadband plan
McCourt said that his firm will put its "full and absolute commitment" behind the National Broadband Plan.
"(As) we are now looking ahead to delivering the National Broadband Plan and in order to fully commit our time, energy and resources to this ambitious project, we have taken the decision to sell our remaining stake in Enet," McCourt said.
The National Broadband Plan has been beset by a number of delays in recent years with other bidders like Eir and Siro pulling out. Energy company SSE previously exited the McCourt-led consortium.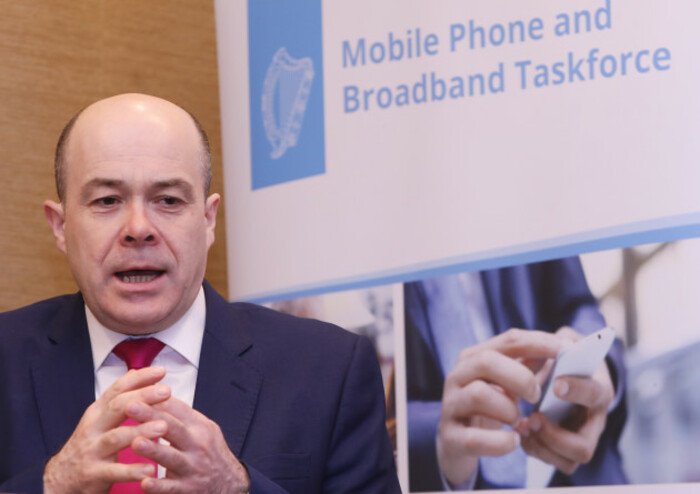 Source: Leah Farrell
McCourt was in the headlines last week over a dinner that took place in New York with Communications Minister Denis Naughten. 
Social Democrats TD Catherine Murphy raised concerns she had in the Dáil about the dinner and in relation to the conduct of Minister Naughten during the National Broadband Plan bidding process.
The department has released minutes from the meeting to allay concerns over what was discussed. The documents show the pair discussed that it should be ensured that any changes in the consortium "be avoided, or if necessary, to be kept to a minimum".
Sign up to our newsletter to receive a regular digest of Fora's top articles delivered to your inbox.