After losing all its rivals, the National Broadband Plan's sole bidder has filed its final pitch
The David McCourt-led group says it will team up with Nokia and other firms to complete the project.
THE NATIONAL BROADBAND Plan's last remaining contender has submitted its final tender for the project, which has been beset by years of delays.
The newly named National Broadband Ireland consortium, which is being led by US-based investment firm Granahan McCourt, filed its papers with the Department of Communications today. 
The consortium includes broadband provider Enet, which was majority-owned by investors headed by Granahan McCourt until the State's Ireland Strategic Investment Fund bought a controlling share last year.
National Broadband Ireland consortium said in a statement that it had provided its official pitch for delivering high-speed internet to under-served areas of Ireland.
The group has not been officially awarded the contract, however after Eir's withdrawal from the process in January it is the sole remaining bidder.
Eir cited the "significant commercial issues" and "growing uncertainty" around regulation of the project among the reasons for ditching its bid. Vodafone and ESB joint venture Siro pulled out of the process in 2017.
Enet would be responsible for building and operating the network after previously being named as the consortium's lead bidder.
Other partners nominated in the tender include telecoms stalwart Nokia, as well as construction partners Actavo, which is controlled by billionaire Denis O'Brien, the Kelly Group and KN Group.
Energy company SSE previously pulled out of an Enet-led consortium, while another partner, UK-based construction firm John Laing Group, was also notably absent from today's announcement.
The project will be have access to Eir's infrastructure of 1.2 million poles and its duct network around the country.
The consortium's bid director, Peter Hendrick, said that Nokia will be supplying telecoms hardware for the project.
"Much has been said about the 30Mbps (speed) target set by the NBP, but the network we intend to build is a gigabit network, capable of delivering 1000Mbps," Hendrick said.
Granahan McCourt
The consortium is led by Granahan McCourt, which is in turn headed up by chief executive David McCourt.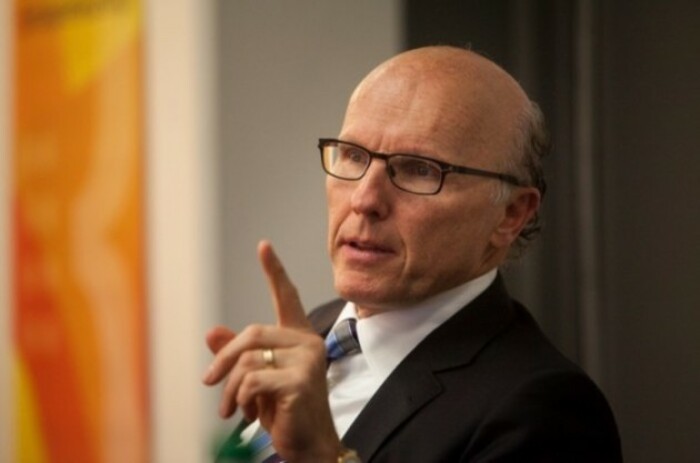 Source: Wikimedia
He said the tender will be a "significant milestone for the development of broadband infrastructure in Ireland".
"Throughout my career, the businesses I have been involved with have serially improved connectivity in technologically underserved regions of the world and have pioneered the roll out of telecom networks of substantial scale," McCourt said.
"We know this experience will prove to be crucial for the NBP, and that's why I can be so confident in our ability to co-ordinate all the elements required to finance and deliver a project of this size and complexity."
The consortium did not provide a timeline for the project, however it was previously predicted that a contract would be awarded by autumn with the full rollout to be completed by 2023.
Correction: This article has been updated to reflect that the National Broadband Ireland consortium is being led by Granahan McCourt, not Enet.
Sign up to our newsletter to receive a regular digest of Fora's top articles delivered to your inbox.