As Ireland enjoys a tourism boom, the midlands' slice of the pie is shrinking
It was the only region to record a decline in overseas visitor numbers and spend over the last three years.
THE MIDLANDS AND mid-east regions were the only parts of Ireland to report a decline in overseas tourists over the last three years.
Data collated by the Irish Tourism Industry Confederation (Itic) shows that the number of international visitors to the midlands and counties Kildare, Meath and Wicklow decreased 8% from 2015 to 2017, a time when Irish tourism as a whole has been booming.
Last year, some 848,000 overseas visitors were recorded in the midlands and mid-east, down from 879,000 in 2016 and 922,000 two years prior. Tourism revenue shrunk by 10% – from €324 million to €290 million – during the same three-year period.
All other regions reported an increase in overseas visitors and revenue from 2015 to 2017.
Last year, around 10 million international visitors came to the country and spent an estimated €4.9 billion. Unsurprisingly, Dublin took a sizable piece of the pie, raking in close to €2 billion from nearly 6 million tourists.
The midlands and mid-east accounted for just 6% of the overall spend. Earlier this year, Fáilte Ireland unveiled the long-awaited Hidden Heartlands marketing brand in a bid to reverse this trend.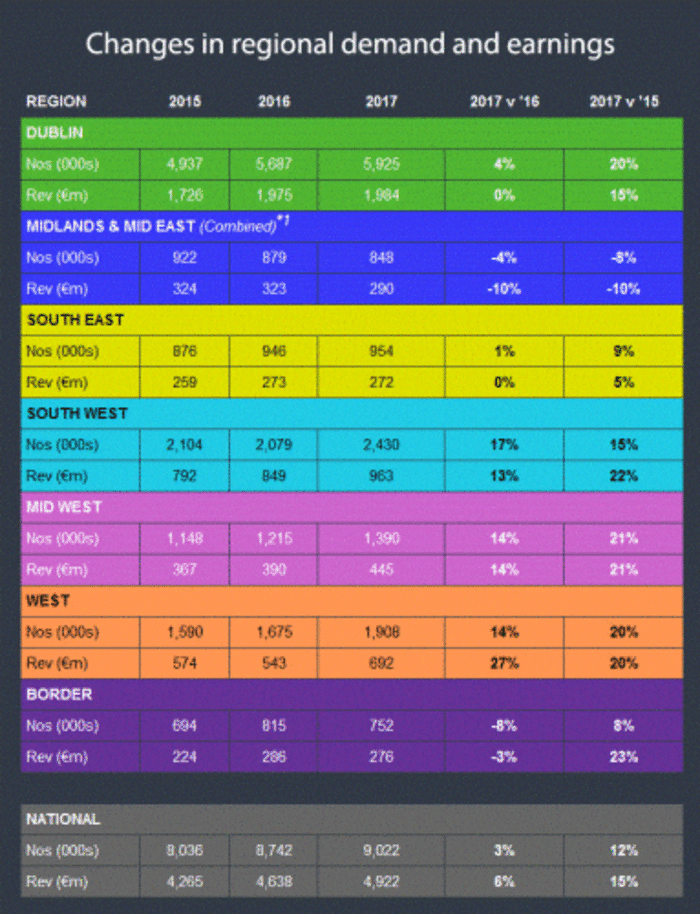 Source: Itic
Click here to view a larger version
Attractions
Citing Fáilte Ireland's recent ranking of Ireland's top-40 most popular attractions, Itic noted that there is a strong concentration of big-ticket items in Dublin, the south and the west, "while whole swathes of the country, most notably the north-west and midlands, lack similar tourism products".
"For such regions to properly benefit from overseas tourism, new visitor experiences of scale and international appeal need to be developed."
Itic – which counts Aer Lingus, the Guinness Storehouse and Tourism Ireland among its member organisations – published a major policy recommendation document this year calling on the State to invest in "appropriate products within Ireland's midlands".
The interest group has said the Center Parcs holiday camp in Co Longford will benefit the region when it opens next year, but Itic recommended that "the State too must step in and assist in delivering compelling visitor experiences for there to be true regional balance".
It also hopes that an off-road walking and cycling track from Dublin to Longford – which was first reported by Fora – will help drive interest to the midlands.
Sign up to our newsletter to receive a regular digest of Fora's top articles delivered to your inbox.