'Historic gems' like Dublin's Custom House should just be used for tourism
The industry says there should be an official review of iconic buildings under State ownership.
HISTORIC BUILDINGS LIKE Dublin's Custom House should be used solely as tourist attractions, it has been suggested.
The Irish Tourist Industry Confederation (Itic) today rolled out an eight-year national strategy for the hospitality sector to grow overseas tourism revenue from €4.9 billion to €8.1 billion by 2025.
Among the 40 policy recommendations in Itic's report is a government audit of State-owned buildings that could be relinquished to the tourism trade.
Itic chief executive Eoghan O'Mara Walsh said there are a number of buildings under State ownership that could be used to improve the overall quality of Ireland's tourist offering and ease overcrowding at existing attractions.
"There are lots of attractions around the country that are State-owned and closed to visitors. A classic example in Dublin is the Custom House, which is probably Dublin's finest, architectural historic building," O'Mara Walsh said.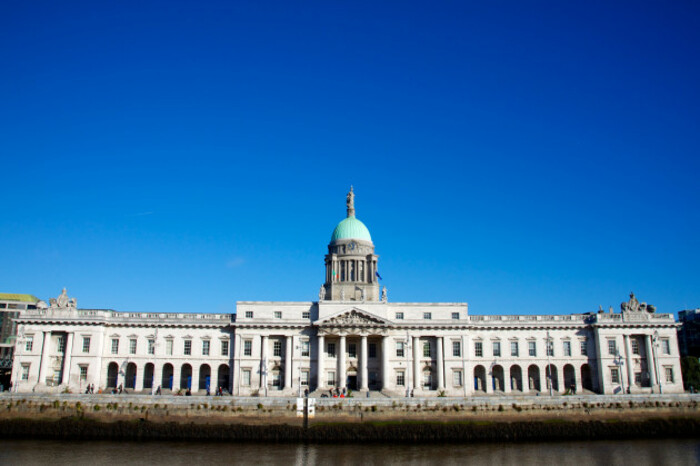 The iconic building is currently used as office space by the Department of the Environment. A visitor centre opened in the building as part of the 1916 centenary celebrations two years ago.
The centre – which documents the the building's architecture and association with the 1916 Rising – re-opened on St Patrick's Day this year and will remain open until 31 August.
O'Mara Walsh told Fora the existing attraction is relatively small and that there is a "whole building with gorgeous palatial rooms" that tourists can't access.
He said Fáilte Ireland – which is an associate member of the organisation – has been tasked with carrying out an audit of national assets that could be used solely for tourism purposes.
"There are umpteen examples of disused or civil servant-style offices around the country," O'Mara Walsh said. "Let's use those buildings for what they're meant to be used for: to showcase a previous generation."
He said such buildings could ease congestion at existing big-ticket attractions like the Book of Kells at Trinity College Dublin.
"By all means, build new things. But that takes time. We have good stock that should be used," he said.
O'Mara Walsh also suggested that it would probably be "easy enough" to arrange office space for civil servants if they were required to vacate a premises.
Recommendations
Itic's report outlined 40 policy recommendations that the organisation says will grow the country's overseas tourism earnings from €4.9 billion to €8.1 billion over the next eight years.
It says with the right policies in place, Ireland can grow from 8.9 million annual visitors to 13.7 million by 2025.
[embed id="embed_2"]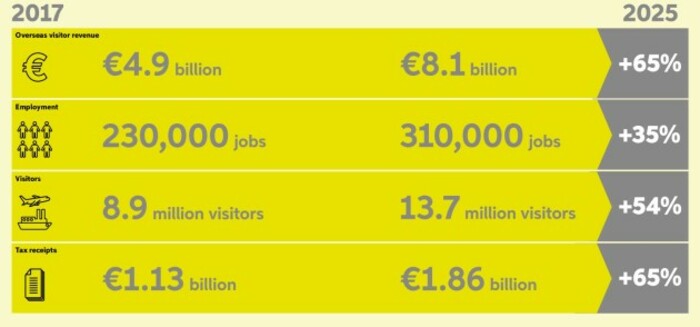 Click here to view a larger version
Among the key recommendations by Itic is the establishment of large-scale, State-backed projects such as a Dublin-to-Galway greenway from which tourists can access the Wild Atlantic Way by foot or bicycle.
It also called on the government to double the €300 million committed for tourism projects under the 10-year National Development Plan.
Another proposal put forward by Itic is the launch of a 'national tourism day' to highlight the sector's economic significance. Such an event is already marked in the USA, Canada, UK and other regions.
Sign up to our newsletter to receive a regular digest of Fora's top articles delivered to your inbox.