A 'slow adventure' tourist attraction will be rolled out from Dublin... to Longford
It's hoped the Royal Canal Greenway will appeal to walking and cycling fans at home and abroad.
A MAJOR NEW "slow adventure" tourist attraction connecting Dublin's Spencer Dock with Richmond Harbour in Co Longford will launch next year.
An off-road walking and cycling track, located alongside the Royal Canal, will connect the capital with the midlands and pass through counties Kildare, Meath and Westmeath.
All-island body Waterways Ireland is looking for a marketing consultancy to package attractions and travel itineraries along the so-called 'greenway' – a trail that's used exclusively for non-vehicle journeys.
In conjunction with several local authorities, the cross-border organisation has been upgrading existing parts of the route along the canal. Works are due to finish by the end of this year.
Waterways Ireland said it will be the longest "greenway destination" in the country once it's unveiled early next year, dwarfing the 42km 'Great Western Greenway' in Co Mayo.
The body issued the tender seeking a marketing consultant on behalf of the 'Royal Canal Greenway Steering Group'.
The group - which includes six county council tourism officers and people from State agency Fáilte Ireland – will commission the successful bidder to come up with a series of "itineraries, bundles and travel packages" for trips along the Royal Canal track.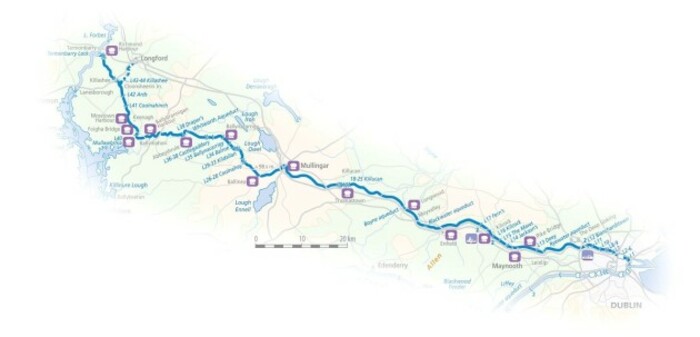 Source: Waterways Ireland/Tender document
Click here to view a larger version
International appeal
According to the tender document, the tourism project will be delivered in two phases. The first phase will see the launch of a 22km paddling trail in Co Westmeath from McNead's Bridge in Coralstown to Coolnahay townland.
Together with a walking and cycling route along the canal, the paddling trail will be marketed under the name 'the Royal Canal Blueway' and is set to launch in June.
Waterways Ireland noted that it's also planning to build an "activity hub" at nearby Mullingar Harbour to complement the 'blueway'. It will issue a separate tender for a provider to increase "participation in outdoor sport and physical activity" at the site.
The second phase of the project is scheduled to launch in March of next year. It will see the unveiling of the 144km walking and cycling route as the longest such "greenway destination" in the country.
It's hoped the Royal Canal route will appeal to walking and cycling enthusiasts "both nationally and internationally".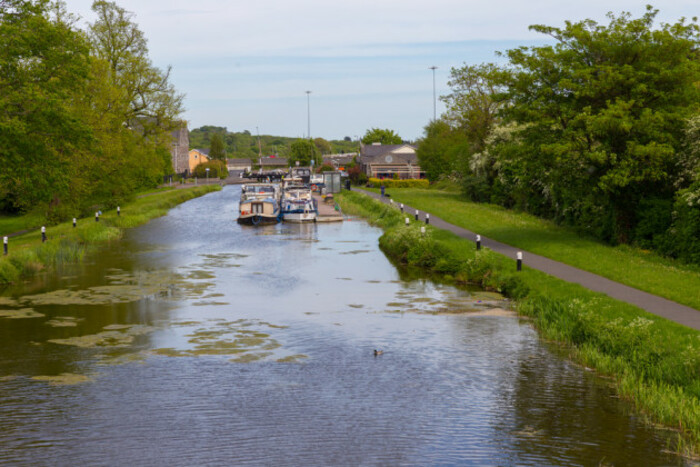 Source: Shutterstock/Semmick Photo
The project will leverage two of Fáilte Ireland's destination brands – Ireland's Ancient East and the recently launched Ireland's Hidden Heartlands - given its "suitability for slow adventure and active-in-nature tourism".
According to Waterways Ireland, its success will hinge on the ability of local communities and tourism businesses to "take ownership" of the development.
Industry reaction
In a major policy document published earlier this year, the Irish Tourism Industry Confederation (Itic) called on the State to invest in greenways and "appropriate products within Ireland's midlands".
[embed id="embed_3"]
The trade body's chief executive, Eoghan O'Mara Walsh, welcomed the development and said greenways are a proven way to attract international tourists based on the visitors profiles of those who use existing tracks in Mayo and Waterford.
He added that greenways "showcase the best of Ireland in terms of countryside". However, he suggested that the Royal Canal Greenway project would be better if it continued on to Galway.
"It's all about new tourism products of scale and international appeal … Spencer Dock through to Longford sounds great, but why not continue it right across to the Wild Atlantic Way?"
O'Mara Walsh said the Royal Canal Greenway will also help boost the midlands, which "has been neglected for some time", and add meat to the bones of Fáilte Ireland's new Hidden Heartlands marketing proposition for the region.
"Ireland's Hidden Heartlands, that's just a brand and a concept. What it really needs is product and new visitor experiences. The idea of a greenway going through it is welcome."
Sign up to our newsletter to receive a regular digest of Fora's top articles delivered to your inbox.