Why Ireland is awash with investment but startups still feel starved of funding
Those at the heart of the sector explain the problems early stage companies have finding backers.
AFTER SITTING THROUGH 90-odd rejections, Ross O'Dwyer was fairly sure the maiden funding round for his startup was dead in the water.
"I must have gone for so many teas and coffees," the co-founder of fan-sourced sports publisher Pundit Arena tells Fora.
"I heard 'no' so many times. I heard people say 'yes' when they really meant no and I heard lots of people say yes that turned to no."
That was until O'Dwyer met Colm Lyon, who sold his online payments business Realex Payments for €115 million early last year.
"People ask how Colm got involved with us," O'Dwyer says. "I was at a Barclays event that our solicitor invited me to. I wasn't going to go, but said to myself I should be making the effort.
"So I went to the event, approached him after, chatted for a while and then I said to Colm it would be great to grab a coffee."
Pundit Arena went on to close a €650,000 seed funding round, more than half of which came from a company run by Lyon and his former Realex colleague Paul Davey.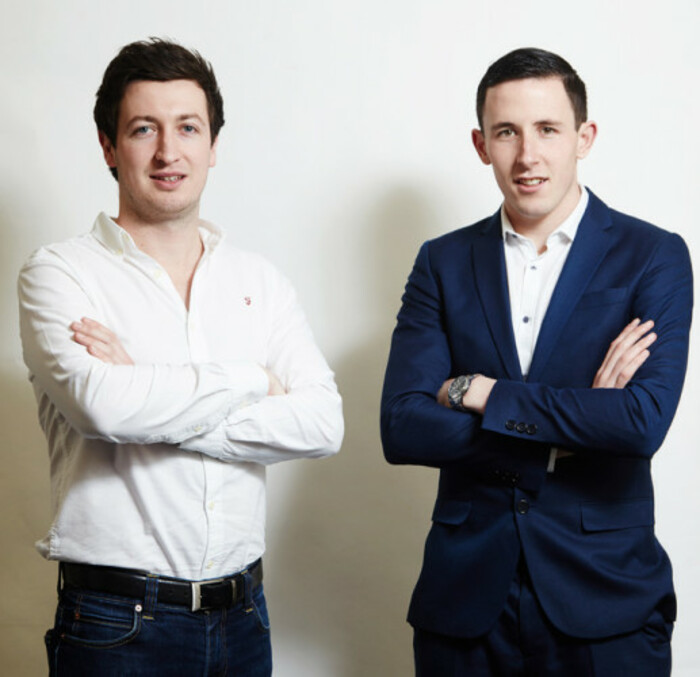 Source: Miki Barlok
Its fundraising effort was one of the deals, albeit a relatively minor contributor, that made up a record start to the year for fundraising among early stage Irish firms. Seed investment more than doubled year-on-year to nearly €25 million for the first quarter.
However Pundit Arena's experience in many ways typifies the reality for startups across the country – that those on the ground are facing far greater headwinds than the headline figures suggest.
Punching above our weight
As a small country, Ireland's early stage funding market is a blip on the venture capital landscape compared to the major European economies like the UK, Germany and France.
But when the figures are adjusted to take into consideration either population or GDP the data shows the Republic outperforms most of its peers.
Ireland was only 11th in Europe last year when it came to the overall amount of venture capital funding raised, but that was enough to make the country the fourth best in the region on a per-capita or by-GDP basis.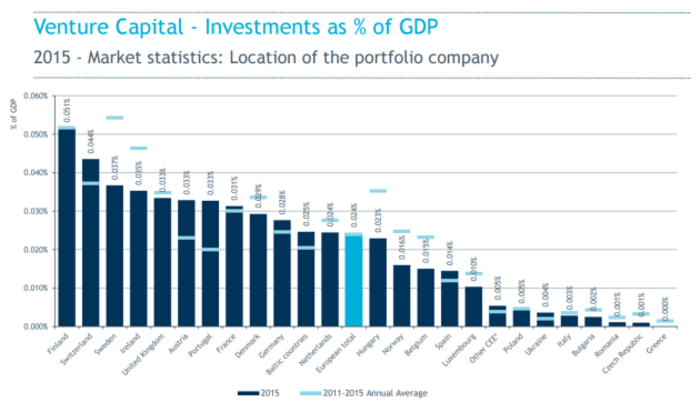 Source: Invest Europe
When all private equity financing is taken into consideration, Ireland was 9th on the list on a per-capita basis – still above the average and ahead of regional giants like Germany – according to Invest Europe's 2015 European Private Equity Activity report.
A separate report from Tech.eu, which does its own tracking of tech investments within Europe, put Ireland at 9th overall for total funds raised by startups in 2015. When GDP is factored in, the Republic jumps to 5th.
The main data for the local startup-funding scene, including for Invest Europe's analysis, comes from the Irish Venture Capital Association (IVCA), which for nearly a decade has been publishing its VenturePulse survey to chart the state of the industry.
However even the hard figures provide an imperfect snapshot of the local funding environment.
Included in the bumper €237 million in deals the IVCA tracked in the first quarter of 2016 were several large funding rounds for companies with tenuous ties to Ireland.
The second-biggest investment in the list was €36 million for Iterum Therapeutics, which has its headquarters in Dublin but is effectively a US firm. Another, 4tech, took in almost €26 million and has operations in Galway but is incorporated in the US.
Source: IVCA
Draper Esprit partner Brian Caulfield says the IVCA, which he currently chairs, always tries to give a true representation of how much funding is being invested in Irish companies by "weeding out companies that are purely brassplates", but some slip through the cracks.
He adds that a few particularly large deals can also inflate the overall figures. Last year for example, 10 companies' fundraising efforts accounted for more than half the total investments received.
"We're seeing a little bit of a bifurcation in the market where there are companies that are on strong growth tracks are able to raise large amounts of capital, primarily from international backers.
"But then companies at an earlier stage of investment that wouldn't have access to the international markets and are more dependent on the domestic venture capital market are finding things much harder."
Source: Draper Esprit
And while the amount of seed funding being raised is on the rise, Caulfield points out that it is increasing from a low base.
"In terms of 2015, the percentage of the total €500 million invested in Ireland that went into seed was something like 8%, so it was really quite low.
"If you went back to 2010, it would probably have been 20%-plus seed and startup funding, more than 50% early stage funding and probably only 25% or 28% growth and expansion.
"That's shifted dramatically with a significantly lower percentage of the funds being seed and early stage and a much higher proportion growth and expansion."
A different reality
Startup Ireland founder and chief executive Eoin Costello says the main funding figures might paint a pretty picture of the investment scene in the country, but they didn't reflect the reality on the ground.
Finding seed money to get ideas off the ground remained a sore spot for many entrepreneurs, he added.
"Getting 'competitive start' funds from Enterprise Ireland is a great start, but after that there's not enough early stage seed capital available."
Source: Startup Ireland
While leading figures in the Irish startup scene agree the country's funding environment is far from ideal, there are a range of views on where the most critical gap exists.
Dublin commissioner for startups Niamh Bushnell believes getting access to capital in the initial stages isn't the problem for Irish firms – it's the dearth of funding for the crucial follow-up round that's stunting young companies' growth.
"Like other ecosystems, the bigger you get the harder it is to get funding. Seed funding and Series A are such different things, they are light years apart," says Bushnell.
"Series A also means a different amount to different people depending on where you are. In the US, Series A could be $5 million to $10 million, whereas here we may call anything over €750,000 a Series A round."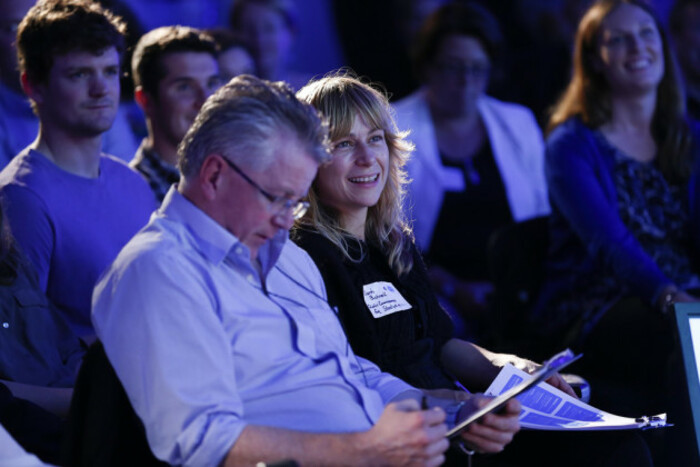 Donal Cahalane, founder of the startup group Built in Cork and formerly of local success stories Trustev and Teamwork, also says that getting the next injection of funds after the seed stage is where the problem lies.
"Follow-on investment is almost impossible to get in Ireland. The reason the first money is so easy is obviously because of organisations like Enterprise Ireland matching funding," he says.
Cahalane believes that because founders find it relatively easy to raise the seed funding, they tend to underestimate how difficult it is to source the larger amounts needed to scale their businesses.
"A lot of friends tell me that because it took three to five months to raise that first €100,000, they thought when they were going off to raise the next €300,000 or €400,000 that it would be easy. They're finding nine months to a year later they still haven't managed to get it."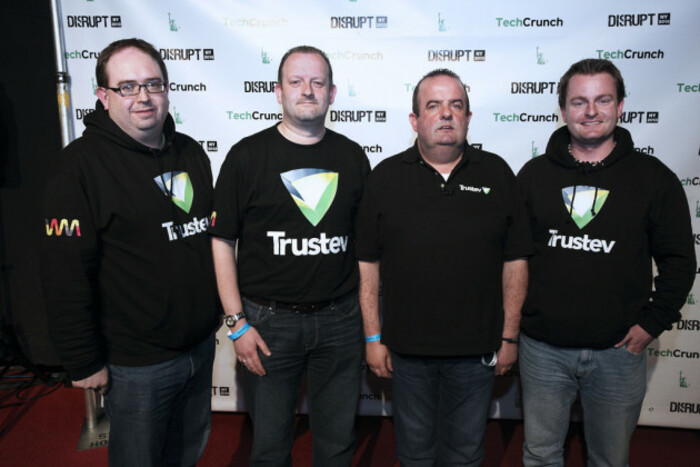 Costello says any shortfall in early stage funding is worrying because of the knock-on effects it will have for startups in years to come.
"If we don't have enough early-stage seed capital being made available, in two to three years time there won't be enough of a cohort of high-growth companies for Enterprise Ireland or for the VCs to invest in."
Good deals
Despite the unhappy rumblings from many parts of Ireland's startup scene, not everyone is convinced there's major cause for concern.
Donnchadh Cullinan of Enterprise Ireland's finance team says the organisation's metrics show there's still a strong flow of deals coming through for the startups under the semi-state's wing.
He adds that the outlook is also positive when you look at the deals being done by the Halo Business Angel Network (HBAN), an all-island investor network backed by Enterprise Ireland.
Last year the group helped raise funding rounds worth about €27 million, a figure that has risen from only €12 million since 2011.
"I'm kind of hearing it's hard (to get funding), but I'm not seeing the evidence," says Cullinan.
"I do think there is a little bit less money around because the seed funds have stopped investing as they have naturally reached the end of their investment period.
"We fund some of the Halo Business Angel Network's activity and as the seed funds dipped, we had a concern that would drop their deals, but there wasn't any effect."
Cullinan adds that the sources of early stage funding for startups can sometimes be obscured, leading people to come to the conclusion there's little money up for grabs.
Often the finance came from family, friends and other successful founders, who may not publicly reveal themselves as the backers.
"There's a concept called invisible angel investing. It's a phenomenon – and policymakers the world over have always tried to say we all know that this cohort is an important enabler and backer of companies.
"We reckon between €1 in every €5 of investment by angel investors in Ireland is invisible."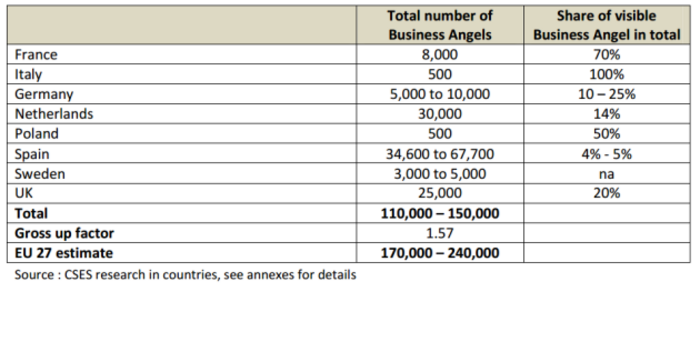 Click here for a larger version
Encouraging angels
Cullinan says it should be a priority to try and identify how big a sway these angels have in the Irish investment scene and then explore what tax breaks can be used to facilitate them.
The government's main carrot for investors, the Employment and Investment Incentive Scheme, has been criticised as too restrictive and characterised by low take-up, although the amount raised under the tax initiative jumped nearly 50% last year.
Bushnell agrees that offering better incentives to angel investors could be a solution to the shortfall in the finance available for startups.
"Obviously we need to provide more tax relief to angel investors so that we have people who come from industry and have money – and who are willing to put some of their networks behind their investments.
"We need to encourage a lot more of that, which is not well activated in Ireland. There may be good seed funding, but is there enough smart money at the seed funding stage in Ireland? Absolutely not."
Cahalane agrees that there needs to be more money being invested in Irish startups by founders who have already been around the block.
Recently his former boss at Trustev, Pat Phelan, announced he is launching a New York-based investment fund called Nohovation. The firm will manage an initial €10 million pool exclusively for Irish companies that are ready to scale their operations into the US.
Source: RollingNews.ie
Cahalane says it is promising that a handful of successful Irish entrepreneurs who have sold their companies for large sums, like both Phelan and Lyon, are investing back into the local startup scene.
"To me that's a different proposition, because those guys are in a much better position to judge how risky their investment is.
"I think there's a big difference when you have an entrepreneur or an ex-entrepreneur doing angel investing versus people who were used to making their money in, let's say, property."
And based on O'Dwyer's experience with Pundit Arena, securing that initial, high-profile backer can be the critical factor in a successful fundraising effort for a startup.
Lyon's endorsement proved the catalyst for closing their previously stalled financing round within six months.
"As soon as he was on board, more people wanted to be in on the deal," O'Dwyer says.
"Eight weeks before we closed the round, we were wondering where we were going to get the money from. In the end, we turned down what would have been a seven-figure sum in total after the round had closed in January."
read more on