Despite Ireland's craft beer boom, people are getting less fond of their pints
Consumption of beer continues to decline, while exports were also down last year.
DESPITE THE LOCAL craft beer scene continuing to grow, people in Ireland are becoming less fond of a pint.
The latest 'beer market report' from the Irish Brewers Association's (IBA) showed that Irish craft beer output had surged from 86,000 hectolitres in 2014 to roughly 238,000 hectolitres last year. Total beer production stood at eight million hectolitres.
The surge has come amid a spike in the number of craft breweries operating across Ireland, with at least one now based in every county.
There are an estimated 100 microbreweries dotted across the country, according to the report. Some 72 of these facilities are in production mode, with a significant majority exporting to the UK, the US, Italy and other markets.
However while beer remains the favoured alcoholic beverage in Ireland, consumers are drinking less of it. A 2% dip in beer consumption per capita follows an overall trend of people cutting their alcohol intake.
Overall alcohol consumption fell by 1.4% per capita in 2017, however other drinks categories, including wine, spirits and cider, all increased their market shares last year.
According to the IBA report, the per-adult consumption rate of alcohol has fallen by nearly a quarter since 2001.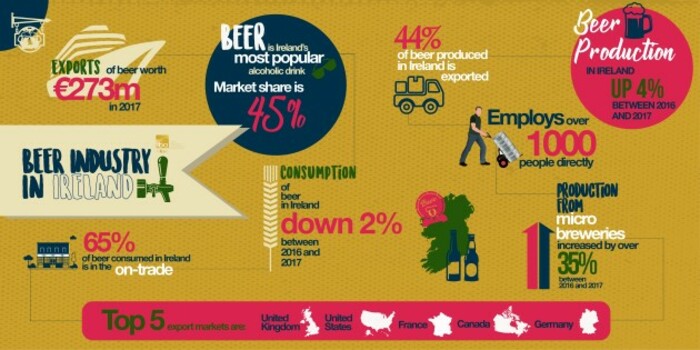 Source: IBA
Click here to see a larger version
The rise in craft brewery numbers and output comes as some in the industry complain the sub-sector has reached the point of "saturation".
The Galway-based Independent Brewing Company of Ireland recently filed for liquidation, following in the footsteps of the closure of Achill Island Brewery last year.
Exports
While beer production nationwide increased 4% last year, exports of the product showed signs of plateauing.
Exports by volume rose marginally, by 0.2%, but the value dropped from €280 million to €273 million. That tally was still significantly up on the 2014 figure of €228 million.
Just over two-fifths of Ireland's beer exports are shipped to the UK, with exports to the US half that amount. Other sizeable beer export markets included France, Canada and Germany.
According to the report, the beer industry in Ireland directly employs 1,064 people and generated some €424 million for the Exchequer as a result of excise taxes in 2017.
IBA boss Jonathan McDade previously said that a potential increase in excise duty is one of the biggest threats facing beer-makers today.
McDade called on the government to help the industry through a reduction in excise on beer. He also asked for "regressive measures" on labelling and advertising in the forthcoming Public Health (Alcohol) Bill to be tempered.
Sign up to our newsletter to receive a regular digest of Fora's top articles delivered to your inbox.