Europe's aviation boom is nowhere near over - for the big airlines at least
Pundits say there's plenty of room for growth as the market picks off small, weak carriers.
AFTER MONTHS OF airline collapses, profit warnings and emergency fundraising, you'd be forgiven for thinking that Europe's great aviation boom is coming to an end.
VLM, Cobalt, Primera Air and SkyWork Airlines bit the dust in quick succession late last year.
Also on the list of failures was Small Planet Airlines, the German carrier that tried to fill the void left by Air Berlin when it went bust in 2017 – the same year that Monarch Airlines also collapsed and Alitalia went into administration.
More recently, Ryanair issued its second profit warning since October – which it partly blamed on excess capacity in Europe – while Norwegian Air this week launched an emergency fundraising shortly after Aer Lingus owner IAG lost interest in buying the rapidly expanding, loss-making carrier.
But despite the gloomy headlines, pundits say there is still room for growth in European airspace – for the bigger players at least.
Goodbody analyst Mark Simpson tells Fora that the quick-fire failure of airlines in 2018 was brought on primarily by two elements.
"One was the spike in (the price of) fuel through mid-last year, which pushed the weaker airlines to the wall.
"Equally, there was an increase in capacity in the winter season which has compounded problems for weaker airlines … You get into a cash-burn position into the winter."
As for Norwegian's woes, Simpson says the scrappy Scandi carrier's business model has been focused on rapid expansion at the expense of yield, an "unsustainable" strategy.
That's why the airline went to the market this week in search of a cash injection of 3 billion Norwegian kroner, or about €310.5 million.
"I think the fact is, despite the increase in capacity in the fourth quarter to December, big airlines had a big increase in load factor," Simpson says, referring to the metric measuring how many seats are filled on an average flight.
Looking at Ryanair alone – which is still expecting to declare a profit of at least €1 billion in the year to the end of March – demand for flights appears to be holding steady, although at the expense of airfares.
December passenger figures at the Irish airline increased by 12% to 10.3 million passengers, its fourth successive month of double-digit year-on-year growth.
Load factor between April and December last year hovered between 95% and 97%, broadly matching the previous year's tallies.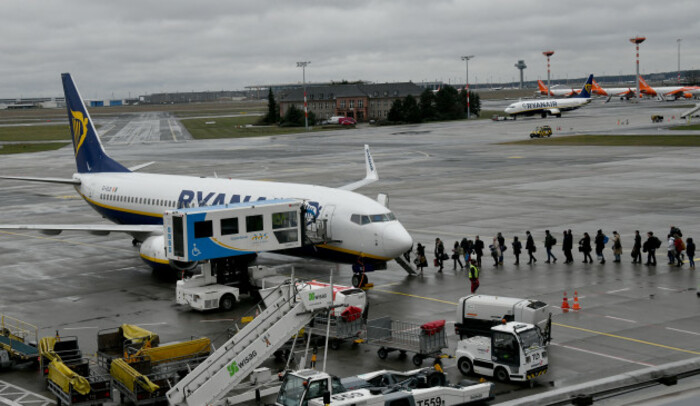 Source: Bernd Settnik/DPA/PA Images
Pundits agree there's no doubt the current market conditions are tough – particularly when it comes to the inflating cost of jet fuel, a factor that typically picks off small, weaker airlines – but the forecast is for continued growth.
"What we're looking at into the summer is capacity growth of circa 5% across Europe. That's modest compared to previous years. Looking at where GDP is, although weakened, we're expecting a 5.3% growth in demand," Simpson says.
Extra capacity
Aviation expert Kevin Byrne – who has specialist knowledge of airport planning – notes that the air transport industry as a whole is showing signs of confidence by pumping tens of millions of euro into large-scale infrastructural projects.
"All of the air traffic control units across Europe are planning for even more densely populated skies for 2019 and 2020. Airports are putting in more terminals," he says.
"There are very few airports that are either closing down or not expanding. Most of them are expecting an increase."
Dublin Airport, for example, is planning to spend €1.7 billion on a suite of more than 100 projects in preparation for 10 million extra passengers from 2020.
The current traffic load of 30 million annual passengers has already put pressure on the hub's existing facilities. The expenditure is in addition to Dublin's second runway, construction of which is due to be completed in early 2021.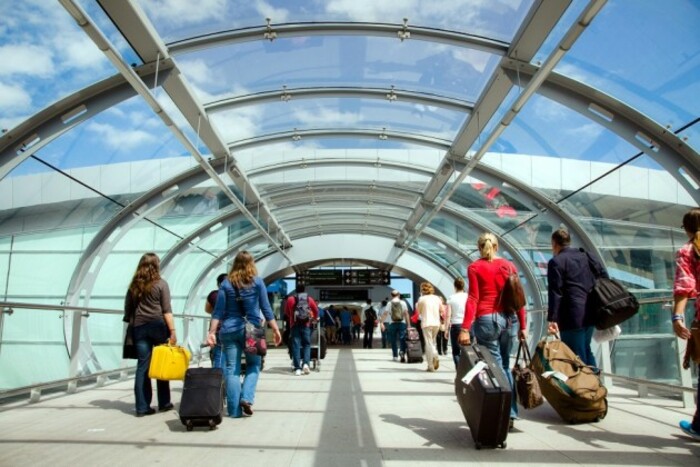 Source: DAA
Cathal Guiomard, a lecturer in aviation management at DCU Business School, agrees that the growth spurt at Ireland's busiest hub shows there is still room for expansion, even in a city that is already well-serviced.
"The passenger traffic at Dublin Airport is booming. Even if airlines have to lower their prices to fill their aircraft, that's a separate issue to the numbers of people coming and going. The traffic numbers themselves look very buoyant," he says.
Guiomard adds that external factors could dent the industry's growth rate, though that's hardly unusual for an industry regularly exposed to political turbulence, industrial action and extreme weather conditions.
"There's increasing speculation that the global economy may be coming to the end of the strong period of growth we've had. If that were true, that would affect aviation the same as it would affect any industry," he says.
Kevin Byrne agrees there are uncontrollable factors that could hamper the industry – but the industry is generally still on track for growth.
"The price of fuel is controlled by an outside agency like Opec and if Trump starts a (trade) war and there's a shortage (of oil) or a perceived shortage, that could have a huge effect because aviation fuel goes up quite quickly.
"That affects the operations and the price we pay, and the lower the price we pay, the more people go away on their weekends away, it's as simple as that.
"By and large, I'm fairly confident, for the next five or six years anyway, that the numbers will go up and up and up. It's the speed at which they increase that will affect profitability."
Growth markets
As for the European destinations ripe for expansion, pundits say there's room for growth in both young, eastern nations and traditional markets – especially when it comes to the entry of low-cost carriers that entice people to travel in greater numbers from previously pricey destinations.
"There is room for growth because there are a lot of countries where the airlift isn't big enough," says Travel Extra magazine editor Eoghan Corry.
"For example, French airlift is almost all traditional carriers. It's really well-protected by Air France. In the big German market, low-cost penetration is quite small. 
"If we got the population of Spain flying at the rate of Norway and Ireland, there's potential for 20% growth there. They don't fly at the rate we do."
While aviation commentators say the great aviation boom is nowhere near over, there will be fewer players in the field in the future as weaker airlines fall or get gobbled up by larger rivals.
"The big airlines will continue to get stronger and take market share. I think it's a kind of bipolar market, effectively. People would be concerned by the more extreme headlines," Simpsons adds.
Get our NEW Daily Briefing with the morning's most important headlines for innovative Irish businesses.