Emirates has put off plans for a third Dublin-Dubai flight due to some 'pain points'
The Gulf airline put the extra service on ice due to 'infrastructural issues'.
GULF AIRLINE EMIRATES considered launching a third daily flight from Dublin to Dubai, but shelved the plan for this year due to infrastructural issues at Ireland's busiest airport.
Emirates country manager for Ireland, Enda Corneille, said the airline put the third daily service on ice due to a number of "pain points".
Corneille, who was speaking at a review of Emirate's business in Ireland, noted that Dublin Airport has experienced "unprecedented growth" in recent years, nearly hitting the 30 million-passenger mark in 2017. It is expected to grow passenger numbers again this year.
"The challenge for Emirates is that we're operating in Terminal 2. We believe Terminal 2 is utterly conducive to our product. Our customers like it as well, but it's a busy place," he said.
Corneille said passenger movement through US customs pre-clearance facilities has been sluggish, but added: "We believe that can be sorted through more intensive security technology to smooth people through."
Another problem is congestion on Dublin's runway from 6am to 7.30am, when short-haul carriers scramble to get their first wave of scheduled flights in the air so they can run operations smoothly throughout the day.
"The third flight that we were looking to bring in would have probably run up against the busiest time being early morning," Corneille said.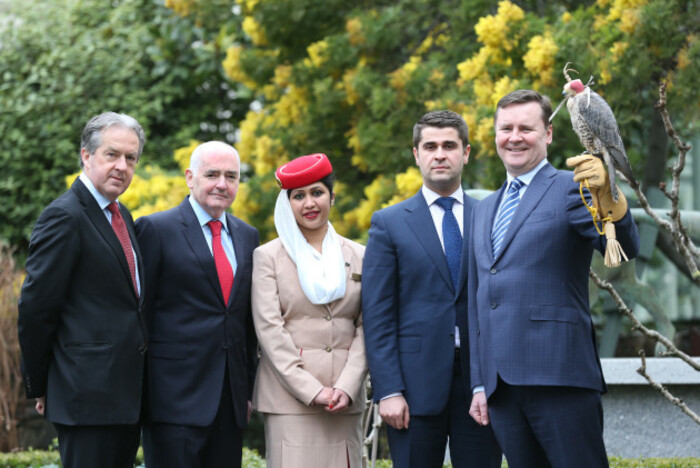 Source: Sasko Lazarov/Photocall Ireland
Although Dublin Airport's second runway – slated for completion in 2021 – will provide some relief on the early morning rush, Corneille said it "in turn is going to increase the demand on check in and boarding" at the existing facilities.
"On that basis, we've always believed that a third terminal is a natural consequence of the second runway," he said.
However, DAA chief Dalton Philips recently said there's no need for a third terminal until the hub surpasses the 55 million-passenger mark, which will take more than two decades to achieve.
Corneille questioned whether there is sufficient real estate to expand the existing terminals to handle a near doubling of passengers over the coming years.
"I've heard the 55 million (passenger) figure. It's a testament to the economy, but it won't be a pleasant experience unless proper facilities and infrastructure are put in place," he said.
Corneille said Emirates has a "terrific relationship" with Dublin Airport and wants to work with the hub to "see how we can build a path for growth".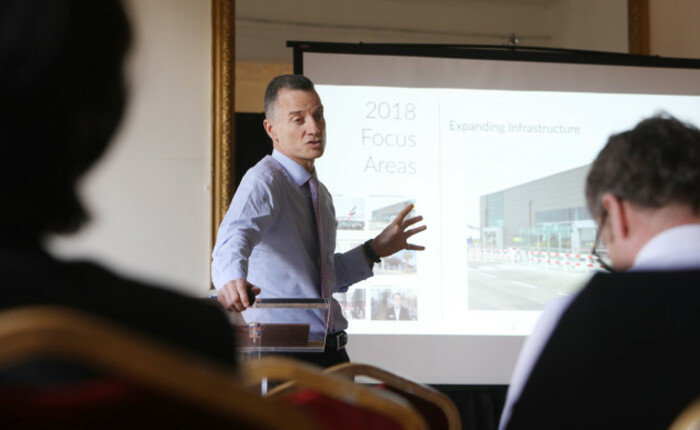 Source: :Leah Farrell/Rollingnews.ie
During the briefing, Corneille suggested that Emirates would next year reconsider the possibility of increasing the Dublin-Dubai service to three-times daily.
When asked by Fora what would need to happen between now and then to make that possible, Corneille replied: "It's not simply a decision based on the infrastructure. We would have to be comfortable that that operation has to be a success.
"The business environment this year and next could be very different. You could have more carriers coming into Dublin, which will make the already scarce resources even more scarce … You could have airlines pulling out of Dublin, that could free up space.
"You have to play with the cards we've been dealt," he said.
Honeymoon market
Emirates launched operations in Ireland in January 2012. It employs 600 Irish people across its network with plans to hire 150 more this year.
Corneille said the double daily service to Dubai is profitable for the United Arab Emirates-headquartered airline, which recently reported a net profit of $762 million.
He said the route carries up to 22,000 passengers each month and load factor - an aviation metric measuring the number of seats filled on a flight – is about 80%. Emirates hopes to grow that figure to 85% this year and advance bookings are ahead of last year.
Corneille – who is responsible for growing both inbound and outbound traffic on the Dublin-Dubai service – said a recent decision to waiver visa requirements for United Arab Emirates visitors to Ireland is "one of the biggest developments" for the local tourism industry.
He also noted that the carrier has spotted a pick up in bookings from couples going on their honeymoon from Ireland.
"From conversations with local tour operators, the honeymoon market we're finding used to be something that was bought by the couple with whatever money was left over (after the wedding).
"Now the honeymoon is one of the first things that's selected. We see huge demand into the Seychelles and Mauritius, which has come back after the tragedy a number of years ago," Corneille said, referring to the high-profile murder of Michaela McAreavey.
Sign up to our newsletter to receive a regular digest of Fora's top articles delivered to your inbox.