Dublin's getting over 5,000 new hotel rooms by 2020 – but it's not enough
A new report from Fáilte Ireland said the capital will need a thousand more beds to match demand.
OVER 5,000 NEW hotel rooms are expected to come on stream in the Irish capital by 2020, but it's not enough.
That's according to a new Fáilte Ireland report that highlighted a total of 5,436 hotel rooms will be built between 2018 and 2020.
The tourism body noted that roughly 3,000 of these hotel rooms are currently under construction and that €815 million of investment will be pumped into the creation of these new rooms by the private sector.
So far this year, a collective 1,400 bedrooms across 15 hotel developments have been given the green light at city council level, according to a separate report by online database Construction Information Services.
Another 20 hotel projects have been submitted to Dublin City Council for approval with a total 1,560 bedrooms proposed. A further 11 projects, which would contain over 1,470 rooms, are currently in the tender process.
The spike in Dublin hotel developments has come at a time when an acute shortage of tourist accommodation in the Irish capital has pushed room prices to record levels. The state of the market has also attracted new entrants like EasyHotel and Motel One.
Speaking following the publication of the report, Fáilte Ireland chief executive Paul Kelly said based on current and projected levels of visitor demand, there is still a "strong incentive" for more investors to make moves in the sector.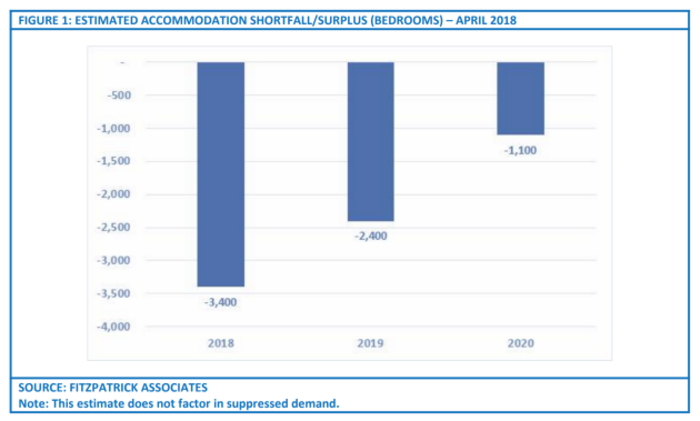 Source: Fáilte Ireland
He added that if the shortfall in tourist accommodation in Dublin isn't addressed, it will put visitors off coming to Ireland altogether.
"Dublin is the gateway to Ireland with most visitors choosing to spend part of their stay in the city. Therefore, if visitors cannot access Dublin, it is highly likely they may not visit the country at all," said Kelly.
"That is why capacity in Dublin is not just an issue for the city but affects all who work in tourism – whether in Kerry, Louth, Waterford, Donegal or any point in-between."
The Irish Tourism Industry Confederation (Itic) has previously claimed that some 11,000 hotel beds are needed nationwide to ensure Ireland's tourism sector can cater for the surge in visitor numbers.
Over the next eight years, the number of annual visitors to Ireland is expected to increase from 8.9 million to 13.7 million.
City centre hotels
According to the Fáilte Ireland report, roughly two-thirds of the hotel rooms due to come on stream within the next two years will be in located in new builds.
Approximately two-fifths of the new rooms will be based in Dublin 2 and Dublin 4, while one in seven of the hotel rooms will be located in Dublin 1 near the north docklands area and along the route of the Luas extension.
Over 1,500 of the projected new rooms will be based in other areas of Dublin 1 and Dublin 8, with 460 rooms expected near the airport.
An additional 1,700 rooms are also expected to be added to Dublin's serviced accommodation and guesthouses sector by the end of 2020.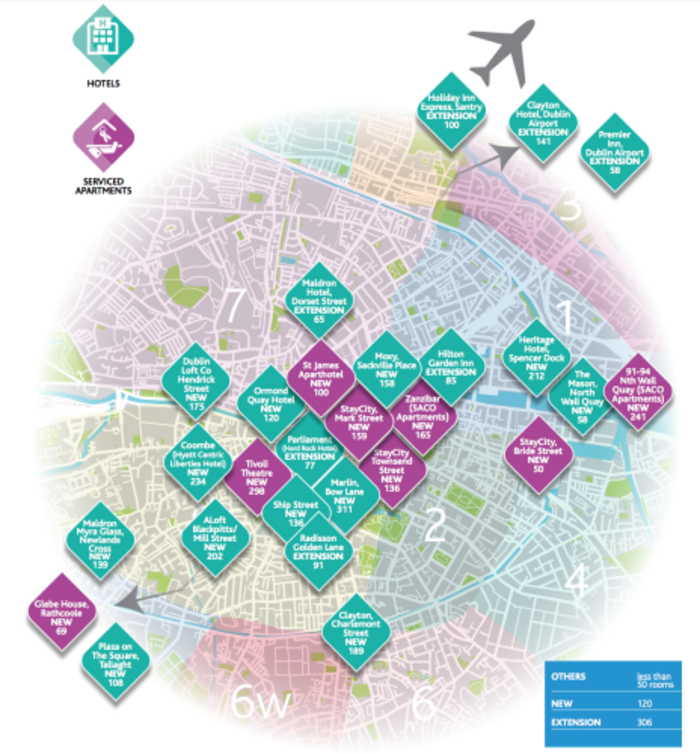 Source: Fáilte Ireland
Click here for a larger version
The Fáilte Ireland-commissioned report also suggested that every additional 200 bed hotel generates tourism revenue of €9 million, creates 180 jobs and contributes €2 million annually to the Exchequer.
The tourism organisation said it expected the additional hotel bedrooms would generate approximately 5,000 jobs, €250 million in tourism revenue and €55 million annually for the Exchequer.
Sign up to our newsletter to receive a regular digest of Fora's top articles delivered to your inbox.