Ireland's biggest hotelier says Dublin needs to 'grow up like other European cities'
Dalata's Stephen McNally believes 'there's no way' the industry can deliver 11,000 more rooms by 2025.
A TOP EXEC at Ireland's largest hotel group says the current planning system isn't capable of matching rapid tourism growth and that could short-circuit industry targets.
Trade body the Irish Tourist Industry Confederation (Itic) has said 11,000 hotel beds will need to be added to the current stock of 140,000 nationwide if the tourism sector is to grow from 8.9 million annual visitors to 13.7 million in the next eight years.
However Dalata deputy chief Stephen McNally, speaking at Itic's recent 2025 national strategy launch, said at the current rate "there's no way" the sector will achieve that target on time.
He said some 1,700 new beds, half of which belong to Dalata, the company behind the Maldron and Clayton hotel brands, will be completed this year.
Many are slated for Dublin and that development could help alleviate a chronic shortage of stock that has plagued the capital in recent years and pushed up prices dramatically for visitors.
Citing a study by real estate agency Savills, McNally said another 2,000 beds are expected to be delivered next year. Industry officials have long forecast that the lack of accommodation in Dublin will be addressed by 2019.
However, when Savills released the report in 2017, it noted that some rooms included in the research were pending approval from local planners.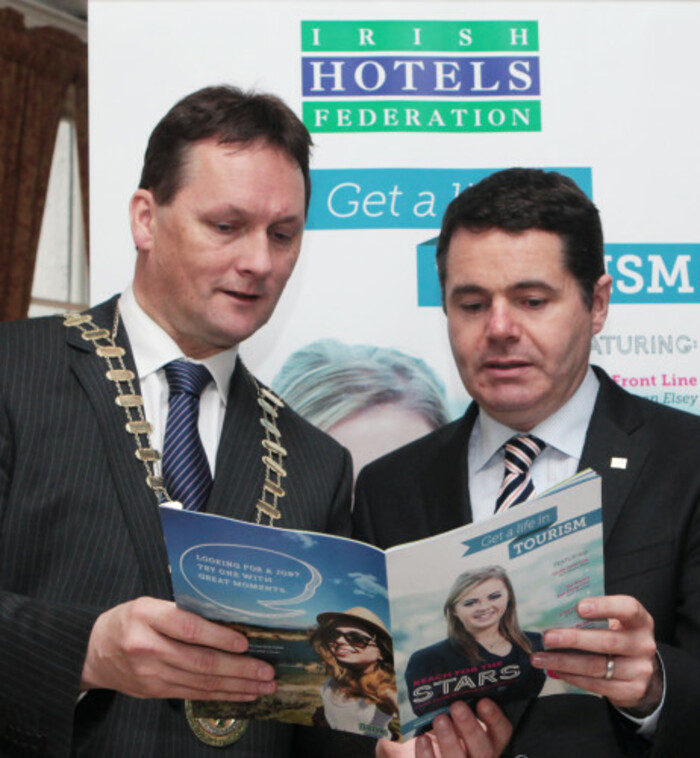 Source: Leah Farrell/RollingNews.ie
McNally said that, judging from the speed of the planning process, just over half of the 2,000 extra rooms expected for 2019 are actually being built.
"It's not possible to get to the 2,000 (rooms) next year because it takes two years to get up and running," he said.
McNally added that Ireland is facing a simiar issue in 2020, when another 2,000 rooms are due to be added to the current stock.
"At this stage, from what I can see, there are about 800 with planning permission. So again, going through times, we're not up to speed of what people are saying at the moment. That is a worry."
'Grow up'
McNally has long been critical of Ireland's planning process, and he again lashed out at the system while addressing senior tourism figures at the Itic event.
He said the time it takes to clear planning and height restrictions in the capital puts hoteliers at a disadvantage against office and apartment developers.
"I talk to people with sites – they're depending on the sixth floor of that site to make the thing work. They go down to planning, unfortunately they get cut off at five," McNally said.
"We just have to sort of grow up a little bit like other European cities and say, 'We have a city here. We're driving traffic out. We're driving everything out.'"
McNally compared to the process in Dublin to Belfast, where he said it is easier for hoteliers to get approval.
He said Dalata added 139 rooms to the now 237-room Maldron Hotel in central Belfast last week, which cost about £1,100 (€1,260 at today's rates) per room.
In October, the group will open a 188-bedroom hotel in Dublin's Charlemont area, costing €225,000 per room.
"Remember that was priced in 2016," McNally said. "If I was building that hotel today … it would cost me at least €300,000 (per room) to build that hotel."
It's worth noting that the €40 million Charlemont hotel investment is for new build and the project also includes a restaurant, café-bar and business facilities, in addition to an underground car park and three residential apartments.
McNally said it takes 18 months to get a Belfast property up and running, whereas in Dublin the process takes two years.
He said planners in the capital should relax height restrictions to make it more attractive for developers to build hotels on sites.
"If a guy has got the site and can only get 180 rooms on it, it's not enough to pay back … whereas if he can get it up to 200, 230 rooms it's better. We're not talking about massive hotels here."
Sign up to our newsletter to receive a regular digest of Fora's top articles delivered to your inbox.