Deliveroo is building its own kitchens to dominate the takeaway trade
The company is also looking at Waterford and Derry as it expands across Ireland.
DELIVEROO IS LOOKING to set up its own kitchens in Dublin as part of a plan to bring its delivery network to more parts of the city.
The online food-ordering outfit has gradually been making its mark across the island since first launching in a few suburbs across the capital's south in April last year.
Today the UK-based startup, which was founded in 2013, announced plans to move into Limerick after previously launching services in Cork, Galway and Belfast, as well as spreading its footprint to other parts of Dublin.
Deliveroo Ireland general manager Oliver Dewhurst told Fora the company was also looking to establish a base in other urban centres like Waterford and Derry.
"Provided there is the restaurant supply that we need, we'll certainly be looking to go to those areas," he said.
The company now has 200 restaurants on its books, as well as 400 drivers and riders to deliver their food. In the case of Limerick, Deliveroo hopes to sign up to 20 restaurants at launch.
"We need a mix of different cuisines so when customers first come to the site they have a decent selection," Dewhurst said.
"We find over time we get more and more restaurants contacting us who want to be on the platform."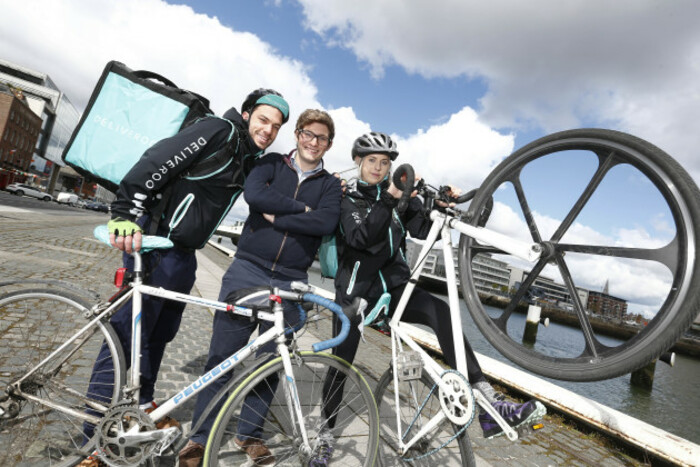 Source: Conor McCabe
Growth limitations
Unlike its rivals such as Just Eat, Deliveroo handles delivery services on behalf of restaurants – opening up the home-delivery market to outlets that weren't offering it as an option – in exchange for a sizeable cut of the revenue.
It is operating in 12 countries and has raised around $100 million in funding from investors including Irish entrepreneur Dylan Collins. He previously said the startup was targeting a billion-dollar valuation.
However one of the main limitations on Deliveroo's growth, according to Dewhurst, has been getting enough suitable food outlets to meet customer demand.
The company limits the radius in which it will deliver to a maximum 2.6km from the restaurant to the customer. Deliveroo has said the tight area ensures its food is received quickly, part of its pitch as the more 'high-end' delivery option.
[embed id="embed_3"]
To get around the problem of a lack of suitable restaurants in regions where there is still customer demand, Deliveroo also plans to roll out its 'roobox' network in Dublin.
The scheme, first being trialled in London, involves the company buying up its own kitchen space to offer to existing restaurant partners so they can prepare their food fresh in under-served areas.
Dewhurst said the same approach would be used in Dublin "in the coming months", although the plan was to "go with the first and see how successful it is" before expanding further.
"We are looking at where the best areas are that this can be done, in and around Dublin; they will be the kind of places where a lot of people live, often affluent people as well, but there's no restaurants to be found," he said.
While Dewhurst wouldn't reveal how many orders the company was processing in Ireland, he said demand had been growing at a rate of 25% month-on-month since the April launch.
The bulk of the company's revenue comes from charging restaurants a 30% commission on orders, while customers also pay €2.50 per delivery.
Dewhurst added that the new kitchen arrangement could involve a higher commission, although restaurants won't be asked to share a portion of the setup costs.