'It's all about the customer experience - the day you take that for granted, you're dead'
Freshii's Dave O'Donoghue talks about getting into the food industry and the tough task of letting staff go.
AFTER MORE THAN 25 years in the food industry, including a stint at the helm of Cuisine de France, Dave O'Donoghue decided to bring Canadian healthy fast-food franchise Freshii to Ireland.
The chain has more than 400 outlets in 17 countries, selling salads, wraps, soups, burritos and coffee.
Freshii's first Irish outlet was opened in the capital's CHQ building three years ago, and since then more than a dozen stores have opened, mostly in Dublin city and in Applegreen service stations.
O'Donoghue previously told Fora that he has a target of reaching 30 outlets across the country in the next few years, with plans to expand to cities such as Cork and Galway.
As part of our weekly question-and-answer series, we spoke to O'Donoghue about getting into the food industry, having to let staff go during the recession and his admiration for former Starbucks boss Howard Schultz.
Here's what he had to say: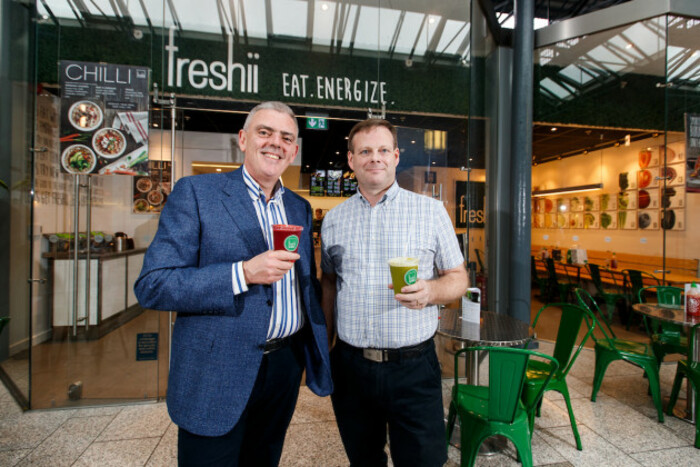 Source: Andres Poveda
What was your childhood ambition?
Growing up in Kerry, I always wanted to try to do something in business for myself – that fascinated me. I did a business degree at college in Limerick and ended up in the food industry.
I worked in Dairygold then I moved to Green Isle to manage the Pierre's snack business, which was taken over by IAWS (later Aryzta) in 2000. I became head of Cuisine de France in the UK and Ireland and held senior roles at Aryzta until I left in 2014.
I think it's a fascinating business because it's always changing. In the 1990s a lot of things stayed the same, but the rate of change and new trends in the last decade or two has been phenomenal.
What's the worst job you've ever had to do?
The hardest task was probably during the recession. In Aryzta we saw huge volume declines in our convenience business in Ireland, which meant I had to let a lot of people go – a lot of people with families and mortgages. 
It was a really difficult time because some of these were people I'd worked with for years and that I knew very well. They did nothing wrong, we just couldn't afford to keep the old structure in place.
That was probably the hardest couple of years in business; it was desperate. 
What's the biggest risk you've ever taken?
Going into Freshii was probably the biggest risk, because I was leaving a stable corporate environment with a good permanent job and salary and going out on my own.
But I always wanted to do something myself. Back in 2000 I had tried to buy the Pierre's business in a management buyout and put my own stamp on it.
But we were unable to acquire the business because we couldn't raise enough funding to compete with IAWS at the time. It was always in the back of my head.
I wanted to do something in the food industry and I wanted to do something in the health and wellness space. When I came across Freshii, I just loved it and had to go for it. It was absolutely a risk worth taking.
Source: Freshii
How do you start a standard workday and how do you finish it?
There isn't really a standard day in this job. I try to start with a gym visit three days a week, and then I head into our base in the CHQ building. After that I typically go and visit stores, meet partners – I'm out and about a lot.
Then because we're part of a North American/Canadian group, our interaction with head office tends to be in the evening rather than the morning because of the time difference.
What do you look for when you're hiring someone?
It's always attitude, 99% attitude. I don't care about skills because you can teach a lot of the skills you need in business.
I'm looking to see if somebody has the attitude to fit into the culture I want in my organisation. I'd like to work with somebody who can communicate confidently and is willing to put in the effort. 
What advice would you give to someone starting out in your industry?
You have to love the food industry. It's fast-moving, it's dealing with people all the time, so make sure you have the patience for it. I'm a driven person, so maybe sometimes I lack a bit of patience. But I just like to get the job done.
What's the biggest rip off in Ireland?
I definitely think the biggest rip off I've seen in our industry is commercial rates. We pay exorbitant amounts for a retail premises, invest in facilities, then someone can set up a stall outside our door and pay nothing – that's frustrating.
Who is your business hero?
One of the guys I've always admired is Starbucks' Howard Schultz, particularly with the way he left the company and it declined rapidly before he came back and turned it around. I think he's done a fantastic job, leaving a great legacy and coffee brand. 
One of the things I learned from him is that it's all about the customer experience and service – the day you take that for granted you're dead in business. Talk is cheap, execution sets you apart. 
Get our NEW Daily Briefing with the morning's most important headlines for innovative Irish businesses.