Ireland would be seen as a much pricier destination without Airbnb, tourism officials say
Fáilte Ireland CEO Paul Kelly said short-term letting has been a 'welcome addition' to the travel sector.
THE STATE'S TOURISM development agency has said that without home-sharing sites like Airbnb, Ireland's deteriorating reputation as a good deal for holidaymakers would be even worse.
Addressing the Oireachtas Joint Committee on Tourism, Transport and Sport today, Fáilte Ireland CEO Paul Kelly said platforms that allow people to rent rooms and apartments to visitors have been "a welcome addition" to the country's stable of places to stay.
He said there's a demand for the types of accommodation provided through Airbnb and other sites, which helps Ireland "compete internationally", especially as a location with "a strong tradition of B&B offerings".
According to a survey of nearly 2,000 visitors to Ireland, just over half consider the country a destination that offers good or very good value for money, down from 2015′s all-time high of 62%.
This is of particular concern to business owners who are haunted by 2008′s poor value-for-money rating, which the industry has claimed contributed to a drop-off in visitor spend following the global economic crash.
Kelly said that considering the shortage of available hotel rooms to meet consumer demand – which has driven up room rates in urban centres like Dublin, where prices have hit a record high – the "value-for-money rating would be worse without Airbnb".
"(Hotel) pricing would be higher if there wasn't that extra accommodation source," he told the committee.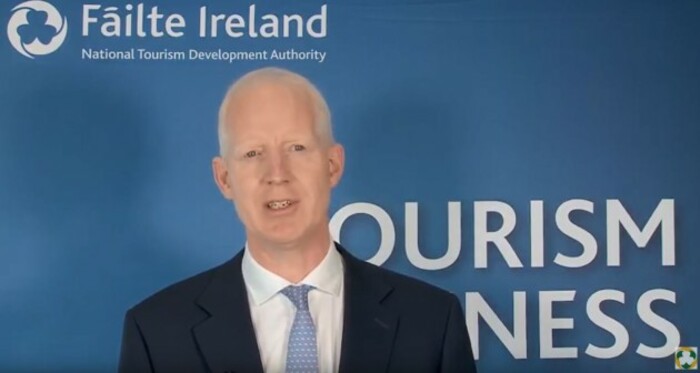 New regulations
Kelly's comments come weeks after the government announced tougher-than-expected regulations for home-sharing sites, which will initially only apply to areas with housing supply shortages, like Dublin.
Under the incoming rules, which roll out from 1 June next year, hosts will only be allowed to rent apartments and houses that they live in and must register with their local authority.
An annual cap of 90 days will apply for the renting out of a home, and homeowners can only rent out their properties for 14 or fewer days at any one time.
Anyone looking to rent out a property they own solely for short-term letting purposes will need to seek a special planning permission. 
When asked what effect these new laws will have on short-term letting sites from a tourism perspective, Kelly said that Fáilte Ireland is "still working through the implications" of what impact they will have on the country's accommodation stock.
Brexit
Kelly appeared at the committee alongside Niall Gibbons, chief executive of the all-island marketing agency Tourism Ireland.
They were invited to discuss the implications that Brexit might have on the country's multibillion-euro tourism industry.
Gibbons highlighted the importance of the British-Irish visa scheme, which allows Chinese and Indian holidaymakers to visit the two regions as if they were a single country.
The scheme, rolled out in 2014, has been particularly important for promoting Ireland as a holiday destination in China, where awareness of the island is relatively low.
Compared to other overseas markets, China currently accounts for just a small share of Ireland's existing inbound tourism.
However, visitors from the country tend to spend more than core markets like Britain, which has fluctuated in the wake of the Brexit referendum.
Some 90,000 Chinese tourists came to the island last year, according to Gibbons, who said this figure is expected to increase to 100,000 by the end of 2018.
However, any disruption to the North-South border after Brexit could pose a threat to developing the market as it's common for Chinese tourists to fly into London, travel from Scotland to Belfast and exit through Dublin, where they don't have to pay travel taxes.
Paul Kelly suggested that based on various pieces of research that explored multiple Brexit scenarios, anywhere between €260 million and €390 million could be wiped from the country's multibillion-euro tourism revenues in the event of a no-deal situation.
He said the outcome would be dependent on various factors – such as the future of EU-UK flight rights – but added that "there's no doubt that (a no-deal Brexit) would have a very significant impact".
Get our NEW daily digest of the morning's most important headlines for innovative Irish businesses.