After months of decline, more Brits are visiting Ireland - but business shouldn't rejoice just yet
Tourism officials say our biggest market 'remains a concern'.
THE NUMBER OF Britons visiting Ireland grew in April, but tourism officials warn the uptick doesn't indicate a turnaround for the industry's biggest overseas market.
Since the Brexit referendum in 2016, British visitor numbers to Ireland have been steadily declining, dropping 6% last year to 4.7 million visits.
However, figures published today by the Central Statistics Office (CSO) indicate that 322,700 Britons visited these shores in the month of April, a 3.3% increase compared to the same month last year.
Although the slight increase is good news for tourism businesses, Tourism Ireland chief Niall Gibbons said that it "doesn't represented a turnaround in the long-term trend" and that outbound travel from Britain "remains a concern".
"The fall in the value of sterling has made holidays and short breaks here more expensive for British visitors and has made Britain more affordable for visitors from many of our top markets.
"Competitiveness and value for money remain more important than ever in Britain this year," Gibbons said.
As previously reported by Fora, preliminary data collected by Fáilte Ireland, the national tourism development agency, indicated that fewer tourists think the country is a good deal as a holiday destination.
Both Fáilte Ireland's CEO and commercial development director have presented at trade events in recent months to warn businesses about the dangers of a fall in the country's value for money rating.
April travel
Overall trips to Ireland increased 7.3% for the first four months of this year to 2.8 million visits. Almost 900,000 visits were recorded in April alone.
With the British market increasingly unreliable, tourism officials have focused their marketing efforts on attracting continental European and North American holidaymakers.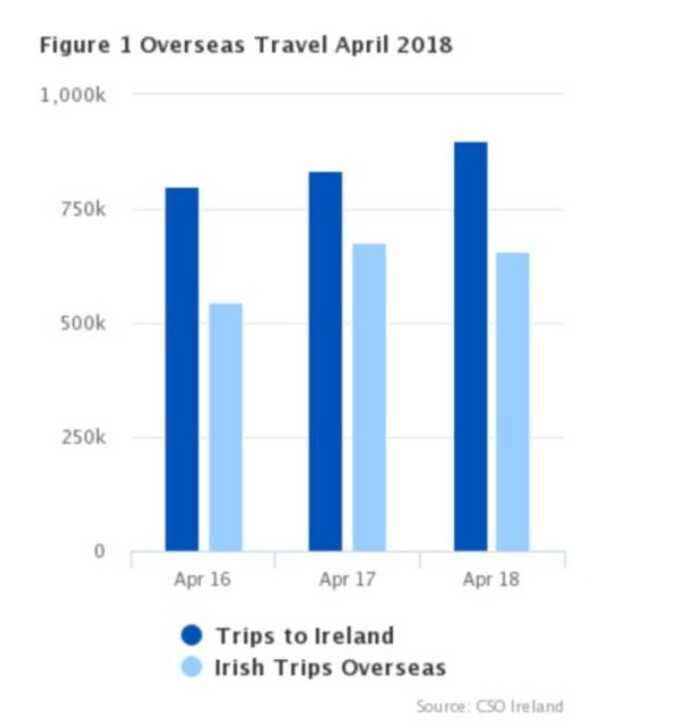 Click here to view a larger version
According to the new CSO figures, mainland Europeans took more than 350,000 trips to the country in April, an increase of 9.5% compared to the same period in 2017.
The USA and Canada market registered the highest growth rate, increasing 14.7% to 178,600 trips.
Some 45,700 visitors came from other areas – including Australia and countries in Africa, Asia and South America – a year-on-year increase of almost 7%.
Industry update
Separately, the Irish Tourism Industry Confederation (Itic) published an industry update covering the first three months of 2018.
The trade organisation said the general outlook for global travel is positive, although "the horizon is not without some clouds", namely rising oil prices, political uncertainties and ongoing Brexit negotiations.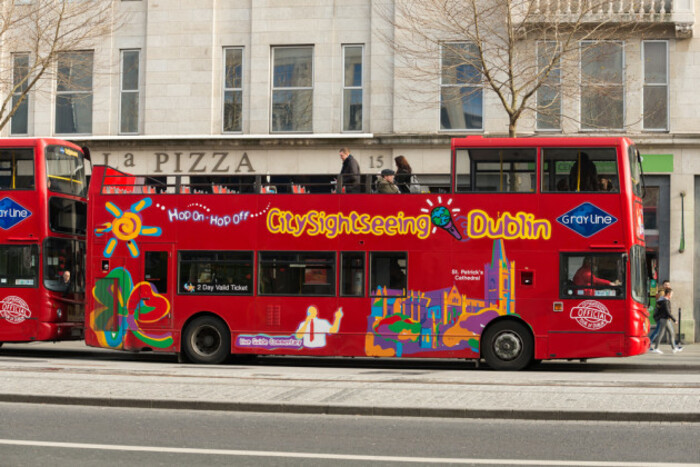 Source: Shutterstock/LesPalenik
The organisation – which counts Aer Lingus, DAA, Guiness Storehouse and the Shannon Group as members – said growth in the global travel market so far this year "provides a healthy momentum heading into the peak travel period" during the summer months.
Arrivals into Ireland for the first quarter of this year were "in line" with this worldwide growth, Itic said.
"However, there is the danger of complacency as monthly press releases herald yet another 'best ever' volume performance. Ireland's competitiveness in delivering value for money continues to be key to success," it said.
Sign up to our newsletter to receive a regular digest of Fora's top articles delivered to your inbox.