Why Ryanair is right to worry about post-Brexit flyers being 'back on boats'
Michael O'Leary has a real point to make about UK-EU flight rights – but it's a self-serving one.
RYANAIR'S CHEEKY CHIEF executive, Michael O'Leary, has a habit of making outlandish statements.
The man from Mullingar has variously said in the past that he would shoot Dublin cyclists, ask pilots to "engineer turbulence" to drive up drink sales, and – an old gem – charge passengers a 'pay-per-pee' fee to use the toilet.
It's fair to say that most of what comes out of O'Leary's mouth should be taken with a healthy pinch of salt.
In recent months, however, the Ryanair boss's main talking point has been a more sobering issue: the question mark that hangs over flying rights between the UK and Europe after Brexit.
In typically colourful language, O'Leary has warned that travellers could be back "chasing the boats" if there is no agreement on air travel rules for when Britain exits the trade bloc.
On several occasions, he has threatened to re-house many of the airline's 85 UK-based aircraft to other European airports.
Although it represents another classic attempt to nab extra headline space, O'Leary had a genuine point to make – a self-interested one, of course.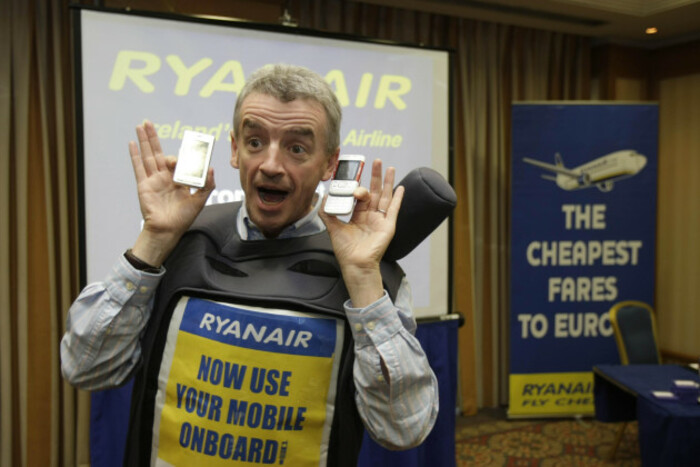 Source: Niall Carson/PA Archive/PA Images
Battle for open skies
For 25 years, the EU has enjoyed probably the most liberal air transport regulations in the world thanks to the single aviation market.
Consolidating Europe's skies essentially did away national borders. Cumbersome bilateral agreements between individual governments went with them, which made it easier for low-cost carriers like Ryanair to gobble up market share across the continent.
If Britain falls outside Europe's single aviation market, its only other option, as it stands, is to renegotiate a raft of bilateral deals with the remaining 27 member states and other regions around the world.
That would take a significant amount of time to complete and time is a factor with the two-year Brexit deadline already in play.
O'Leary recently said that the cut-off for making a decision on pulling planes out of the UK would be at the end of 2018 because Ryanair would need to give crew and passengers three months' notice before Brexit in March 2019.
As well as the daunting task of potentially hammering out scores of bilaterals, there are other complications.
For one, aircraft registered in the UK may not be automatically recognised as fit to fly by the European Aviation Safety Agency if Britain is no longer covered by the EU's aviation watchdog.
It's also unclear whether Britain would accept European Court of Justice rulings, a key component of being part of the single aviation market.
It may still recognise them – as non-EU states Norway and Iceland presently do – but Theresa May has already indicated that she wants to remove the UK from the ECJ's jurisdiction.
Political grandstanding
Negotiations are vulnerable to stunts and ambushes – and air travel is an easy target.
Rumours have been flying for months that the national German and French carriers have been engaged in heavy lobbying at European level, an alarming thought for O'Leary.
It's believed that execs at Lufthansa and Air France have encouraged Brussels to make an example of the Brits by coming down hard on the freedom-of-movement issue.
"High finance, VAT rates and taxes mean nothing to somebody in Nottingham," said travel commentator Eoghan Corry. "But going on a cheap holiday to Spain does."
That would be to legacy carriers' commercial advantage: a cap on the number of flights between the UK and EU, for example, is at odds with the low-cost model of maximising destinations and seats.
Lufthansa and Air France only do a small proportion of their overall trade in the UK. Ryanair, on the other hand, is heavily dependent on the British market.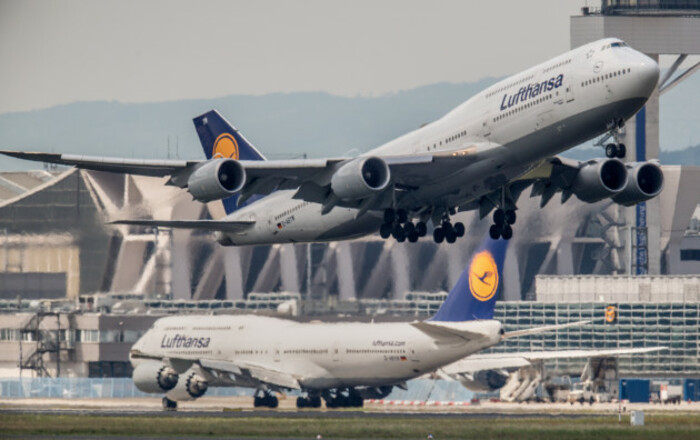 Source: Boris Roessler/DPA/PA Images
"(O'Leary) has a big market share in Britain," Corry said. "He has got to watch it very seriously because it's a good 14% to 15% of his entire business. You can see already that he's taking a hit on that because he's moving capacity away (to central Europe).
"The revenues (Ryanair) generate in the UK alone is the equivalent of all of Aer Lingus's trade – including transatlantic flights."
Any political grandstanding over the Gibraltar issue between London and Madrid would also hurt Ryanair, because flights on UK-Spanish routes are such a big money-maker for the airline.
So will we be back on boats?
With so much still hanging in the balance, is O'Leary telling the truth when he says we'll be chasing the boats to visit our cousins on the other side of the Irish Sea?
"Everything that comes out of that mouth of his is agenda driven, but he has a seriously important agenda here," Corry said.
"It's not just motormouth usual stuff about shooting cyclists. It's really picking up a lack of attention to aviation which the Brits are engaged in at the moment."
The Ryanair boss was alarmed that Theresa May's Brexit statement did not mention aviation at all, while at the same time Lufthansa and Air France were in the ears of EU officials.
"What O'Leary's doing is all seriousness is just flagging aviation at this stage so that it gets a higher priority," Corry said.
"He doesn't like the fact that it isn't even on the negotiation table at the moment. Ryanair would have reached this conclusion not just by sitting back and watching like the rest of us.
"They have been in Number 10. They have been with the aviation authorities in Britain. What they're picking up is that these guys are shrugging their shoulders and saying, 'It'll be alright on the night.'"
Corry said that he believes Ryanair will take a hit from Brexit regardless – but it's the size of the hit that it's worried about.
"If (O'Leary's) going to lose 20 million passengers through one screw up (Brexit), it will take a lot of recovery and an awful lot of extra flights from Italy to make up that number."
Sign up to our newsletter to receive a regular digest of Fora's top articles delivered to your inbox.
read more on