Worklife trends of 2019 and what's in store for next year
Here's how Irish businesses are embracing an evolving workplace.
FROM THE INTRODUCTION of a four day work week to the uptake in remote working options, Irish businesses are adapting to the demands of an evolving workplace.
In the last year, some companies have chosen to adopt new policies to attract talent with unemployment at a level not seen since 2007, while others have come about due to employee expectations. 
For some of these workplace trends, it's just the beginning of their adoption and 2020 should see them gain a large foothold in Ireland.
Four day work week
After a successful trial, one Galway-based recruitment firm, was among the first in Ireland to adopt the much-discussed four-day work week.
ICE Group launched the shorter working week back in June and Margaret Cox, managing director, told Fora at the time she expected with a more rested and happier workforce for sales to increase by between 10 to 15%.
The company took inspiration from New Zealand-based Perpetua Guardian which trialled a four-day work week last year and released a paper outlining the benefits.
According to industry experts, it's likely that more Irish companies will adopt the policy next year – with the ball just set in motion this year. 
Remote working
Working from home was once seen as a luxury but it's quickly becoming the norm, with employees actively seeking out these types of roles. A recent Indeed survey highlighted that 5% of Irish tech roles had no location, potentially signifying a move to flexible working.
Some e-commerce giants like Shopify and Wayfair operate a fully out-of-office work model in Ireland but other indigenous companies are catching onto the trend. Bank of Ireland rolled out flexible working for 10,000 staff members this year, in the hope that it would improve engagement with colleagues and counter stress.
To remedy the problem of the exhausted commuter, Enterprise Ireland is working on a smart working strategy to provide new alternative solutions. 
As part of their scheme, they hope to make more desk spaces available across regional hubs that work like co-working spaces. Not only could they help the worker, but a Vodafone report released in October showed they could generate €312 million for the regions.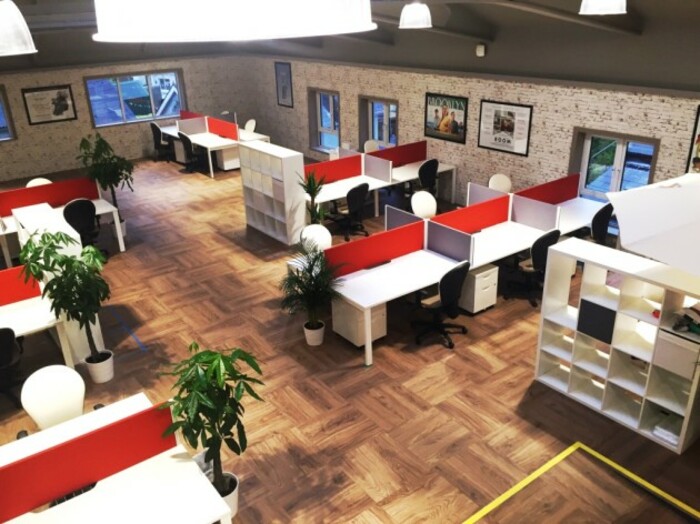 The war for talent
Major tech companies have been upping their game when it comes to attracting talent.
Amid a housing crisis in Ireland, some of the tech companies are offering relocation packages to entice people. Fora reported earlier this year that some of the large multinationals are giving new hires, moving from abroad a few months accommodation up front.
Remote and flexible working options are being provided by companies, with many rolling out attractive parental leave benefits, including Vodafone, Hewlett Packard Enterprise and Diageo. 
There has been a move toward wellness programmes for employees in recent years. With Burnout being recognised as an "occupational phenomenon" in its classification of diseases this year.
When it comes to winning talent, money is as attractive as ever and the salaries of some senior engineers have almost doubled in Dublin since 2013.
[embed id="embed_2"]
Employees expectations have shifted too – thanks to the newer office providers such as Iconic, Huckletree and WeWork.
One prop-tech company told Fora this year, the "'war for talent' is becoming the 'landlords war for tenants'" and the implementation of new technologies helps them differentiate their assets.
Source: Eamonn Farrell
Looking forward 
For 2020 automation seems to be a concern for people as many companies are embracing new technologies to increase their growth capacity, particularly in the manufacturing industry. 
A recent survey by Griffith College showed that 40% of Irish workers are concerned robots would take their jobs. 
The government is trying to plan around that.  Under its Industry 4.0 strategy it has announced €23 million funding for the Irish Manufacturing Research Centre that is looking at how to lessen the skills gap alongside its research and development of automotive, digitisation and sustainability solutions for industry. 
Moves may be made next year toward the approval of a Gender Pay Gap Information bill that has yet to be passed through the Dáil. The proposed law will require employers to publish salary information.
A recent report by state-backed Balance for Better Business group showed that the percentage of women on the boards of Irish listed companies is 19.1%.
Get our Daily Briefing with the morning's most important headlines for innovative Irish businesses.