The four-day work week is a hot topic around the water cooler. But it might not be for everyone
Experts weigh in on how the change to a shorter week could affect the workplace.
FROM NEXT MONTH, the working week is going to look quite different at ICE Group.
While plenty of people are talking about how to re-balance work and life, the Galway recruitment firm is putting its money where its mouth is.
The recruitment firm will be one of the first in Ireland to offer a four-day working week to its employees, with salaries remaining untouched.
It isn't alone. Globally the idea of a four-day working week has been gathering momentum with trade union bosses taking a liking to it and some companies catching on – swayed by the prospect of a happier, more productive workforce.
Such a fundamental shift might not be quite so simple. British biomedical research charity Wellcome Trust looked at rolling it out before ditching the plan amid worries it would cause "unacceptable disruption" to its business.
For Margaret Cox, the managing director of ICE, the change means her staff are better rested and more enthusiastic when they arrive to the office after a three-day weekend. 
She's not worried about the business suffering from less combined hours spent on office chairs. Cox has estimated sales will increase between 10% and 15% in the next year. 
Her thinking is in line with New Zealand real-estate planning company Perpetual Guardian, which trialed a four-day work week last year and released a white paper outlining the benefits. 
It found greater team engagement, unchanged levels of output, stress reduction and 78% of employees saying their work-life balance had improved.  
According to Cox the move will also position ICE Group as a strong employer of choice. Since making the announcement her inbox is full of CVs from interested potential employees. 
"As recruitment specialists our job is to change people's lives and so we decided we would change the lives of the people who work for us by giving them more time off," she told Fora.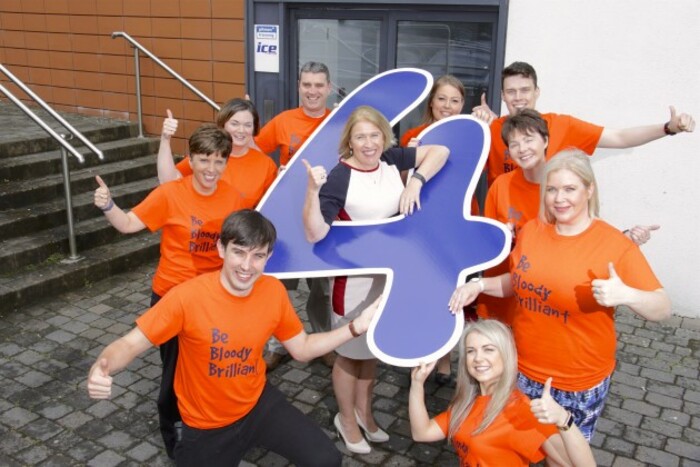 Operational issues
After completing a four-week trial, Cox and co-owner Felim McDonnell have smoothed out some of the logistics – like deciding to keep the business open five days a week despite having people work four. 
It was operational issues that stopped the Wellcome Trust in its tracks when it started to investigate the possibility of introducing the four-day week just a few months ago.
In a LinkedIn announcement posted in April strategic manager Ed Whiting said the four-day work week wouldn't suit everyone in the organisation and it wouldn't be fair to provide it to some of its 850 employees and not to others.  
Maeve McElwee, director of employee relations at Ibec, had similar concerns. Speaking to Fora, she said what might work for one business may not for another and used the example of care facilitates that need staff to work 24 hours, seven days a week. 
"You are going to need a lot more people if everyone is working a four-day week (in a care facility). Is that feasible or is there another way of looking at how other people will be able to offer flexibility within the workplace?" she questioned. 
McElwee urged caution when hearing announcements made by certain firms. While some companies offer the four-day week as an option, not all staff will be able to avail of it. 
Other companies are offering a four-day week as a compressed working week where the days worked have longer hours to enable a three-day weekend – placing more pressure on employees.
Technology and increased productivity
Joe O'Connor, director of campaigning at Fórsa, sang that praises of a four-day working week. 
For him, it's a development that should be taken seriously considering all the talk of increasing productivity levels aided by artificial intelligence and advancements in technology.
"If we are producing more it should be valid to work less hours without a loss of pay. We think these increases in prosperity and productivity should be shared with workers," he said.  
O'Connor pointed out that since the five-day week was introduced around the start of the 20th century, working hours were reduced every decade until the 1980s.  
"Since then we have had the greatest amount of economic and technological growth in the history of mankind and working hours have flat lined," he said.
"That suggests labour has had a significantly lower share in these developments than capital has which has led to far-right populism and polarization … I suppose the more unequal the country the more that is felt and we have seen it in the US and the UK recently."
"The former national security adviser in the Obama administration Tom Donilon recently ranked that how we respond to the impact of the future of work is one of the greatest national security threats alongside nuclear weapons, cyber security and threats to democracy," he added. 
Get our NEW Daily Briefing with the morning's most important headlines for innovative Irish businesses.