Cork outsourcing giant Voxpro doubled sales in the year before it was bought
The firm founded by husband and wife Dan and Linda Kiely saw sales swell to €60 million in 2016.
CORK OUTSOURCING FIRM Voxpro nearly doubled its sales last year, just months before it was acquired by a Canadian services giant.
The company, which was set up in 2004 and sold to Telus International earlier this year, provides multilingual call centres and tech support for other businesses.
New accounts filed with the Companies Registration Office show that Voxpro's turnover swelled to more than €60 million for the financial year ended 31 December 2016, an increase of €27 million on the previous 12-month period.
This was the second successive year that Voxpro reported a spike in year-on-year revenue – its turnover jumped by nearly €15 million in 2015.
The firm booked a profit last year of just over €1.3 million, up about €200,000 on 2015′s figure.
Last year, after Voxpro opened an office in Dublin's Silicon Docks area in the Point Village, the company said it would expand its Irish workforce to over 2,000 by early 2018.
According to the latest accounts, the Cork firm employed an average of 1,923 people in 2016, with wages and salaries worth around €21,800 per head.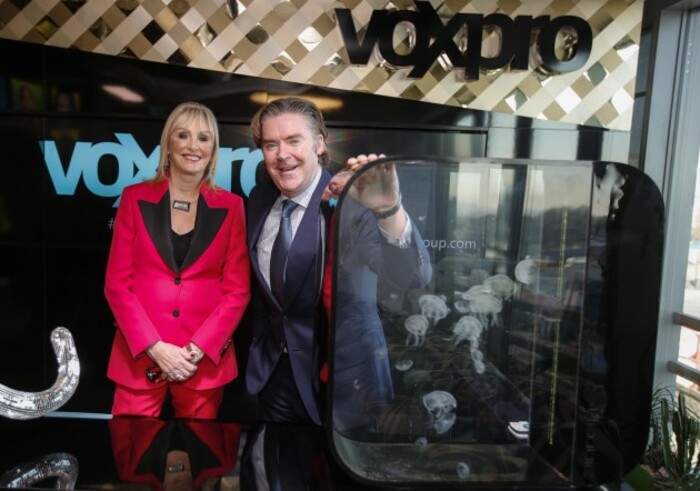 Source: Conor McCabe Photography Ltd
According to the directors' report, Voxpro expects to announce another "significant ramp up in employee numbers" in the near future.
The directors also said in their report that one of the main competitive threats to the company is the fact that it is reliant on major contracts, which are subject to renewal. It is also in competition with large-scale global organisations in the US.
Acquisition
Voxpro was co-founded "above a pub in Cork city" by husband and wife Dan and Linda Kiely and counts Google, Airbnb and Stripe as customers.
It was originally set up as a small paging company and now provides customer services in over a dozen languages across four continents.
Earlier this year, Canadian group Telus International acquired a majority stake in the firm for an undisclosed sum.
The Toronto-headquartered company is a subsidiary of New York Stock Exchange-listed telco provider Telus Corporation. Similar to Voxpro, it provides outsourcing services like IT and call centre support.
As part of the deal, Voxpro chief executive Dan Kiely joined Telus's senior team under its president and CEO Jeffrey Puritt.
In addition to its Irish operations in Cork and Dublin, Voxpro also has offices in the US. This year, it opened facilities in Romania and the Philippines.
Sign up to our newsletter to receive a regular digest of Fora's top articles delivered to your inbox.
read more on