UK shared office outfit Us&Co has come to Ireland to capitalise on Brexit refugees
Despite the increasingly crowded Dublin market, the company is looking at opening more offices here.
UK-BASED SHARED OFFICE provider hopes its pitch as a high-end provider can see off the ample competition in the local market as it waits on an anticipated 'Brexodus' of businesses to Ireland.
The company will tomorrow open its first facility in Dublin: a 16,000 sq ft office in the south city centre that features more than 270 desks.
Us&Co founder Mark Breen told Fora that the shared office outfit chose the Irish capital because of its attraction for foreign firms.
"We also thought there might be a Brexit play here, in that firms might want to set up in Dublin from the UK, as their foothold into Europe," he said.
Two clients have already signed up to use the facility as an Irish base, including Edinburgh asset management firm, Baillie Gifford, which also has offices in London and Hong Kong.
Apart from the Brexit play, the company also chose Dublin as its first move outside London due to its connectivity with the British capital, Breen added. 
Us&Co has one office open in the UK with a second to follow, and it is also looking to expand to other European capitals like Madrid and Amsterdam.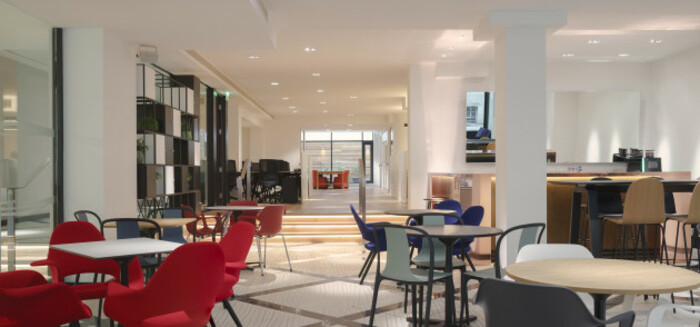 Source: Donal Murphy
Shaking the tree
With no shortage of serviced offices in springing up in Dublin in recent years, there have been warnings of saturation in the sector.
Recent additions to the market include London-based Huckletree and Italian company Talent Garden, which recently opened in DCU, while US flexible office giant WeWork has sealed a number of large deals for high-profile premises around Dublin.
"We are the upper end of the spectrum. We try and offer a very professional environment, as opposed to say the California startup style," Breen said. 
"I think it's expanded very fast in the last number of years. Large firms like WeWork storming in, as they have done in London, does tend to shake the tree.
"That is why we are very particular about the product we offer and the locations we're in. By offering a premium product we hope that that would give us protection against some of the competition."
The company still has some young companies as tenants, however they tend to be more established, on their second or subsequent funding rounds.
For now, there are no plans from Us&Co to set up elsewhere in Ireland – although it is considering "several opportunities" for additional Dublin spaces.
"We're very fussy, so we're only interested in the centre of Dublin. We are a focused niche player as opposed to a volume player," Breen said.
Get our NEW Daily Briefing with the morning's most important headlines for innovative Irish businesses.