EU workers going cold on the UK could see Ireland as an 'attractive' alternative
Net migration in the UK has dipped by a quarter since last year.
AS THE EFFECTS of the UK's vote to leave the EU start to hit home, Ireland has been tipped for an influx of EU workers that could address a skills shortage on the horizon.
Even though it's still early days in the Brexit discussions between the EU and the UK, migration into Britain has plunged this year.
New figures the Office for National Statistics have shown that net migration in the year to the end of March stood at 246,000 compared to 327,000 during the same 12-month period in 2016.
The UK statistics office noted that the driver of this dip in net migration was a 51,000 decrease in EU citizens moving to the UK.
According to Goodbody chief economist Dermot O'Leary, Ireland is likely to become more attractive for EU migrants as they search for alternative opportunities.
He added that the plunging migration figures showed the impact the Brexit referendum vote has had on migrants' perceptions of living and working in the UK.
"In a tight (UK) labour market situation such as now, this will undoubtedly lead to problems with skill shortages."
An influx of EU migrants into Ireland could help address a skills shortage on the horizon in the Republic.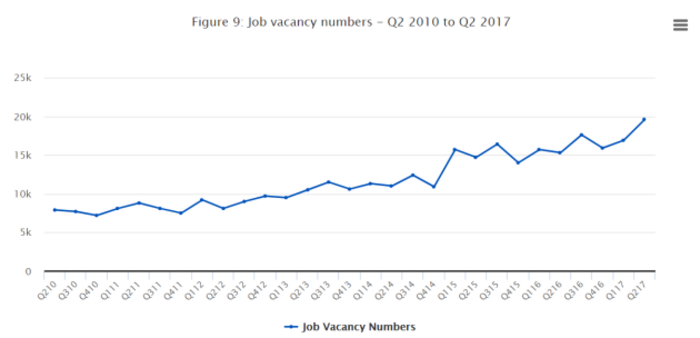 Source: CSO
Click here to view a larger version
Figures published today by the Central Statistics Office (CSO) highlighted that year-on-year job vacancies increase by 28% to 19,600 in the second quarter of this year.
The human health and social work sector had the highest number of job vacancies, while the least amount of vacancies were in the construction sector.
Can't cope
In the aftermath of the Brexit vote last year, Ireland has gone on the offensive to tempt London-based financial institutions to Dublin.
However, it has been argued that Ireland is not in a position to take on more economic activity and would struggle to find office space and housing to accommodate new companies and workers.
Since the UK's referendum to leave the EU last year, there has been a lot of speculation about financial firms moving their operations away from London, with Ireland often cited as a potential area for relocation.
Last month, the chairman and CEO of US investment and banking giant JP Morgan confirmed that the company plans to expand its Irish workforce.
JP Morgan has also revealed plans to expand in other European cities, including Frankfurt.
Within the last few weeks, banking giant Bank of America has also confirmed plans to set up its new, post-Brexit EU hub in Dublin.
Sign up to our newsletter to receive a regular digest of Fora's top articles delivered to your inbox.